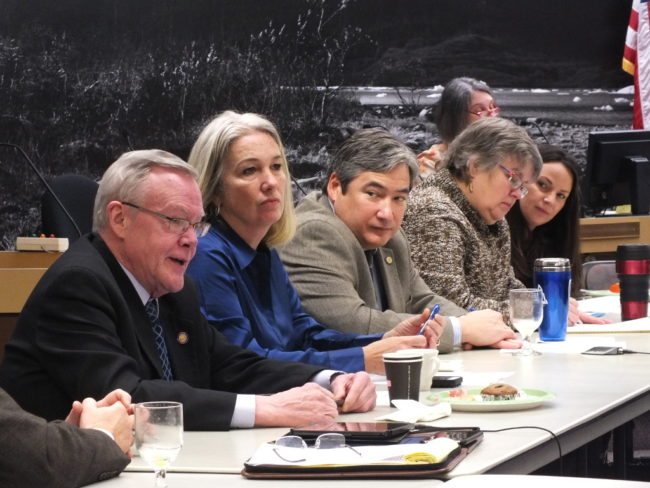 The Juneau Assembly met with the city's legislative delegation, as well as its state and federal lobbyists over breakfast Wednesday.
With the city and state facing large deficits, much of the talk was about budget issues.
Juneau's Washington D.C. lobbyist, Katie Ketchel, had some good news about a major source of federal revenue. In December, Congress passed a budget that renewed the Payment In Lieu of Taxes program, which provides money to communities nationwide that include federal land exempt from local property taxes.
"This is a large direct infusion, which is great, to the tune of almost $2 million per year," Ketchel said.
In the new Congress, Ketchel says she'll keep an eye on federal legislation that could benefit Juneau in terms of infrastructure, especially funding for roads and harbors.
Not surprisingly, the city's state lobbyist, Kevin Jardell, predicted the Alaska Legislature would be preoccupied with a multibillion dollar deficit this session. Gov. Bill Walker's bare bones capital budget includes $3 million for water treatment system upgrades in Juneau. It's one of the few projects in the budget solely funded by the state general fund.
Jardell said lawmakers likely won't make any moves to increase revenue this session, which means cuts to the operating budget.
"From the Juneau side, we're going to be watching to see how those impacts affect our community, especially jobs," Jardell said.
Gov. Walker is expected to release an updated operating budget proposal in early February.
Juneau Rep. Sam Kito III said lawmakers should not overreact to the deficit this year.
"If we have to have a decrease it should be gradual," Kito said. "And any decrease that you have, I think most of the money for state operations is in salaries, it's going to result in job layoffs."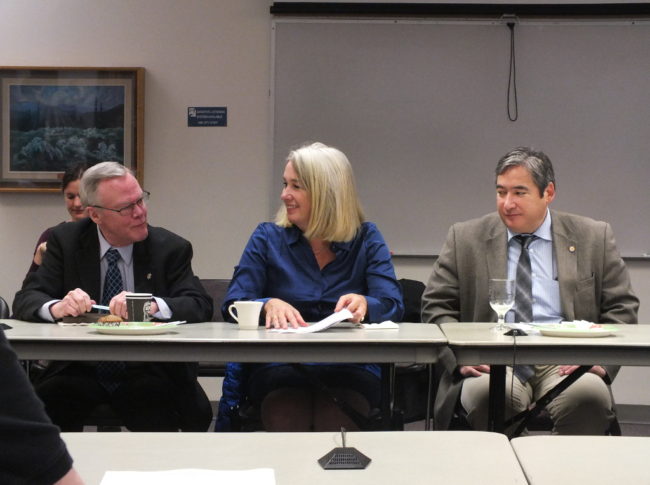 The state has more than $14 billion in savings that lawmakers can use to balance the budget this year, but Kito says that's not a long term solution.
Kito's district includes downtown Juneau and Douglas Island, as well as Gustavus, Haines and Skagway.
Mendenhall Valley Rep. Cathy Muñoz said lawmakers are not expecting oil prices to improve in the near future.
"There seems to be a shift globally in the prices of oil, and a long term shift. And so, we have our work cut out for us," Muñoz said. "We're going to have to look at all of the options, all of the revenue options. Not just looking at cutting the budget, but we have to look at new sources of revenue."
Kito and Muñoz were joined by Juneau Sen. Dennis Egan at Wednesday's meeting with the Assembly. Mayor Merrill Sanford invited the Juneau delegation to come back at some point during the legislative session to update the Assembly on state issues.
The city faces its own projected budget deficit of more than $7 million.