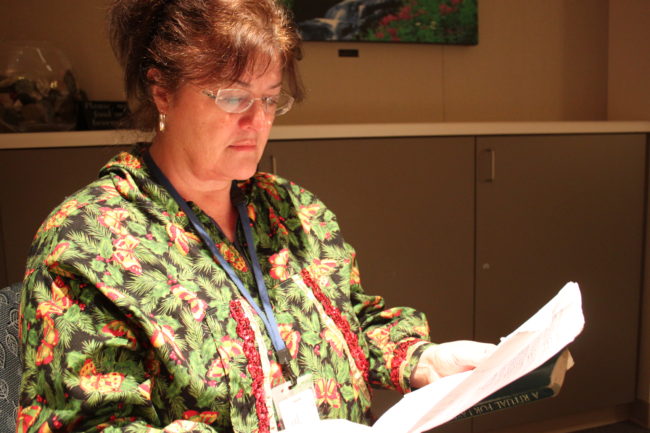 When it comes to volunteering, Alaska ranks 10th in the country, according to a recently released federal report.
In 2013, about a third of Alaska residents volunteered through an organization. More than 62 percent participated in informal volunteering, like helping neighbors.
Claire Richardson is one of thousands of volunteers in Alaska represented in the report. As a volunteer chaplain at Bartlett Regional Hospital, she provides spiritual care for patients, staff and visitors.
"I've been called to ER in the middle of the night. Sometimes there's a new baby and the parents want a blessing. Sometimes there are families mourning either bad news or the death of a loved one, and we sometimes go over to the recovery unit and work with people who are working on sobriety," Richardson says.
Bartlett has up to 20 volunteer chaplains that rotate each week. Every day of this week, Richardson will go to the hospital and do the rounds. She chooses to volunteer during Christmas, which can be a difficult time of year for a lot of patients. Richardson says it gives her perspective.
"You are with people when they're their most vulnerable and for them to share with you, to invite you in, to ask you to pray for them, to pray with them, it's a pretty amazing experience and it grounds me. When I'm thinking about 'Oh Christmas! I've got to do this and I've got to do that and I've got to buy this and I've got to wrap that,' and you come here and you take a deep breath and you say, 'OK, this is really what it's all about, it's relationships,'" Richardson says.
Richardson came to Alaska in 1986 as a Jesuit volunteer. Despite full-time jobs – she's Lt. Gov. Byron Mallott's special assistant – Richardson has stayed in the volunteer world. Besides her service as a chaplain, she's a Big Sister for Big Brothers Big Sisters of Alaska, the vice president of Juneau's Foundation for the End of Life Care and she volunteers in her neighborhood.
Richardson is not alone in her service.
"One in three Alaskans are volunteering so it's well above the national average," says Wendy Spencer.
Spencer heads the federal agency Corporation for National and Community Service that administers AmeriCorps, Senior Corps and other programs.
"Nearly 200,000 Alaskans volunteered formally through an organization last year and they volunteered over 25 million hours," Spencer says.
The Corporation for National and Community Service works closely with the U.S. Census Bureau and Bureau of Labor Statistics to assess the state of volunteerism in an annual report.
It looks at two major areas – volunteering through an organization, which is how the states are ranked, and informal volunteering.
"You're really good at helping your neighbors, just doing things not necessarily formally through an organization, but being there to help individuals in your community, so Alaska's got a lot to be proud of," Spencer says.
In a decade of looking closely at volunteerism in the U.S., this is the first year Alaska has ranked in the top 10, up two spots from last year.
Richardson says the act of volunteering comes natural in Alaska.
"It's that type of community where, you know, one year you may get a lot of fish, the next year you may not, and you may hope that your neighbor is as generous to you as you were to them, so I think that it's a no-brainer that Alaska has a large group of volunteers. They're everywhere," she says.
Richardson says the big secret about volunteering is you get way more out of it than you put in.