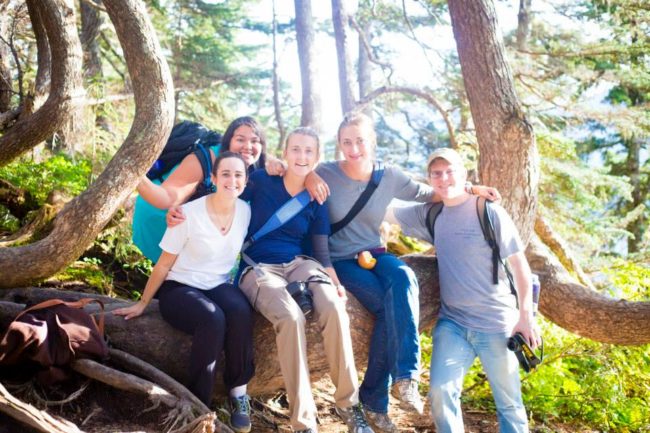 Nineteen AmeriCorps volunteers throughout the state were told this week their positions, including stipends and benefits, could end on Monday.
As a second year AmeriCorps member, Maia Wolf volunteers at Discovery Southeast, a nature education nonprofit. She got the news the same way fellow AmeriCorps volunteers in Juneau, Anchorage, Homer, Seward and Cordova did – in a teleconference Tuesday.
The volunteers thought they had secure positions through July. Wolf says they're frustrated.
"It's financially difficult for a lot of people. We're coming out of college. We don't have a lot of savings and so not having something lined up and having so little time to look for a new position is difficult," Wolf says.
The volunteers affected are specifically AmeriCorps members with Southeast Alaska Guidance Association, or SAGA. The Juneau nonprofit is ceasing operation of its AmeriCorps program due to financial troubles, and hopes another program in the state can take it over. SAGA has been bringing AmeriCorps volunteers to Alaska for 20 years to work on service projects on public lands and volunteer with schools and nonprofits.
Discovery Southeast Executive Director Shawn Eisele says the organization plans to support Wolf for the full length of her contract, regardless of what happens to the AmeriCorps program. AWARE hopes to do the same for its AmeriCorps volunteer.
Saralyn Tabachnick is the executive director of Juneau's domestic abuse and sexual assault prevention nonprofit. She says the AmeriCorps volunteer at AWARE serves as a children's advocate and fills a real need.
"She works with kids who are living in shelter, acclimates them to shelter, spends time with them, safety plans with them, facilitates groups for them, helps them feel like the unique people that they are," Tabachnick says.
She says if SAGA's AmeriCorps program doesn't get picked up by another organization, AWARE will try to raise funds to keep its volunteer on as long as possible.
Faith Lee is the coordinator of Sitka AmeriCorps, the program that might take on SAGA's volunteers. If it's financially viable, Lee says Sitka AmeriCorps could ensure SAGA members had support to complete their terms.
"We would take on all of the reporting, filing, payroll, health insurance," Lee says.
The Sitka School District runs the community's AmeriCorps program. Lee says the administration is figuring out what the budget implication of doubling the number of AmeriCorps members will be to the district.
SAGA receives $250,000 in federal funds as well as community contributions to run its 11-month AmeriCorps program.
Lee hopes Sitka AmeriCorps can help out.
"I felt really bad that 19 young adults were maybe not going to have an advocate and that's something that I really take to heart because I want them to have a great experience. I want them to leave a footprint and make an impact and feel good about their service. And hopefully continue to volunteer for the rest of their lives," Lee says.
Sitka's 6-year-old AmeriCorps program and SAGA's have had a great relationship in the past, Lee says.
"They actually mentored us and shared everything when we first took on AmeriCorps. They were wonderful. Without them, we would've really struggled. SAGA has contributed to our state for many years. If I can help in any way, I'm more than happy to put that extra time in," she says.
SAGA board member George McGuan says faced with a $350,000 debt and no way of repaying it, the board is seeking legal counsel to figure out what to do next.
Editor's Note: The story has been updated to clarify Maia Wolf's future with Discovery Southeast.