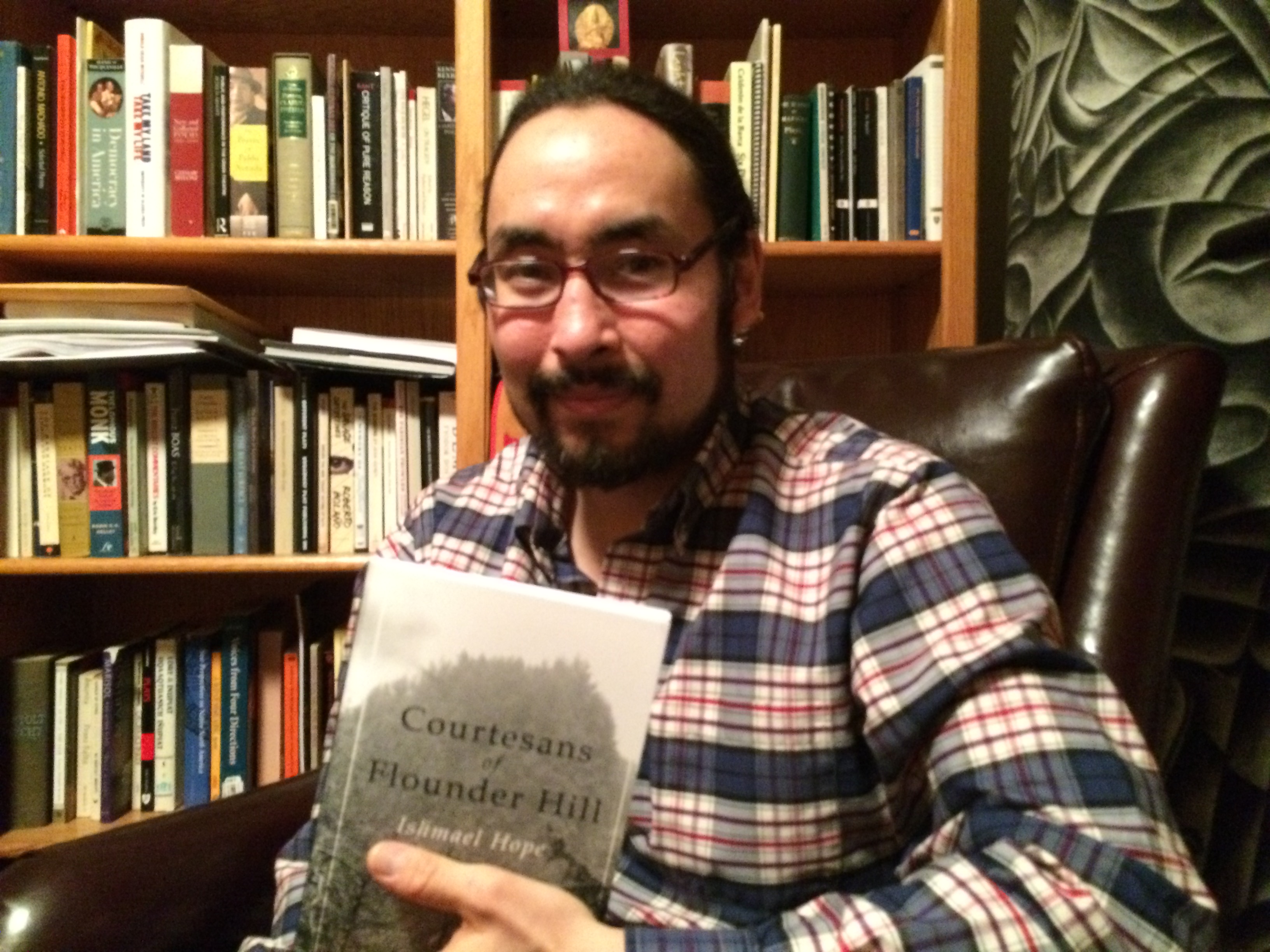 Ishmael Hope may be best known for his storytelling, but he is also a poet. His first book of poetry titled "Courtesans of Flounder Hill" will be released this Sunday.
The 69-page book was published by the Ishmael Reed Publishing Company—Ishmael Reed, the renowned African-American writer from whom Ishmael Hope got his name, and who published his mother's writing 30 years ago.
Hope says writing poetry is unlike theater and his other arts. "I have more control, and in a lot of ways you don't want to control it though," he says with a laugh. "But I have more of a say on what I can do with it."
As for his process, Hope says, "Every now and then you're just taken with this thought, and it's your body and your whole experience is connecting to something powerfully and then you just have to write. When that moment comes, that's often where the most intense kind of poetry can come out of."
Speaking to the underlying theme of the collection, Hope paraphrases his friend Robert Bringhurst.
"The powerful Haida artists and the renaissance painters, they had a narrative tradition that they followed, but it wasn't just that. They had the talent to put in the shock of the real. And so that's what I try and tune myself into: multiple traditions, and then, there's just the raw experience of being alive–and somehow, it should have that flavor in there."
The book release party will be 4 p.m. Sunday at Kindred Post, where the book will also be carried. Hope will be joined by Christy NaMee Eriksen and Nora Dauenhauer who will also read.
Listen to Hope recite "Spread My Ashes on Khaa Tú Kaxhsakee Héen" in its entirety, here:
"Spread My Ashes on Khaa Tú Kaxhsakee Héen"
Spread my ashes
on the River That Unravels Your Thoughts,
Peaceful River,
the moment where grief is released,
and heavy stones are lifted,
and the spirits show their faces.
Spread my ashes
on Khaa Tú Kaxhsakee Héen,
the river of my dear ancestor,
Aak'wtaatseen, the man who came home
with knowledge of the Salmon People,
who lived to be a hundred years old,
who died with his spirits him up
in a trance.
Spread my ashes
on a Peaceful River.
I want to return to my ancestors.
I want people to sing songs
and watch the sandhill cranes fly over them,
and paddle in canoes made by master carvers,
and tell jokes, and call on the old power,
as my ashes soak into the water.
Spread my ashes into the water.
I want to be placed into the heart of my people,
and the rest of me to be left unaccounted for
in the sea.
When I am gone,
I want to talk to those who come after me,
in our ancestral language.
I want to visit them in their dreams.
I want to tell them what we stood for.
I want to keep an unbroken line of storytellers,
orators, weavers, beaders, carvers, and Elders.
I want to dance at large ceremonies,
where all my ancestors gather
and give speeches about returning our love,
again and again, to our descendants.
Spread my ashes on Khaa Tú Kaxhsakee Héen.
I don't fear my death, whenever it will come.
It is because my mother and father and grandparents,
and the old spirits speak to my blood,
whenever I think of them.
They speak of invisible food,
eaten whenever hearts kiss,
whenever the spirits are heard,
whenever the other side
lets go of their grief after hearing
the speech of an Elder.
Spread my ashes when I die.
Maybe I can live a little bit
like those endless, beautiful days
when I am gone, and travel freely,
through all the worlds.
Every now and then, between failures,
that's how it is.
Aáa. That's how it is.