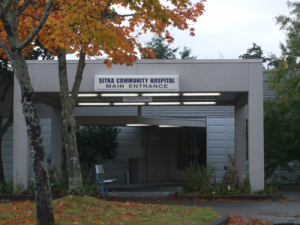 The city-owned Sitka Community Hospital is in worse financial shape than anyone thought — including its new CEO.
The Sitka Assembly was briefed on the hospital's finances during a closed-door session Tuesday. The hospital's chief financial officer has resigned. Very little information has been released to the public so far.
After the closed meeting, Mayor Mim McConnell offered the body's only public comment on the situation.
"The assembly met to receive a report on the fiscal situation at Sitka Community Hospital," she read from a prepared statement. "There has been a perfect storm of financial events that have led to a difficult situation. We have an excellent team in place, committed to exploring all possible solutions, which include both short- and long-term plans. The assembly will be updated on a regular basis over the coming weeks."
While Sitka Community Hospital is mostly autonomous, its board answers to the Assembly and its budget is a line item in the city's budget.
Speaking with reporters after the meeting, hospital CEO Jeff Comer said he hopes to release more information soon. Comer was hired in September.
"I've been, as you all know, on the job for about three months now, and I've been looking into our financial situation," he said. "We've got multiple issues that I've uncovered, and I'm still evaluating. So as soon as I have a better feel for those, and the depth of them, and the impact, then I'll have more information to release."
Comer said the hospital will be able to make payroll and that he's still evaluating whether to ask the Assembly for money. Comer said the hospital's dire financial situation was not discussed during his interview and it's come as a surprise to him.
Comer has recently outlined ambitious plans for the hospital, including major recruitment, regional collaborations, investment in telemedicine, and satellite clinics. He said his ultimate goal is to make Sitka Community Hospital the dominant health care provider in Southeast Alaska. That vision still stands, he said.
When asked if learning about the hospital's finances has made him regret taking the position, Comer said, "not at all."