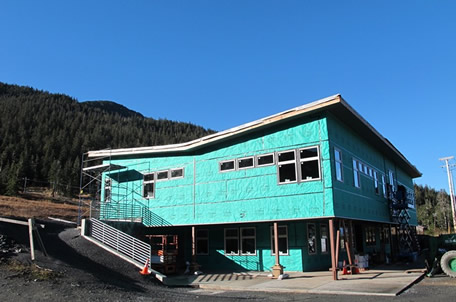 Eaglecrest Ski Area general manager Matt Lillard hopes to move into the new Porcupine Lodge just before the holidays, but most of the contractors are still finishing up work inside the building.
"Really, it's not been a single issue that's held them back and delayed them," Lillard said. "It's just been a whole bunch of small things that have added up to put them where they are. It was a very aggressive timeline as far as starting in May and being done by November."
Previously called the Learning Center, the building will be the new home for the city-owned ski area's ticketing and season pass departments, snow sports instructors, and children's and adaptive programs. The rental, retail, and repair shops will also move there. The new building will also have a viewing area for parents to watch their kids taking lessons.
At the end of the season, Lillard says they'll start work on a new parking lot.
After the rental and repair shops move out of the main lodge next year, the area will be renovated to provide additional space for skiers and snowboarders to change boots or eat lunch. The main lodge also will be renovated next summer to provide more lockers and a new home for the Juneau Ski Club.
The $2.7 million dollar Porcupine Lodge is being paid for with proceeds from a bond issue approved by Juneau voters in 2012.