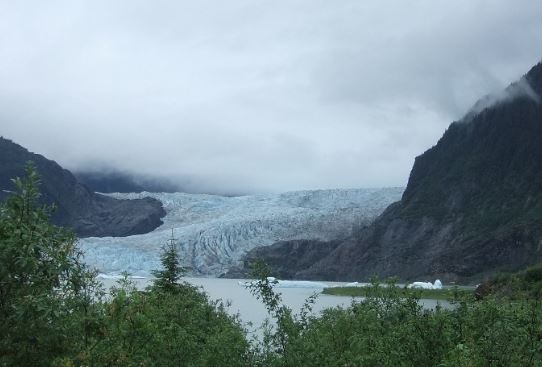 The U.S. Forest Service wants to increase fees at the Mendenhall Glacier Visitor Center starting in 2016, and for the first time the agency is proposing to charge visitors for using public spaces outside the center.
Visitor center director John Neary  says a $5 fee would be charged to use some of the trails near the facility.
"Namely the Photo Point Trail, the Steep Creek Trail," he says. "The restrooms, the viewing pavilion, the bus shelter, if you use those items, you would pay the $5 fee."
Other paths like the Nugget Falls Trail, the Trail of Time, and the East Glacier Trail will continue to be free. The visitor center entry fee would go from $3 to $5. Seasonal passes would be available, and the fees would continue to be waived during the tourism off-season from Oct. 1 to April 30. During the summer months, Neary says that the fee would be built into tour packages.
It would be the first cost increase at the visitor center in 17 years. Neary says the Forest Service believes the increases will more than double revenues, which the center would invest in facilities, staff, and other changes to improve the visitor experience.
"I have a vision that this place really could be run a whole lot more efficiently than it is, with the problems we have with traffic congestion and restroom lines and things," Neary says. "In fact we would love to see the place become much more of a Climate Change Education Center where we really can model sustainable operations."
The Juneau Ranger District will hold a public meeting to discuss the proposed fee increase. The meeting will be held Jan. 13 from 5 to 7 p.m. at the Mendenhall Glacier Visitor Center.