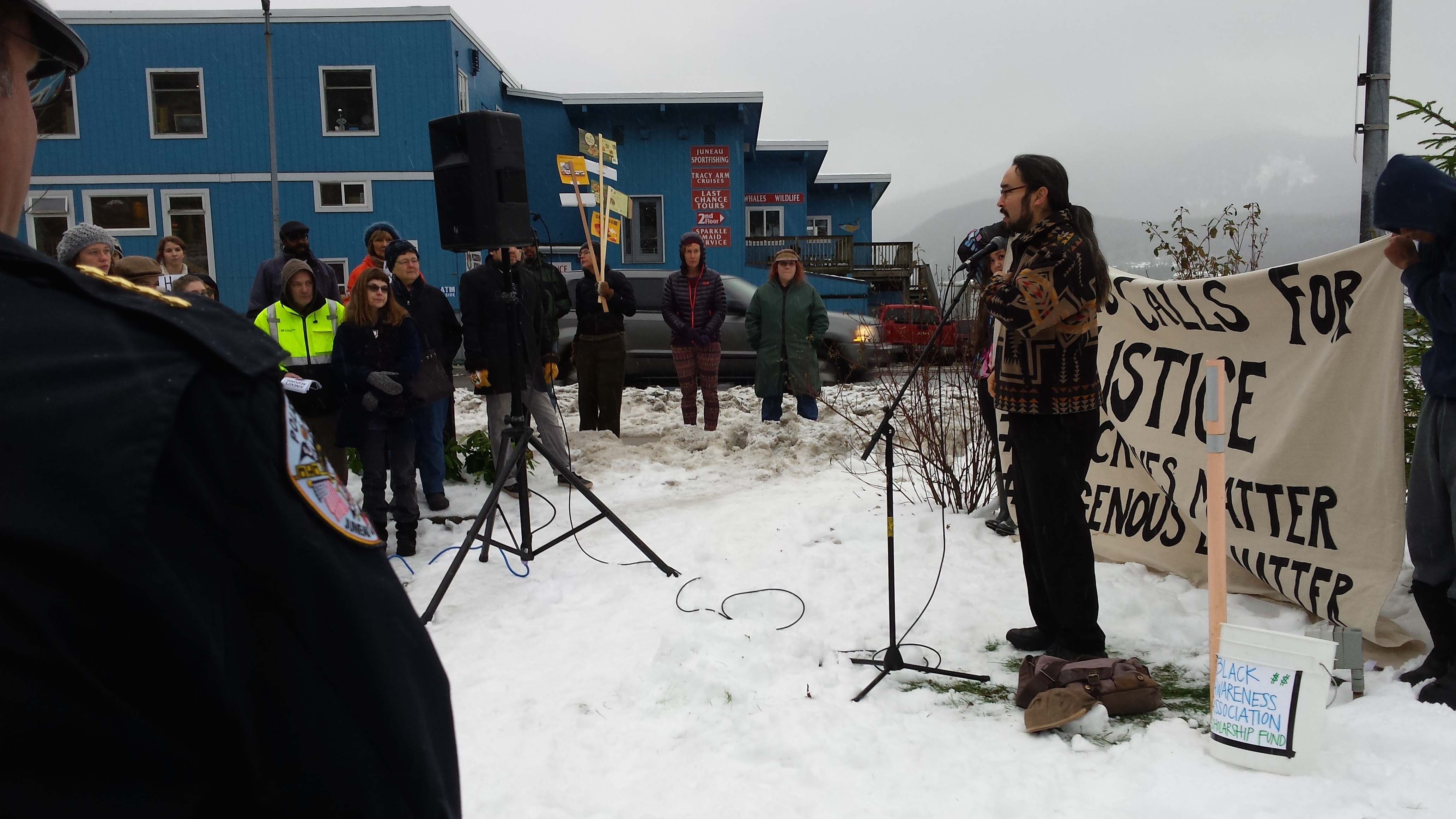 About 40 people gathered at Juneau's Downtown Transportation Center Saturday for an "I Can't Breathe" rally. Those were the last words Eric Garner spoke before a police officer's chokehold ended his life this summer in Staten Island, New York.
Similar protests have been held around the country since a grand jury failed to indict the officer who killed Garner. The incident has sparked a number of questions and conversations about race relations in the United States, because Garner was black and the officer who killed him is white.
The crowd gathered at the snow-covered bus terminal, where organizers set up a public address system for people to share their thoughts on racial profiling by police in Juneau and the lower 48.
Ibn Bailey, who's black, says the last time an officer pulled him over was 10 years ago for speeding. He says his experience with Juneau police has been largely positive, perhaps because the officers who work in the capital city are local residents.
Bailey says Juneau is not like Ferguson, Mo., another community where a young black man – Michael Brown – was killed by a white police officer.
"The people that serve in our community actually live in our community," said Bailey. "One of the things that you see, especially if you look at Ferguson, what's happened there is that a lot of the police force do not live in the same community in which they police."
Alaska Native educator and storyteller Ishmael Hope says even if Juneau is somewhat removed from the national conversation, residents can still play a role by acknowledging that racial profiling does occur and is not excusable or deniable.
"What Juneau could do even if it doesn't have that same level of state brutality is to start to recognize some of the levels of institutionalized, systemic racism that denies the stories and the experiences of people of color and minimizes it," Hope said.
Organizers invited Juneau Police Chief Bryce Johnson to the rally. Although he declined to address the specific events in Ferguson and Staten Island, Johnson said the police and public have much to learn from them.
"I think the number one lesson is that the police and the community have to be united and together," Johnson said. "It is impossible to police an area without community involvement, community support, and community trust."
Rally organizer Christy NaMee Eriksen says she hopes to see the discussion about race relations continue in Juneau. She invites those who are interested in being involved to come to her store, Kindred Post, Monday at 6 p.m.