It's finally here! The December First Friday Gallery Walk is usually the biggest of the year. Front Street will be closed to cars but open to art walkers.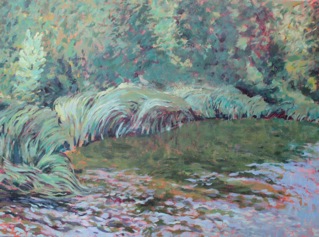 That means it's time to hit the streets, socialize, eat some crackers and cheese, drink wine out of little plastic cups, and stock up on artful holiday gifts. For this month's preview let's imagine you begin at Coppa near the Federal Building. Jim Fowler will be showing a dozen acrylic landscape paintings.
"I just appreciate people coming to take a look. It's kind of a solitary activity with little feedback from other people so this is kind of my chance to have people see the work and talk to them about it," says Fowler.
From Coppa, an art walker could mosey here to KTOO to see board paintings and fabric panels from the Zimbabwe Artists Project, then over to the JACC to see Avery Skaggs' show of ceramics, collagraphy prints, and acrylic paintings.
As you near downtown, stop in to hear music from Teri Tibbett and Bob Bloom at Coho's. Once you're in the city, check in at Elise Tomlinson's Suite 5 Studio on Seward Street. Tomlinson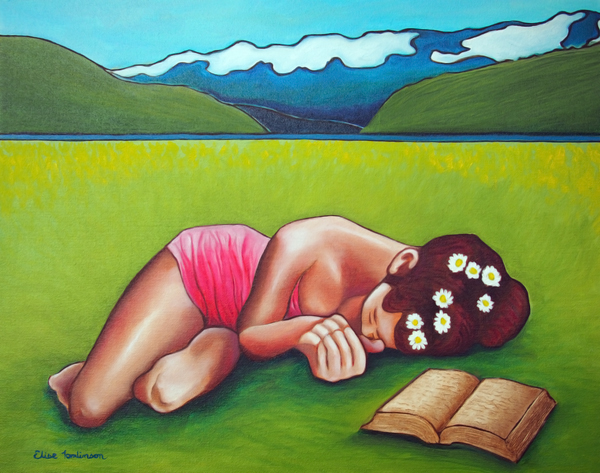 "Some of them are straight landscapes and others have women figures incorporated into them or local plant life, flowers, that kind of thing. The pieces I'll be showing for gallery walk are a whole bunch of older works, and then newer pieces that I've done this month that are small traditional landscapes. They're all in my style, which is bright, colorful, stylized, outlines, that kind of thing," Tomlinson says.
From there, you could head up to the Canvas' show of acrylic works by REACH artists, or up to the Juneau City Museum to see Constance Baltuck's show of acrylic, nature-inspired abstracts, or maybe down to Front Street to see Pat Race's show "Whalemont" at Alaska Robotics, or over to Jineít at the Sealaska building to see Wayne Price and Donald Gregory who will be carving on-site, or over to Annie Kaill's for Karen Beason and M.K. MacNaughton's show. On A Juneau Afternoon this week MacNaughton said her show is all about color.
"Shelter" by MK MacNaughton

"I like to paint in oil on canvas so I started collecting images and painting in the fall when it was raining-raining, gray-gray and I've always loved the Juneau fall because the orange is so brilliant. I run a lot on the Dan Moller trail and up above the Crow Hill condos and the meadow there, it would be the grayest day, and I'd get up there and it was orange, burning orange. I kind of had a love affair with the orange muskeg this fall. I call this my orange muskeg series."
After Annie Kaill's you could head over to Trickster Company, where Rico Worl will show new skis featuring his formline design work, or back to Hearthside Books, where Peter Metcalfe and Kathy Ruddy will be signing their new book "A Dangerous Idea" about the Alaska Native Brotherhood and the struggle for indigenous rights. Then over to Kindred Post for the interactive photo booth and music by Acapella, or the Juneau Artists Gallery, or up to Vanity, or, well — again, there are too many to mention. Please use our online, mobile friendly art guide to navigate the rest of your walk.