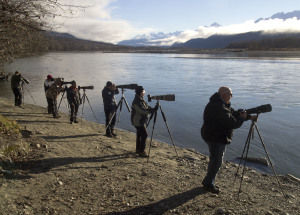 Every year, thousands of bald eagles flock to a stretch of the Chilkat River about 20 miles north of Haines. That part of the river stays ice-free longer than the rest. The eagles fly there for a late chum salmon run. It's thought to be the largest gathering of eagles in the world.
Dozens of people travel to witness the eagle gathering each year, filling up almost every hotel room in Haines. The town holds a week-long Bald Eagle Festival to capitalize on the influx of visitors. This year, it started on November 10th and ends on the 16th.
"They have a fish, two more kind of flew in eyeing it, so far the first guy has it," says Laura Ferraro as she watches bald eagles fish for salmon along the Chilkat River.
Ferraro describes herself as a "serious hobby photographer." She has a camera on a tripod in front of her with a huge lens, which she says is close to two feet long and weighs about eight pounds.
Ferraro is from Orange County, California. She's visited here once before to photograph the eagles.
"They're a beautiful bird, they symbolize freedom," she says. "And it's really fun getting the interactions with them here when they try to steal fish from each other."
Richard Barrett is standing several feet away from Ferraro with his own camera and tripod. He agrees that the eagles interacting with each other make for the best photographs.
"Well it's a majestic bird isn't it?" Barrett says. "If they're interacting with each other it's spectacular to see. And then here we got the fantastic mountain backdrop as well. So you've got a lot of ingredients to make a nice photograph."
Barrett is an amateur photographer from the UK. He's planning to use some of the pictures he takes here in a wildlife calendar.
Some people have less official plans for their eagle photos.
"Making everyone else envious they haven't been here," said Chris Klore, who traveled from Dallas with her twin sister, Michaela Davis, and their husbands Duncan and Jack. They've been planning this trip for three years.
"It sort of makes my heart beat fast, it's so pretty," Michaela said.
"It's something you don't see in the Lower 48," Jack said. "You don't see all this beauty."
"It's flat where we live," Michaela explained. "We have no mountains, we have no snow, we have no bald eagles."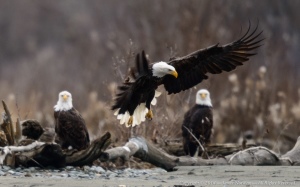 This year, there seem to be fewer bald eagles, because the weather has been clear and sunny and the rest of Chilkat River isn't frozen over. But American Bald Eagle Foundation Executive Director Cheryl McRoberts says they've counted more than 2,000 eagles along the river.
This is the 20th year the foundation has held the Bald Eagle Festival.
"We have people here this year from New Zealand, Africa, England," McRoberts said.
McRoberts says 184 people registered for the festival. Throughout the week, the foundation holds eagle feedings, raptor presentations, lectures and more.
Dave Olerud is the founder of the Bald Eagle Foundation. He helped advocate for the 48,000-acre Chilkat Bald Eagle Preserve that was established by the state in 1982.
"Every creature out there has a beautiful story to tell. And the bald eagle is a classic," Olerud said.
He says one reason people are interested in eagles is their power.
"Ancient civilizations or old civilizations what did they use to tell the story of their dominance or the power of their society?" Olerud said. "They used the eagle."
Back along the river, Heather Kelly from Whitehorse, Yukon says she had never seen a bald eagle before she visited the Upper Lynn Canal.
"I think you kind of grow up learning about bald eagles, hearing them in stories, knowing they're sort of majestic," Kelly said. "So to see one in real life is pretty neat."
"I think it's rare for wildlife not to be scared of us," said Dave Teeson, also from Whitehorse. "Most animals just avoid us so much that you just catch a short glimpse. But for eagles you can watch them close up for a long time, they don't care."
What many of the photographers here hope for is that perfect picture.
"I got a shot yesterday I'm just thrilled to death with, it makes the entire trip worthwhile," said James Norman, an amateur photographer and retired lawyer from Virginia. He described the picture:
"Two eagles interacting, both in the air, claws extended separated by an inch perhaps, a nice spray of back lit water behind them."
The Eagle Festival ends Sunday. But the migration of eagles and photographers to the Chilkat River will continue until the end of the salmon run, around late December.