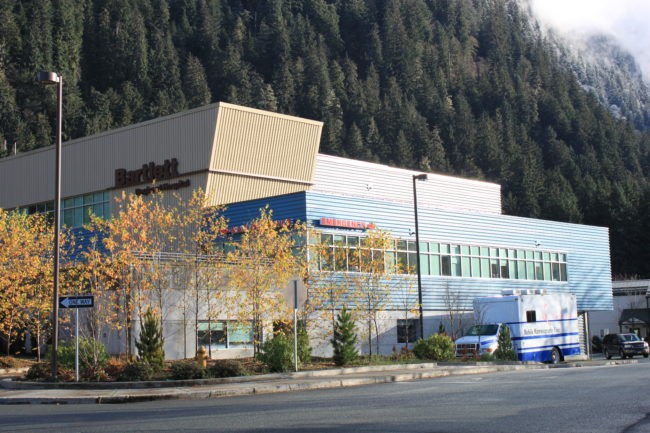 Bartlett Regional Hospital has hired a new chief financial officer. Alan Ulrich comes to Juneau from Guam where he was CFO of Guam Memorial Hospital Authority, the only civilian hospital on the island.
Bartlett CEO Chuck Bill says the hospital conducted a nationwide search and had about 60 applicants. Ulrich was brought to Juneau for an on-site interview last week.
"He stood out head and shoulders above all the others with his experience in similar types of organizations that are public entities and open to public meetings laws and that sort of thing, and a lot of very applicable rural or kind of isolated community experience as CFO also," Bill says.
The (Guam) Pacific Daily News reports Ulrich left his job Oct. 31, a month before his two-year contract expired, so he could be with his wife in Arizona.
Bill says Ulrich is excited to become part of the Juneau community, adding that he'll arrive with his wife Terri next week. His first day is Nov. 19.
The hire ends the lengthy search for a permanent CFO, which cost the hospital close to $36,000, including $25,000 to a recruitment firm. Bartlett officials conducted in-person interviews with two finalists in July, made an offer to one of them, but were unable to negotiate suitable compensation. In the meantime, there have been two interim CFOs, Alan Germany and Cynthia Brandt.
Ulrich completes the hospital's senior leadership team, which disintegrated last year after the CEO, CFO and human resources director all resigned within months of each other.
City and Borough of Juneau Human Resources Director Mila Cosgrove has taken over the same duties at the city-owned hospital. Chief Nursing Officer Billy Gardner is also a member of the leadership team. Bill came on as CEO in May.
"Part of what I'm very excited about is that we've got the team in place and I think we'll be looking towards the stability and leadership that the organization needs," Bill says.
Bartlett is in the final stages of its year-end audit, and Bill says Ulrich will be heavily involved with the implementation of the hospital's new electronic medical records system, MediTech.
Ulrich's base salary will be $190,000. That's $10,000 less than the last permanent CFO, Ken Brough. His contract also includes up to $20,000 in relocation costs, a $10,000 signing bonus and a severance provision of up to three months' pay.
Ulrich has worked as CFO or chief operating officer at hospitals in Arizona, California, Hawaii, Minnesota and Wisconsin. He holds a master's degree in Business Administration from the University of St. Thomas in St. Paul, Minn. and a Bachelor of Arts in Accounting from Luther College in Decorah, Iowa.