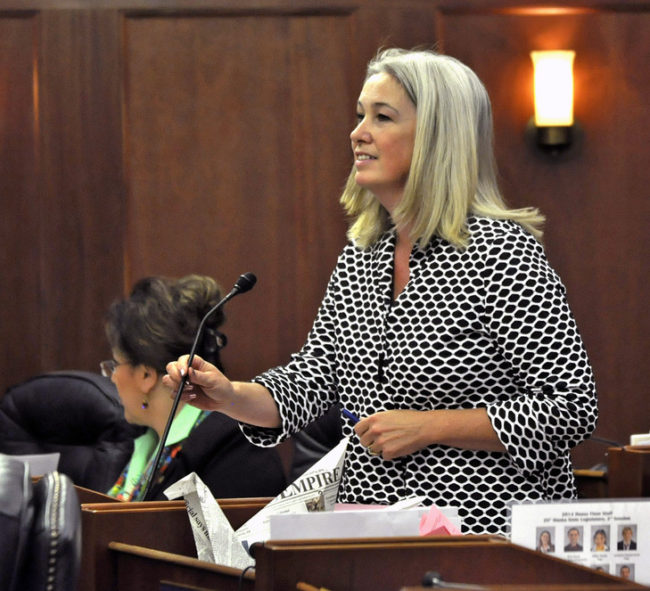 Juneau Republican Cathy Muñoz opted not to seek a leadership position in the Alaska House Majority last week. Instead, she'll keep her seat on the House Finance Committee when the Alaska Legislature convenes in January.
Meanwhile, Juneau Sen. Dennis Egan will go from the Republican-led Senate Majority caucus to the small Democratic minority.
On election night, Muñoz said some people were asking her to run for Speaker of the House or co-chair of the Finance Committee.
After giving it some thought, she decided not to seek either seat. Muñoz supported Nikiski Rep. Mike Chenault's return to the Speaker's chair, saying he's done a good job leading the Republican majority and working across the aisle with House Democrats. She also decided now would not be a good time to help lead the Finance Committee.
"I thought about running for the co-chair," Muñoz says. "But, you know, I decided that given the difficulties of this budget that it wasn't the right time. I think it's better for me to be focused on a couple of the large budgets that affect our region."
For the past two years, Muñoz has been the only representative from Southeast Alaska on the Finance Committee. She oversaw the University of Alaska and Department of Environmental Conservation budgets as chair of two subcommittees. In the next legislature, Muñoz is aiming to oversee either the Administration, Transportation, Commerce or University budgets.
"Transportation is important of course with the (Alaska) Marine Highway System, and you know, a lot of transportation projects in Southeast," she says. "And the Administration Department, there are many state positions in Juneau of course in that department, and it's a very large budget. So I think, you know, that would also have real benefit if I were in a position to manage that budget."
Muñoz won re-election last week, defeating Democrat George McGuan in House District 34.
Her counterpart in the House Democratic caucus, Juneau Rep. Sam Kito III, is waiting to find out the results of two close races before he gets his committee assignments. Democrat Matt Claman of Anchorage and Independent Dan Ortiz of Ketchikan could join the House Minority, if they maintain leads over Republicans Anand Dubey and Chere Klein.
"At this point with the Democratic organization, we have 11 solid Democrats, and that gives us a certain number of committee assignments," Kito says. "If we get to 12 members in our caucus, we get to the point where we get more seats on seven-member committees, and at this point it's premature to speculate on who might be on what committees."
Kito was appointed to his seat last session, after then-Minority Leader Beth Kerttula resigned to accept a job out of state. He says he opted not to seek a leadership position in the minority, deferring to more senior members.
Kito easily beat Republican Peter Dukowitz in House District 33.
Juneau Sen. Dennis Egan will caucus with fellow Democrats during the next legislature, after spending the last two sessions with the Republican-led Senate Majority.
Egan was not invited to the new majority's organization meeting last week.
The move means he won't chair any committees in the upcoming legislature. Egan had chaired the Senate Transportation Committee and was a member of the Legislative Council. He'll now be just a member of the Transportation Committee. He also stays on the Legislative Council, a joint House and Senate panel that conducts the legislature's administrative business.
Egan could not be reached for comment. He defeated Republican Tom Williams in Senate District Q.