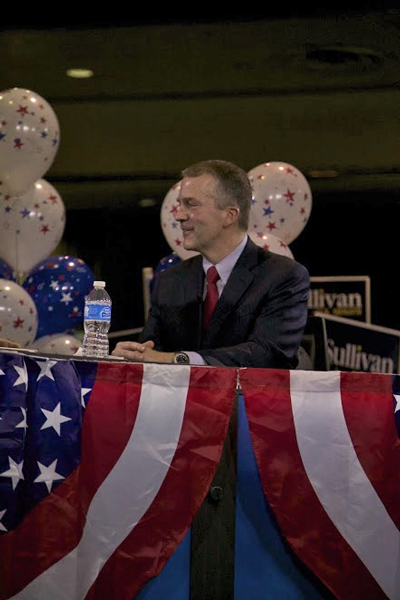 Alaska appears to have followed the national trend and elected a Republican to the U.S. Senate. But Democratic Sen. Mark Begich isn't conceding and it's likely the race won't be decided until next week.
Republican Dan Sullivan was ahead by almost 4 percentage points at the end of election night. He thanked his volunteers and told them he wasn't making a victory speech.
"Door Knocking! Phone Calls! You guys made it happen!" Sullivan said, to loud cheers.
Begich went home before midnight, saying he's hopeful his massive outreach in rural Alaska will pay off. Jim Lottsfeldt ran a $10 million superPAC supporting Begich. He maintains the uncounted early and absentee votes will break their way.
"Oh it's not over," Lottsfeldt said, echoing the senator's words to supporters from a few minutes before. "Begich has never had a result that was good for him on election night. It always goes down to the wire. I think in about 10 days when all the votes are counted, we'll see. "
All precincts had reported by early this morning. More than 22,000 ballots remain uncounted, and more are arriving in the mail. But with Sullivan ahead by more than 8,000 votes, the uncounted ballots would have to favor Begich by a huge margin if he's to stay in office.
In a written statement before all the precincts reported, the Begich campaign said the Democrat would make a statement about the race after all the villages had reported "and when the number of outstanding absentee and questioned ballots is clear."