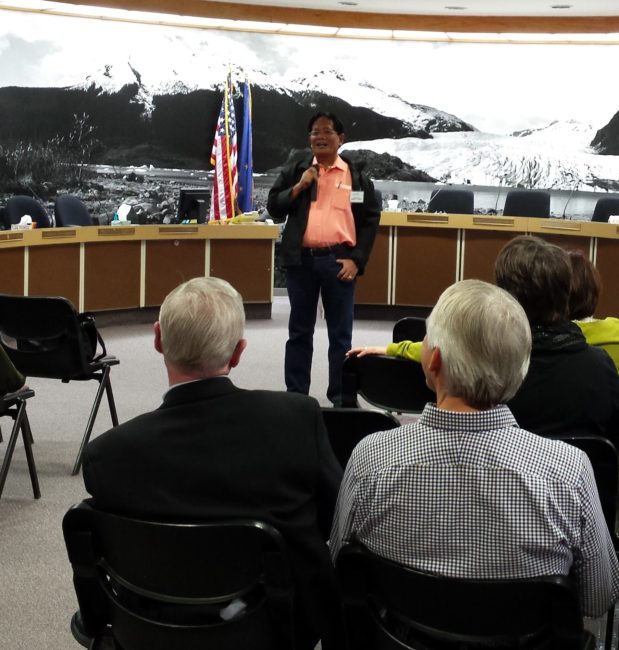 Juneau gained its fifth sister city this weekend. Representatives from Kalibo in the Aklan Province of the Philippines signed documents Saturday afternoon to formalize the agreement. Juneau and Kalibo are both vibrant tourism centers and regional capital cities. They hope to mutually benefit each other socially and economically as sister cities.
About 3,000 Filipinos live in Juneau and roughly 800 of them are from Aklan. Vicky Roldan is one of them. She's been in Juneau for 21 years and says family is the reason so many Kalibo residents move here.
"There's a big number of them here because of intermarriages and all that and they keep bringing family over here."
Alex Carrillo  was born and raised in Juneau and says the Filipino population has always been a tight-knit community.
"Just growing up in the Filipino Hall around even people who weren't our relatives. We were so close back then because that's all we had was one another. The Filipino Hall is a really big part of my life."
He says Juneau's bond with Kalibo is more than just a sign of good will toward the Philippines.
"Filipinos are a big part of Juneau, I think. And it just shows that the city of Juneau really appreciates us."
While in Juneau, the Kalibo delegation did some sightseeing including visits to the Mendenhall Glacier and the Shrine of St. Therese. They also visited local businesses, like the Alaskan Brewing Co.
Many expressed hope that the sister city connection will encourage an exchange of goods, services and information. Dr. Makarius Dela Cruz is Kalibo's municipal health officer. He says Aklan needs support to provide better health care to its residents.
"Your government could help my government to provide medicines, equipments and also promote nutrition in our town."
Typhoon Haiyan hit the Philippines last November and damaged buildings in Aklan. Juneau's Filipino Community Inc., or FilCom, reached out to those affected across the Philippines. Larry Snyder is on the Juneau Sister Cities Committee.
"The FilCom had a fundraising event for relief money to assist Filipinos. And then the state of course donated two cargo planes full of Alaska sea products, salmon, canned salmon."
Seafood is important to both Southeast Alaska and Aklan. Jenny Gomez Strickler is the Philippines' honorary consul to Alaska. She wrote to Alaska Airlines to explore the possibility of a direct flight to Manila that could increase the amount of fish exported. She says there are products that people in the Philippines could use that would otherwise go to waste in the United States.
"In Alaska, our fishermen grind up the salmon heads and throw it back in the ocean. I joke that that would be a taboo to Filipinos. Filipinos love making fish-head soup. They call it sinigang."
John Pugh is the chancellor of the University of Alaska Southeast. He says there could be a trade in education.
"Having the sister city relationship will enable us to work towards maybe some educational exchanges through agreement with Aklan University – for students, for faculty exchanges – and we think that would be a real benefit."
If the sister city relationship is successful, members of both communities hope it will also spark more tourism.