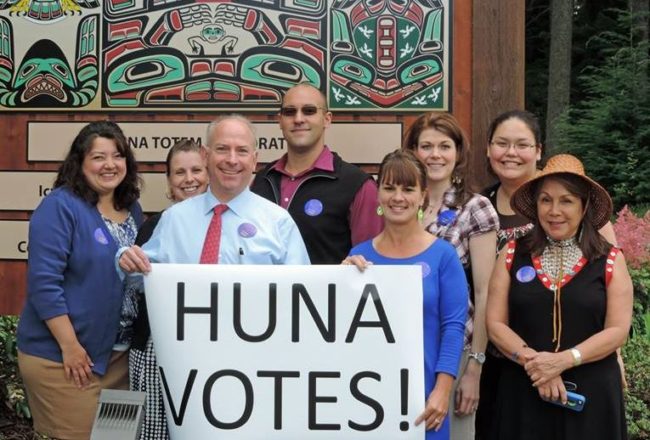 As election day nears, Alaska Native organizations in Juneau are making one last big push to encourage voters through a Get Out the Native Vote information rally on Saturday.
The rally will feature a simulated voting booth for first time voters, information on candidates and ballot measures, and entertainment.
The event is being organized by Tlingit Haida Central Council, Huna Totem Corp., Tlingit-Haida Regional Housing Authority, Haa Aaní and University of Alaska Southeast.
This is the first election season Native groups in Southeast Alaska have officially come together to try and boost the Native vote.
Shawn Blumenshine is with Haa Aaní, a subsidiary of Sealaska, the regional Native corporation for Southeast.
"The biggest thing that we're trying to focus on is to express our voice, to have a Native voice, to participate in this process. And then voting informed; not just voting, but also know what you're voting for, know the candidates," Blumenshine says.
In past years, Native entities worked independently to increase voter turnout. In 2010, Blumenshine says Sealaska organized a voter challenge in Hydaburg, a community of about 400 on Prince of Wales Island.
"We did a yard sign project where on one side, it says, 'I'm Native. I vote.' On the other side, it says, 'I voted. Have you?' So the idea was that you could go around and put the signs in the yard and once you voted, you could turn them around and then your neighbors get an idea of how many people are voting and it encourages other people to vote," he says.
That year, 21 people in Hydaburg voted in the primary election. Blumenshine says the yard sign project helped bring out the more than 100 people in the general election.
This year's collaboration was spurred by the statewide Get Out the Native Vote effort of ANCSA Regional Association, a group of Native corporation CEOs.
Nancy Barnes works for Huna Totem, the village corporation for the City of Hoonah. She says coming together to work toward the same goal makes sense.
"People before us, my parents and grandparents, fought hard to get the right for us to even vote. We just want our people – and when I say 'our people,' I mean Alaska Natives – to get out and vote," Barnes says.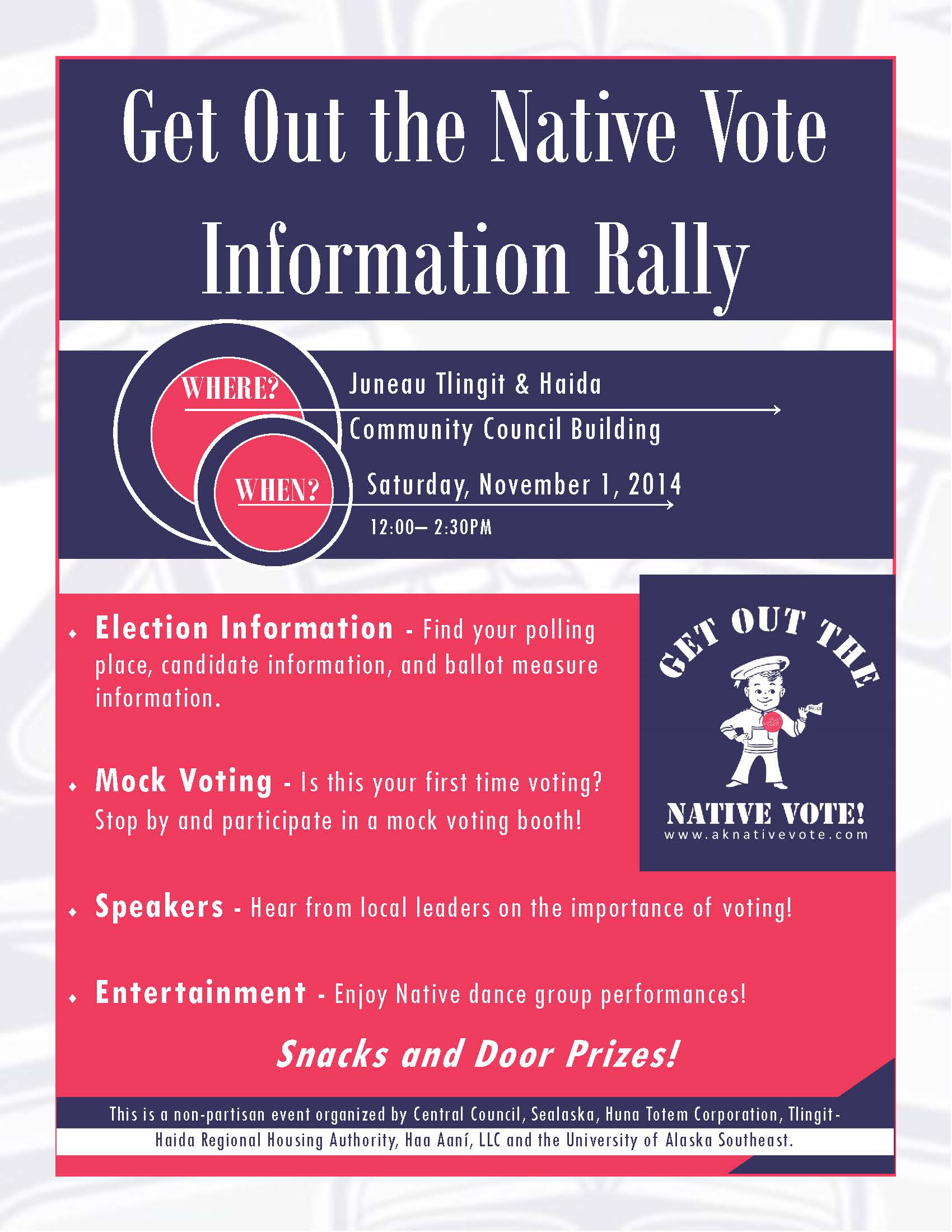 Barnes says the Get Out the Native Vote effort can be seen all over the state. The Alaska Federation of Natives handed out a 28-page voting guide highlighting the U.S. Senate and governor races at its recent convention in Anchorage.
"We actually had people voting across the street. We carried signs and had people following us to vote early. It was awesome," she says.
Barnes says every vote counts, especially in rural Alaska. She brings up Hoonah's recent runoff election for mayor, where Kenneth Skaflestad defeated Jacqueline Dick by only two votes.
Juneau's Get Out the Native Vote group held a voter registration event in September, attended by a couple hundred people. Barnes said she registered a homeless woman who had never voted before.
"I'm telling people, 'Grab five friends or relatives and get them to vote,' or call them and urge them to vote," Barnes says.
On election day, Get Out the Native Vote in Juneau plans to offer rides to the polls.