Independent candidate for governor Bill Walker released a TV ad last week targeting Spanish speaking voters in Alaska. In a race where every vote counts, the campaign hopes the ad will give them the upper hand.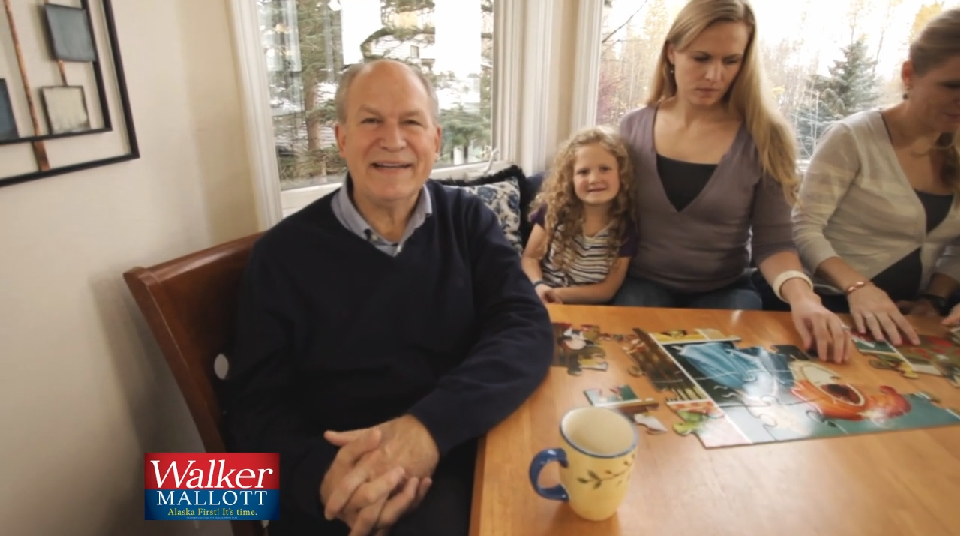 The ad, airing on Telemundo, features long-time Walker family friends Elena Cedano and Manny Escobedo. Walker makes an appearance toward the end alongside his granddaughter, Mera.
"I'm Bill Walker," the candidate says in Spanish. "I approve this message."
"Vote for my grandfather," Mera adds.
Walker's daughter, Lindsay Hobson, majored in Spanish during college and enrolled Mera in a bilingual school in Anchorage. Hobson says her father does not speak the language, but spent a lot of time rehearsing his line.
"He genuinely wanted to get it down right," she says. "And, you know, he did it over and over and over. Everyone was so patient and it was just such a great experience, really."
Hobson is a spokesperson for her father's campaign, and believes the Spanish-language commercial taps into an important demographic.
"I think I heard somewhere that one vote in Alaska is worth 55 votes in New York. You know, it really is important because we are all Alaskans and to engage different communities within the state is also in-line with having a more inclusive government."
Hobson says an account executive with Telemundo told her it's unique to have a commercial produced in Spanish. Most campaigns simply dub over English-language commercials.
She says the campaign spent $600 to make the ad. It will pay $2,500 to air the spot through election day. The Walker-Mallott ticket has raised more than $500,000 so far this election cycle.
Luke Miller, communications director for Governor Sean Parnell's campaign, says Parnell has not yet produced any commercials in other languages.
"The governor's working to get every single Alaskan's vote. He doesn't necessarily differentiate between any Alaskan and when he's across the state in different communities, he's meeting with people of all races and all colors."
According to the Alaska Department of Labor, people of Latino heritage made up more than 5 percent of the state's population in the 2010 U.S. Census. The Census shows the number of Hispanic people in Alaska is growing faster than the same demographic nationwide.
Bill Walker for Gov-Telemundo Alaska from Daniel Hernandez on Vimeo.
*Editor's Note: Luke Miller's title has been updated to communications director, not deputy press secretary.