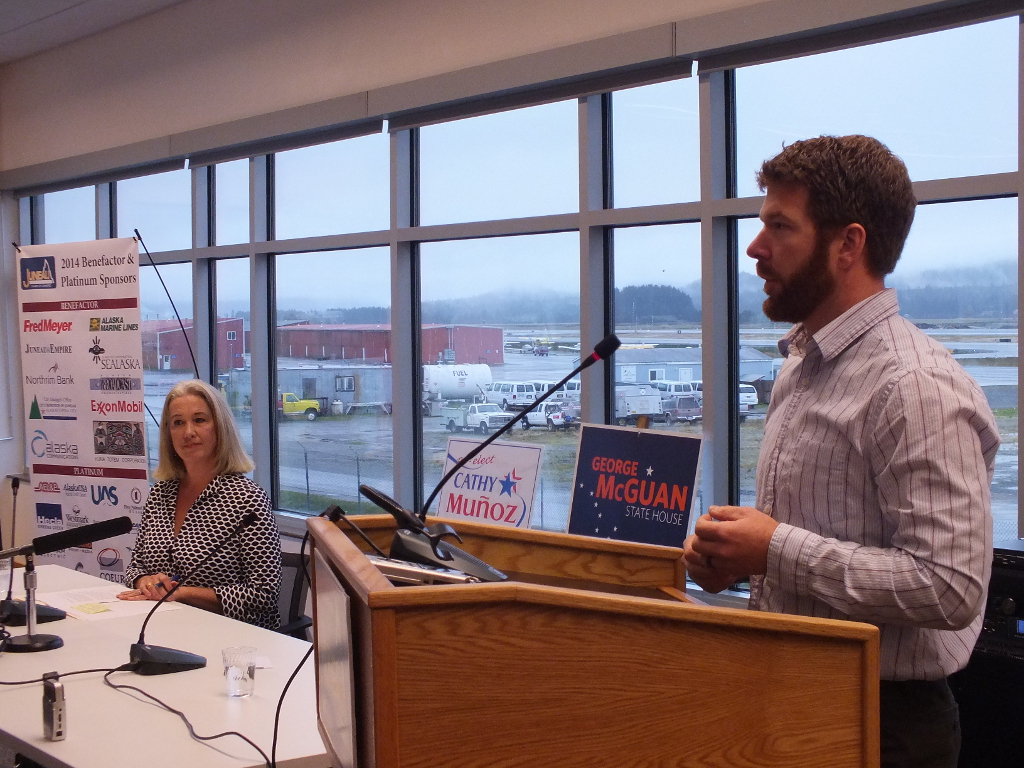 The candidates for House District 34 agreed on many of the major issues facing Alaska at a Juneau Chamber of Commerce forum Thursday. But there were also areas where they differed, especially on education funding.
Incumbent Republican Cathy Muñoz and Democrat George McGuan are vying for the seat representing Juneau's Mendenhall Valley and out the road in this year's general election.
Muñoz and McGuan both expressed support for state efforts to build a natural gas pipeline. They both said Alaska's current oil tax structure should be given three to five years to work before its effect on production and state revenue is re-evaluated.
Education was one of the areas where the candidates disagreed. McGuan said the current Republican leadership in the House hasn't done enough to fund schools, and he said he supports universal pre-kindergarten in Alaska.
"Early beginnings is the biggest, best investment we can make in our education system," he said. "The sooner we can get kids into a structured learning environment, the more they'll succeed throughout their career."
Muñoz defended education funding levels. She described last year's increase to the state's per-student funding formula as a step forward, even if it wasn't as much as some had hoped. Muñoz said overall state spending on education has increased since 2008.
"We are doing what we can, and we will continue to meet our obligations under the constitution," Muñoz said. "We need to always focus on public education as our top priority, and you have my commitment that I will continue to do so."
Another area of disagreement was on the Juneau Access Project, a priority for the chamber. McGuan said he would defer the proposed Lynn Canal highway to help pay for more education funding. Muñoz supports the project, saying it will be of economic and social benefit to residents of northern Southeast Alaska.
Muñoz was first elected to the valley state House seat in 2008.
The general election is Nov. 4.