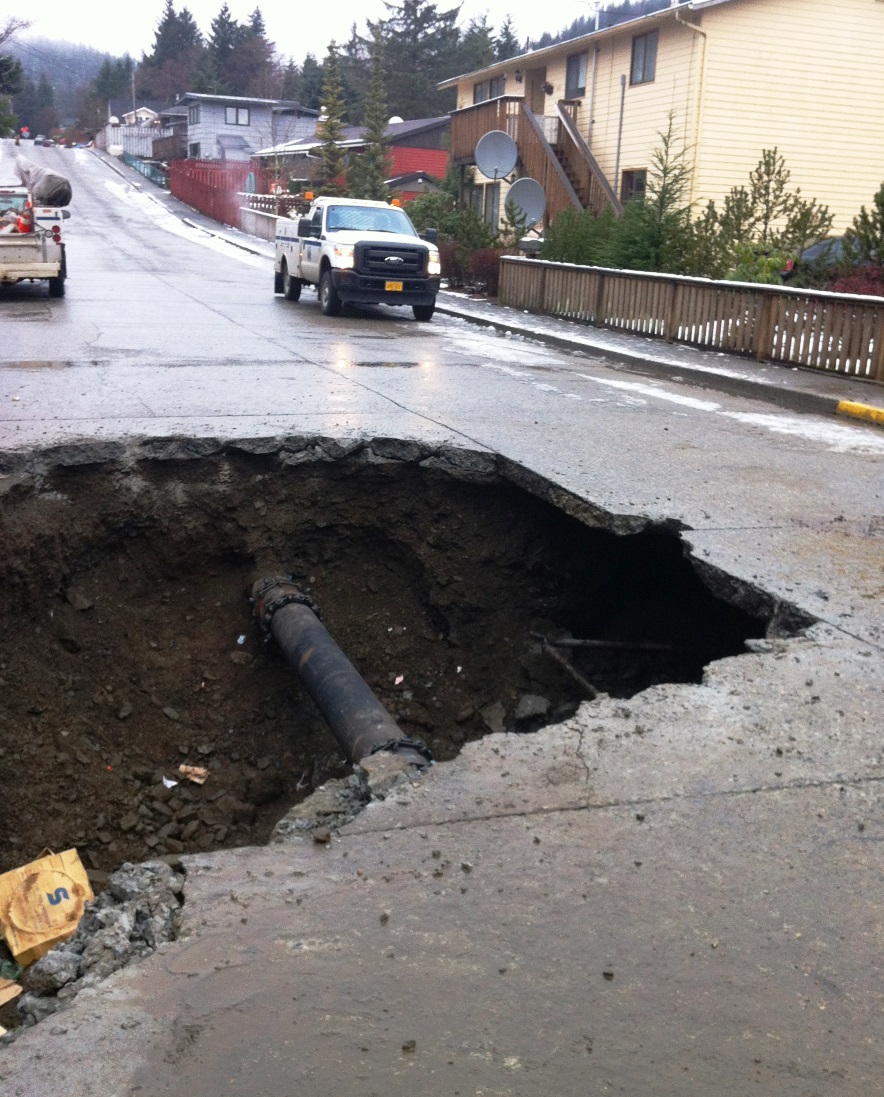 Some Southeast Alaska voters will consider how to raise revenues and what to spend them on during Tuesday's municipal elections.
At least a dozen ballot measures are going before Southeast's voters.
Ketchikan
The city of Ketchikan, for example, wants the OK to raise money to replace aging water and sewer lines.
That could sound boring. But it won't be if lines up to 50 years old break and spill their contents.
"It's not a question of if that system's going to fail. It's a question of when it will fail," said Ketchikan City Manager Karl Amylon during a meeting last summer.
A pair of ballot measures would raise $10 million for the projects. Officials say the state will reimburse 70 percent of the total cost.
Council member KJ Harris usually opposes bond issues, but not this time.
"To me, this is a need, not a want. We've got to have infrastructure," he said.
Critics say the city already has too much bond debt.
Petersburg
Petersburg voters face seven ballot issues, most addressing taxes.
Four would change different aspects of the local senior citizen sales tax exemption. Two would limit the break to locals, while one would exempt only food and heating fuel.
Another would make plans to phase out the break.
Municipal Clerk Kathy O'Rear says if that measure passes, only those 65 and older by the end of 2019 would be eligible.
"So eventually, the senior citizens' sale tax exemption will sunset or go away," she said.
Petersburg sales tax committee member Lee Corrao is OK with residency requirements. But he's not fond of the overall approach, which will increase municipal revenue.
"They'll just spend it. I don't want to give it to them. And I don't think most taxpayers want to just give them money unless there's justification for it. This is not the way to do it. We have bond measures if we have projects we need to fund," he said.
Skagway
In Skagway, voters will be asked to approve a bond measure funding a new, $12 million public safety facility.
Skagway Mayor Mark Schaefer, at an August meeting, said it's an important need for the community's tourism economy.
'The buildings we use now are wholly inadequate for the industry we serve. They're quite shameful, in fact," he said.
A companion measure would increase Skagway's seasonal sales tax from 5 percent to 6 percent.
That's expected to raise enough money to pay back the bonds, which are a type of loan.
Critics are mostly concerned about the sales tax increase, because it would raise prices for residents, not just tourists.
Juneau
Juneau has one ballot proposition in this election.
It would create what's called an empowered board that could set budgets and raise revenues for the capital city's two swimming pools.
Supporters say a stronger board could attract more swimmers and other users, and help pay for needed repairs.
Critics say the measure would put too much emphasis on one part of the community's recreation programs.