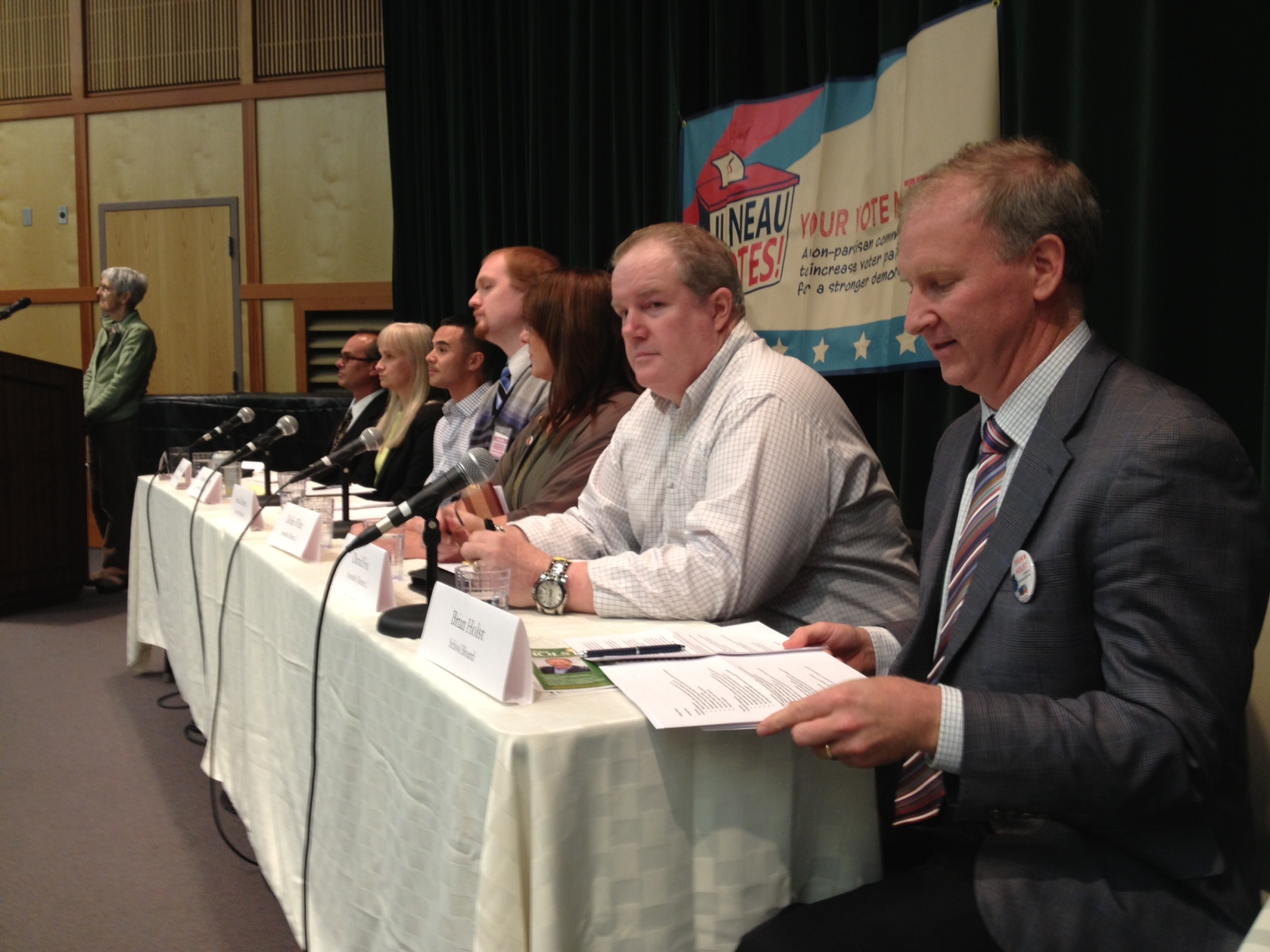 Six municipal candidates vying for two Juneau Assembly seats agree on a couple things – the city should have an aquatics board and the Assembly should fund schools to the maximum extent possible.
Areawide Assembly candidates Maria Gladziszewski, Norton Gregory, Tony Yorba; District 2 Assembly candidates David Fox, Joshua Warren, Debbie White; and school board candidate Brian Holst participated in a Juneau Votes Forum yesterday at the University of Alaska Southeast.
Juneau Votes is a non-partisan community project that aims to increase voter registration, education and turnout. Panelists from The Juneau Empire and KTOO asked a combination of prepared and audience submitted questions that ranged from the city budget to the environment.
On the issue of downtown parking, District 2 candidate Debbie White says the city does need another parking garage, but it should to be built away from the water.
"When the first garage was built, they put a library on top of it to make it a feel good proposition. The reason I say that is because they took potentially the most valuable piece of waterfront commercial property in all of Southeast Alaska and put a parking garage on it," White says.
Joshua Warren says downtown parking will only get worse with the expansion of the Juneau Arts and Culture Center. But his solution is not a parking garage.
"What I'd like to see is some sort of park-and-ride that you'd see down south near an airport where you'd park in the valley and take a small bus downtown to where you work in order to reduce the amount of cars in the downtown area and the carbon footprint driving downtown," Warren says.
David Fox, who's also running for the District 2 Assembly seat, says he'd like to see a parking garage in the Willoughby District. He says it would sit between the federal building and the State Office Building where many who park downtown work.
"It would offer those employees parking spots that are really needed, especially in the summertime with the tourism and stuff like that. And simply from a safety standpoint, not having that congestion on the streets would certainly be a big boost, too," Fox says.
When it comes to pot shops in Juneau if recreational marijuana becomes legal in Alaska, Fox and Warren say the public should decide whether or not to allow them, although Warren says he personally supports the idea. White says pot shops in Juneau could be a source of revenue, especially since the Haines Borough Assembly opposes legalization.
Areawide Assembly candidates have different ideas on how to address vacant and dilapidated buildings downtown.
Tony Yorba says one solution is fostering a better climate for private development of the buildings.
"And that includes looking at better transportation downtown, which is one of the big blocks for housing downtown; zoning changes to make sure that it's easier for those buildings to become multi-use facilities; and finally to make sure that the building codes and the enforcement of those codes allow some flexibility," Yorba says.
Maria Gladziszewski says the Downtown Improvement Group is a tremendous force.
"It was started by community members who saw a problem and wanted to address it and didn't wait for the government to come and do something, and that is exactly the kind of approach we need to solve the problems here," Gladziszewski.
Norton Gregory says location presents an especially challenging issue when addressing vacant buildings downtown.
"They're in a precarious place to have to demolish them or to improve them and we should really work with the owners to find the best use for those buildings and come up with a plan; have a standard for what we want our downtown to look like," Gregory says.
In response to what Juneau can do to adequately prepare for an increasing aging population, also known as the "silver tsunami," both Gregory and Gladziszewski focused on creating more housing. In contrast, Yorba says it's more effective and less costly to promote an "age in place" model, which includes seniors remaining in homes they currently occupy.
For school board issues, Brian Holst was the only candidate at the forum. He acknowledges that many classroom sizes are above the allocated limit set by the budget. He thinks that's a problem in the lower grade levels.
"We need to invest in our teachers, especially in the early years. In our primary grades K, 1 and 2 – that's where we should prioritize our investment in hiring additional teachers," Holst says.
Holst says, his number one priority is student achievement.
Someone in the audience asked if students should continue to choose their high school. Holst says a boundary line shouldn't be drawn. He says it's important that the two schools complement each other and families should continue to choose where students go.
Also running for school board is current Vice President Sean O'Brien and write-in candidate Tom Milliron. Jesse Kiehl is running unopposed for District 1 Assembly seat. These candidates said they couldn't attend the forum. Kory Hunt is the fourth candidate running for District 2 Assembly. He didn't respond to the forum invitation.