This summer's Arctic Ocean research aboard the U.S. Coast Guard icebreaker Healy has come to end. The vessel has returned to it's homeport in Seattle and researchers are now analyzing data they collected from a variety of projects conducted in the Chukchi and Beaufort Seas.
Civilian scientists hunted down phytoplankton blooms under the ice pack and studied subsurface ocean currents, while Coast Guard researchers tried out possible technological improvements for vessels operating in the far north, and tested unmanned vehicles for monitoring a potential oil spill in the harsh Arctic environment.
The Healy made a port call Sept. 4th in Juneau on its way home after a summer of research off the northwest coast of Alaska. The vessel's crew held a free open house for Juneau residents to tour the ship and get a glimpse into the operation of one of the country's two operational icebreakers.
---
Arctic ice pack now vs. then
Captain John Reeves, the Healy's commanding officer, said he's spent a total of nine seasons in the Arctic over the course of his Coast Guard career, and he said the ice looks different than when he was first assigned to the icebreaker Healy about twenty years ago.
He said they did a lot more icebreaking than usual because they arrived in the Arctic earlier this year for follow-up research on phytoplankton blooms under the icepack.
"Further south, I think there was a lot more ridging and rubble than we're normally used to seeing," Reeves said. "Just because further south, the ice is more mobile and it moves around."
"The ice pack is very dynamic. It's moving around all winter. Leads are opening up and closing."
But Reeves said the ice is clearly thinning.
---
---
The Arctic Sea ice minimum summer extent has been documented as trending down at least 12% for each decade since the 1970s, and the thinning of the ice coverage has accelerated within the last seven years. Recent research by University of Washington and NASA showed that the snowpack on top of that ice in the western Arctic Ocean, Beaufort and Chukchi Seas has also thinned 30% to 50% since the 1950s.
---
[vimeo 96533464 w=645 h=362]
Backing & Ramming from Ben Harden on Vimeo.
---
Reeves said he's stopped taking pictures of the Arctic because photographs really don't capture the scene very well. But he said he keeps coming back to the Arctic because it's 'very cool'.
The awesome, beautiful days are when it's blue sky and all you can see to the horizon is ice, and maybe some water leads here and there. Just kind of that innate feeling, knowing that you're up there where very few people have ever gone."
---
Operating an icebreaker is different than running a regular vessel in open water.
"Normally, you avoid running into things," Reeves said. "With an icebreaker, that's kind of your job. (It is) to run into things and break a path through to get from Point A to Point B."
---
[vimeo 98376844 w=645 h=363]
We'll Get There Eventually from Ben Harden on Vimeo.
---
Future of United States in the Arctic
With thinning sea ice and more marine traffic expected in the Arctic Ocean, why does the U.S. need more icebreakers?
Reeves points to the Altan Girl incident as an example. Back in July, the Healy had to break away from science research off of the northwest coast of Alaska and make its way out of the pack ice before traveling east in open water at full speed. A lone sailor was traveling from Vancouver to the east coast of Canada through the Northwest Passage when his 36-foot sailboat became trapped in the pack ice. Before embarking on the rescue, Reeves said they consulted with the National Science Foundation since the scientists' work and a large portion of the vessel's operating expenses is funded by the organization.
Reeves expects it will be at least ten years before a new U.S. icebreaker is deployed to the Arctic because of the government's purchasing process.
Meanwhile, marine traffic and ecotourism will increase in the Arctic, and demand will develop for undersea resources.
"In one study, I heard we need three medium and three heavy icebreakers to fully supply all the needs that have been articulated," Reeves said. They include responding to potential spills or other search and rescues of trapped vessels.
---
---
Science of Arctic Spring 2014
This past summer in the Arctic Ocean, civilian scientists spent their summer on board the icebreaker Healy tracking subsurface currents and measuring phytoplankton populations under the thinning sea ice.
[vimeo 97872551 w=645 h=363]
Waiting For The Melt from Ben Harden on Vimeo.
---
---
Coast Guard Arctic Research and Development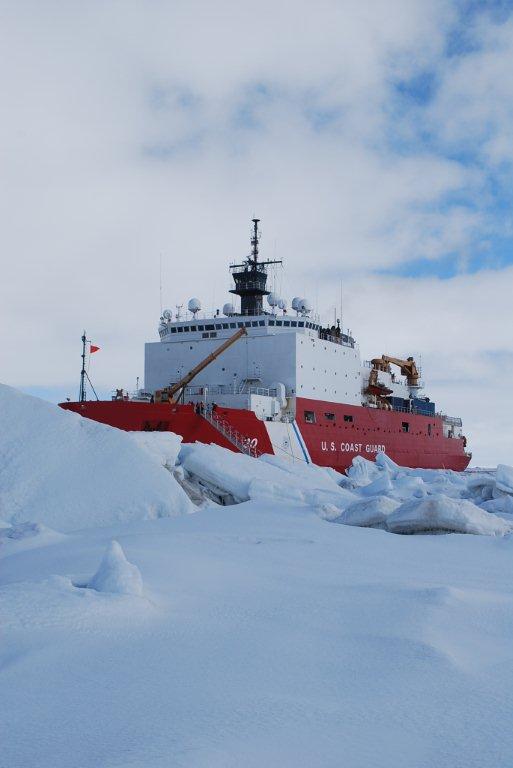 Coast Guard officials say new equipment and procedures like loading in icy waters and small vessel propulsion for operating in the Arctic are tested on a regular basis.
Rich Hansen, chief scientist at the Coast Guard's Research and Development Center in New London, Connecticut, said this year they focused on other technologies such as making test modifications to the Coast Guard icebreaker Healy and its small boat for operating in a cold weather climate.
"This year's effort had to do with system improvements: better ways of defogging windows which tend to fog up in the Arctic, better heating systems, systems to keep the engines more readily available for easier start-up," Hansen said.
Hansen said they also experimented with using the shore-based Automated Information System (AIS) to pass on navigational safety information to vessels, and they tested alternate modes of long-range communication because of the difficulties inherent with high frequency radio and traditional communication satellites at high latitudes.
Most communication satellites are in easy view for those in southern Alaska and the Lower 48. But Hansen said they're not reliable when you get closer to the poles.
"As you proceed to high latitudes, you soon run out of the (satellite) footprint," Hansen said. "So, you don't have any communications or reduced capability."
High frequency radio is also subject to interference and other atmospheric anomalies in the Arctic.
---
---
Coast Guard researchers also experimented with the use of unmanned aerial vehicles and other technologies to monitor a potential oil spill in the Arctic Ocean.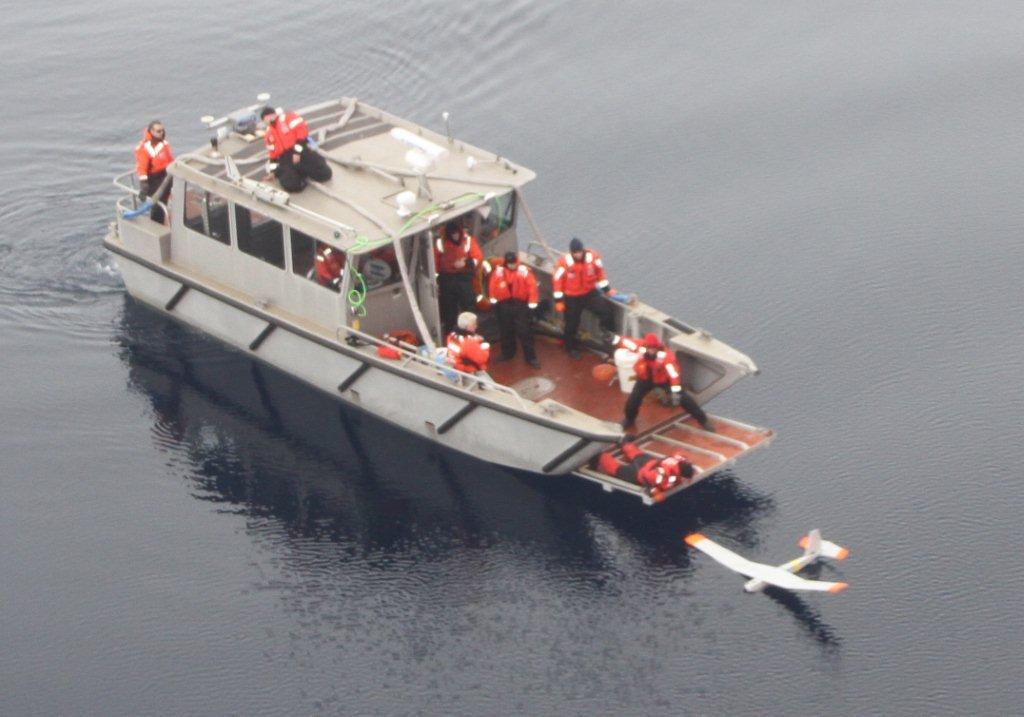 Kurt Hansen (no relation to Rich), project manager in the Environment Waterways branch at the Coast Guard's Research and Development Center, said they used environmentally-safe vegetable dye and five cases of oranges to simulate an oil spill. He said they deployed tracking buoys plus unmanned aerial vehicles, an unmanned surface vehicle, an autonomous underwater vehicle, and an aerostat or tethered balloon.
"We found out that the operating conditions essentially limits us," Hansen said. "You get some fog and weather, and you could have some difficulty with some of these systems."
Hansen's job was to determine how various remotely operated monitoring and tracking devices would work in an Arctic environment, especially if it was too dangerous for manned aircraft. They wanted to know if the vehicles could they gather the necessary information, and could that information be compiled and presented in a way that is useful to an incident commander during an actual spill.
"If it gets too windy, then that means the fog goes away. But then, when it's not windy, the fog comes back."

Hansen said it may be several months before they finish analyzing the data from their projects.