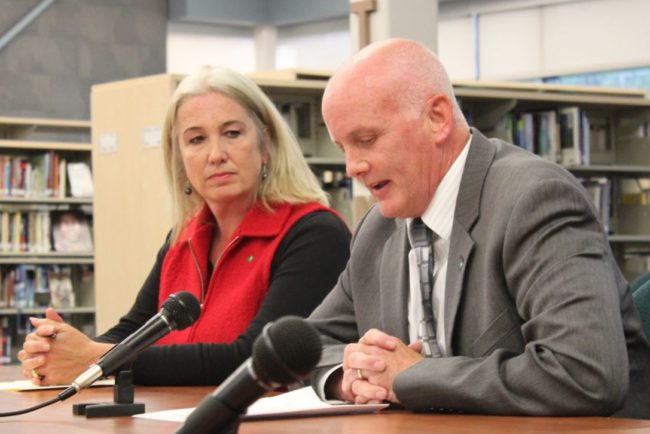 Members of the public criticized how the Juneau School District handled May's hazing incident involving seven seniors paddling six incoming freshmen. During Tuesday's school board meeting, they said the perceived punishment of the offenders wasn't harsh enough.
Meanwhile, a state education official commended the district for trying to change the culture of hazing.
Education Commissioner Mike Hanley has heard about hazing in Juneau schools for years. He thanked the district for tackling the problem.
"I think the first step that you've taken is really a great one, to say this isn't acceptable. That's the message. I don't want to know who the children are that are involved. I don't want to know what the punishments are. I don't have an idea that vengeance, that we need an eye for an eye. That's not it. We just need it to stop," Hanley said.
He thinks the district's actions have sent this message, but added the administration and board can't carry it alone.
"Coaches are the next ones that have more influence on our children and our athletes than any of us do. And they have that ability to continue to carry this message and own the responsibility we have to change the culture," Hanley said.
When the Juneau School District concluded its investigation into the paddling at the end of August, it held a press conference and identified the number of students who committed the violation and the number of victims, but did not release names or specific punishment due to students' privacy rights. Superintendent Mark Miller noted that four of the seven paddlers were athletes.
A couple days later, the Juneau Empire reported the names of the athletes and their punishment. The Empire wrote that penalties included "a one-week suspension from school, a one-game suspension and 40 hours of community service." Miller did not confirm or deny this.
During public comment at the school board meeting, parent Graham Storey said he was furious when he read about the punishment and said it was a horrible message to send to students.
"The perception is that our students can engage in bullying and hazing with minimal consequence. Athletes who bully should not be athletes in this district. They should not have the privilege to participate when they engage in these actions," Storey said.
Lynn Van Kirk said she's friends with a parent of one of the hazing victims.
"He's afraid to do anything. He's afraid to go out with his friends to the football games, any types of activities. He did not go to the dance at Juneau-Douglas, because he was scared," Van Kirk said.
Jim Bradley is a parent of a victim and said the punishment of one-week school suspension and one-game suspension was not enough.
"I think the efforts were a good step forward but I think when the consequences were handed down, it was a step backwards," Bradley said.
Student representative from Thunder Mountain High School Dunya Herman said the students have heard a similar version of the punishment and some think the senior hazers who are athletes should be suspended from sports for the whole season. Dunya doesn't agree with that.
"Sports are good for students. Student athletes are better students, so I think that they need to stay in their sport, but the punishment should've been greater to make a statement, at least, to the community that hazing is not OK," Dunya said.
Superintendent Miller said the district followed its rules and policies when coming up with the disciplinary action. He did reveal that the punishment included out-of-school suspension and community service.
"I think we kind of hit a middle ground. I'm sure there are people on both sides of this that believe that either we did too much or we didn't do enough and I've heard from both of those populations. I understand that. I just feel that at this point, we did what we thought was right and we're moving on," Miller said.
In the next few weeks, Miller said the district will have a meeting with all the coaches about the hazing/bullying policy and the proper way to talk about it to the public and media. He noted a possibility of longer term training.
He says the district also plans to implement an anti-hazing/anti-bullying restorative justice program throughout the district.