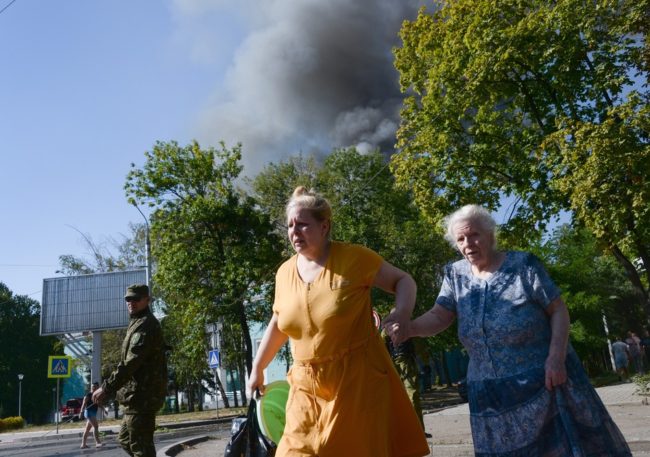 Ukrainian President Petro Poroshenko says Russian troops entered his country on Thursday.
Poroshenko said he was canceling a trip to Turkey and he was asking the United Nations Security Council to meet to provide an assessment of the "sharp aggravation of the situation in Ukraine."
Another Ukrainian official told CNN that the movement of Russian troops amounted to a "full-scale invasion."
Geoffrey Pyatt, the U.S. ambassador to Ukraine, tweeted that because Russian-supplied weapons had not secured a victory for pro-Russian rebels, there was now an "increasing number of Russian troops … intervening directly in fighting on Ukrainian territory."
NPR's Soraya Sarhaddi Nelson reminds us that these reports of incursions are not new. They've happened many times over the course of this five-month-long conflict.
"But what's different this time is that they seem a little more brazen about it," Soraya told Morning Edition. "Even as Russia is denying officially from the Kremlin that they are doing this, and they say troops that have been captured crossed over mistakenly; they're not admitting to it… But there seems to be much more of an openness to this in the last few days than we've seen in the past."
The Washington Post reports that in a meeting on Tuesday, Poroshenko and Russian President Vladimir Putin vowed cooperation in securing Ukraine's eastern border.
Still, "even as reports of Russians tanks and soldiers on the ground in Ukraine continued to come in Wednesday, Russian Foreign Minister Sergei Lavrov said Russia does not want Ukraine to break apart."
Copyright 2014 NPR. To see more, visit http://www.npr.org/.
Read original article – Published
August 28, 2014
7:23 AM ET

Ukrainian President Says Russian Troops Have Entered His Country