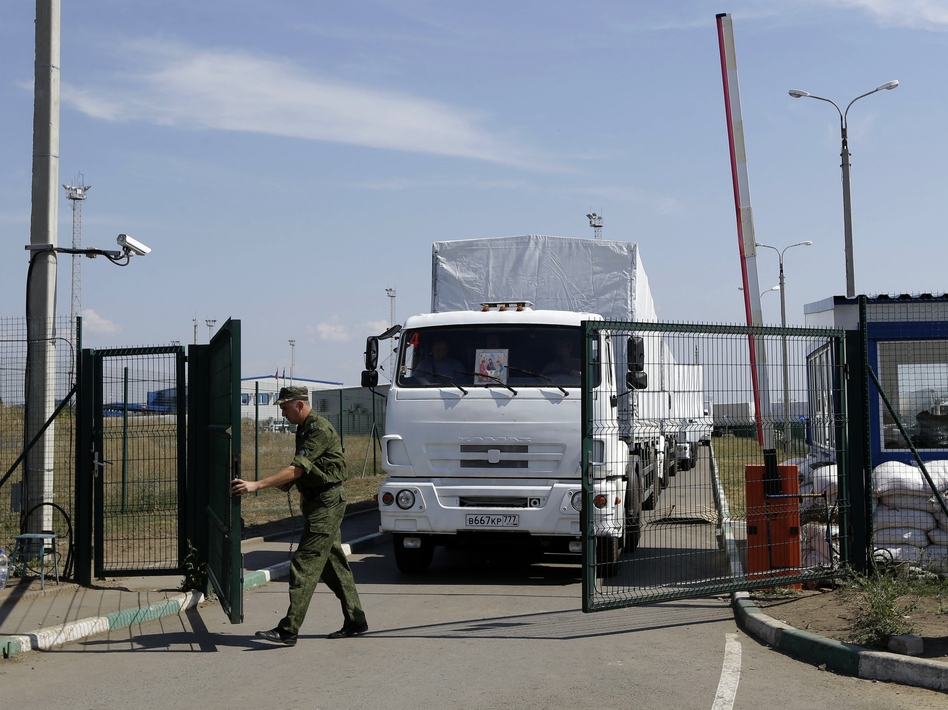 After being halted at the border for more than a week, a Russian aid convoy is rumbling into eastern Ukraine without permission, prompting Kiev to label the move a "direct invasion" of sovereign territory.
About 70 white trucks from a 260-strong convoy were moving toward the Luhansk region, an area in the country's east that is held by pro-Russia separatists, Reuters reports.
Earlier, Ukraine refused to allow the trucks across the border because it feared they might be carrying weapons and other militarily useful supplies for Moscow-backed rebels, or worse, be a prelude to a full-scale Russian invasion.
"That's something that Russia has denied, but both Western officials and officials in Kiev dispute that," NPR's Soraya Sarhaddi Nelson reports from eastern Ukraine. "They believe there is some indication that that is going on."
However, officials from the International Committee of the Red Cross inspected at least some of the vehicles and affirmed that they were carrying only humanitarian aid, she says.
"What the Red Cross has said is that there are humanitarian goods in the trucks that they've looked at – generators, blankets, water, food stuffs and these are things that are apparently in the trucks that are supposedly moving in the direction of Luhansk," Soraya says.
Reuters adds:
"Kiev, for its part, said Ukrainian forces would not attack the convoy and had allowed it to pass to avoid 'provocations.'

"'Ukraine will liaise with the International Committee of the Red Cross so that we, Ukraine, are not involved in provocations (accusations) that we have been holding up or using force against the vehicles of so-called aid,' he told journalists."
By way of background, The Associated Press writes:
"In the past few days, Ukraine says its troops have recaptured significant parts of Luhansk, the second-largest rebel-held city, and suspicions are running high that Moscow's humanitarian operation may instead be aimed at halting Kiev's military momentum. Fierce fighting has been reported both around Luhansk and the largest rebel-held city, Donetsk, with dozens of casualties.

"The International Committee of the Red Cross, which had planned to escort the Russian aid convoy to assuage fears that it was being used as a cover for a Russian invasion, said it had not received enough security guarantees to do so."
Copyright 2014 NPR. To see more, visit http://www.npr.org/.
Read original article – Published
August 22, 2014
8:47 AM ET

Russian Convoy Crosses Ukraine Border Despite Kiev's Protests