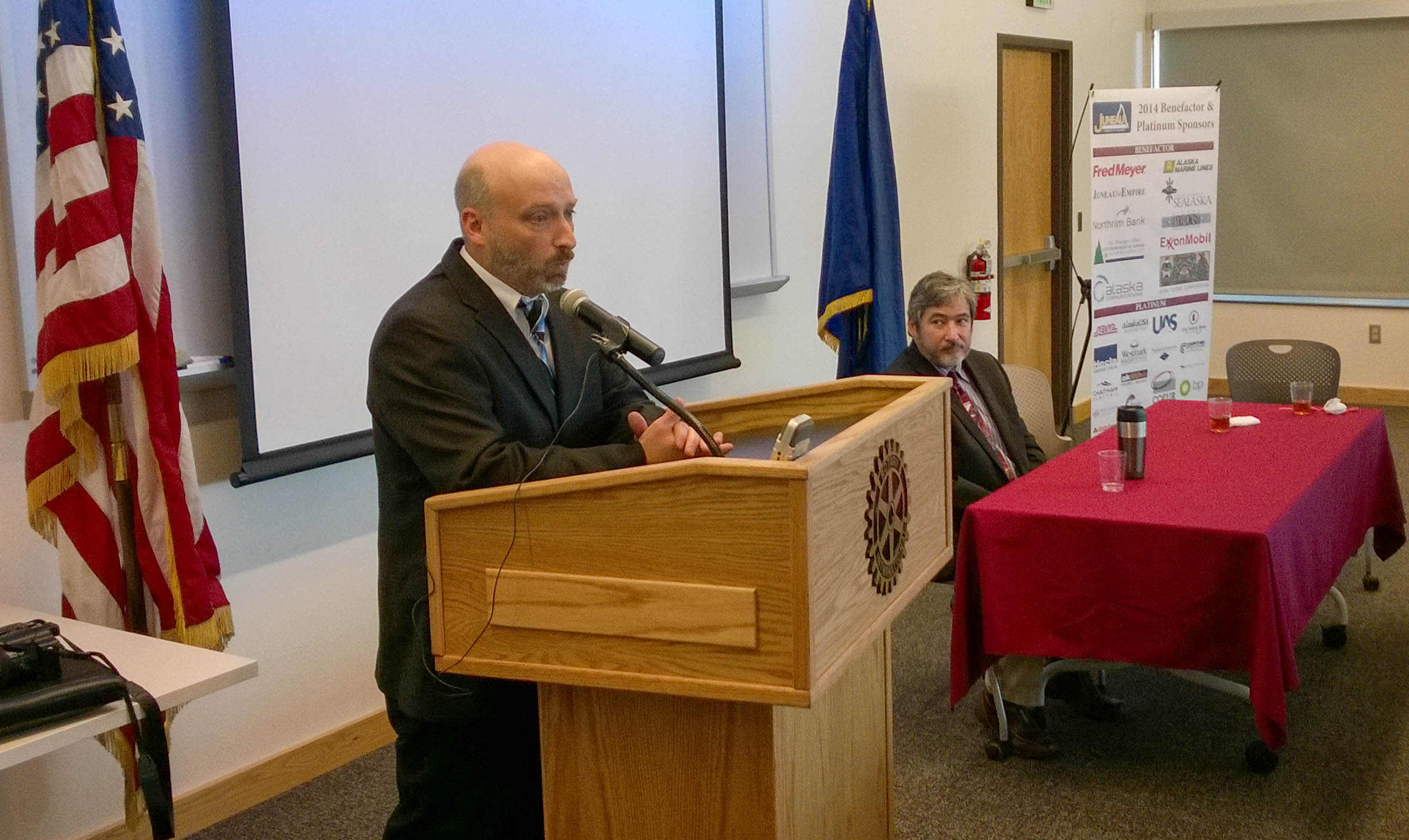 The candidates for House District 33 offered a lot of contrast on the issues at a Juneau Chamber of Commerce forum Thursday.
Democrat Sam Kito III is the incumbent facing Republican Peter Dukowitz in the Nov. 4 general election.
Potential construction projects were high on the chamber's list of questions.
Kito didn't say outright that he's opposed to building the road to Haines, but said he is concerned about the costs.
"We've got a declining budget, we've got declining oil revenues, and I don't think we can expand our transportation system significantly without a commitment to actually maintain those facilities. So, I'm concerned about the direction we're going in to build a whole bunch of really big projects when we've got a gasline we also have to fund," Kito said.
He said the state should prioritize projects that bring a return.
Dukowitz is pro-road.
"I think it'll be great for Haines. It'll give them, you know, jobs there, it'll give them good jobs there for the ferry. It'll do infrastructure. We're going to be able to do hotels and restaurants. There's going to be additional support with this road," Dukowitz said.
He said the state Transportation Department expects the estimated $500 million dollar road will save the state another $500 million compared to new ferry service.
The candidates were also asked about what projects they'd like to bring to their district.
"We are seeing aging infrastructure, and as an engineer, I want to make sure we, as a state, provide adequate support to communities to maintain their infrastructure, their roads, their water and sewer projects," Kito said.
Dukowitz said if he had one project, it would address housing.
"We need access to housing. We need — if it's a corridor on Douglas Island, we need access to land, we need housing for the people. That's something I'd like to work on as a priority for Juneau," Dukowitz said.
There was more contrast on upcoming ballot initiatives. Dukowitz said he'll vote to legalize marijuana. Kito is undecided. He said he's OK with individuals using it, but is concerned about authorities' ability to identify impaired drivers.
On raising the minimum wage, Kito supports raising it. He said he's seen a lot of adults taking multiple minimum wage jobs to support families. And, the more revenue individuals make, "The more they can contribute to the economy. The more they spend in the economy. So raising that floor a little bit is the least we can do in Alaska, and I'd support that."
Dukowitz:

"I'm the opposite. I am against the minimum wage. You have to have a balance between business. If you tax businesses too much, they go away. If you tax people too much, they go away. The minimum wage is not meant to live off of."
Both candidates did agree that education and education funding are top priorities.
House District 33 covers downtown Juneau, Douglas Island and Lemon Creek, as well as Gustavus, Haines and Skagway.