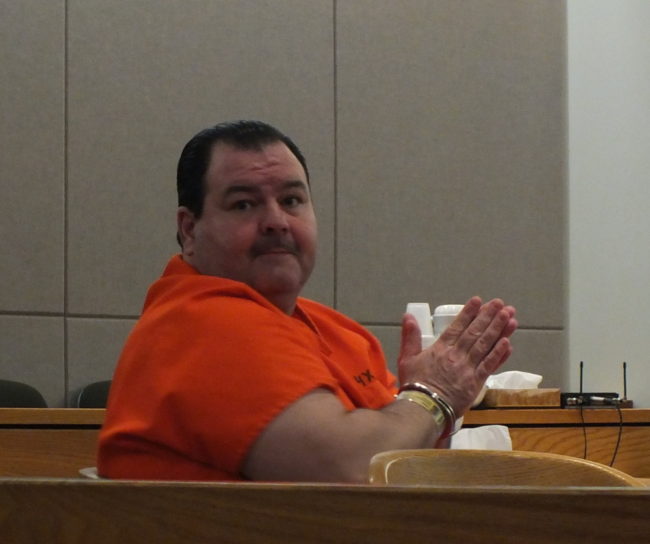 Over six years in prison for a Juneau man who was suspected to be one of the gunmen during a drug-related double-shooting last December.
James Depasquale III, 45, was sentenced in Juneau Superior Court on Tuesday after reaching a plea agreement with prosecutors. He was sentenced to six years in prison for a felony charge of misconduct involving a controlled substance and four years in prison for a felony charge of misconduct involving weapons or felon in possession of a firearm. Both terms will be served concurrently, meaning at the same time.
Six other charges ranging from tampering with physical evidence to assault were dismissed as part of the plea agreement.
Depasquale was also ordered to serve an additional 210 days in prison from a suspended sentence for a misdemeanor assault conviction last year.
Depasquale was shot and wounded during a confrontation with Jerall Torres at the Coho Park Apartments during the Dec. 6, 2013, incident.
Assistant District Attorney Amy Williams said Depasquale's blood was found on a gun that was used at the scene.
"Mr. Depasquale gave Mr. Torres some amount of heroin to sell on his behalf. Mr. Torres upset him," Williams said.
"I think through non-communication or non-participation of the agreement that they had struck. Mr. Depasquale and Mr. (Kenneth) Keteh together pursued Mr. Torres to the Coho Apartments," Williams said. "At that time, an altercation ensued between Mr. Torres in a vehicle, Mr. Depasquale and Mr. Keteh outside of the vehicle."
Williams said there was also a conversation recorded later in which Depasquale told Torres that he tried firing at him, but the gun misfired or a round did not discharge.
While Depasquale was being treated for his injuries, co-defendants Kenneth Keteh and Steven "Chunk" Thomas were accused of engaging in a rolling gunfight with Torres and Amanda Phillips on Egan Drive.
Depasquale said he lied earlier about trying to shoot Torres whom he called a 'crazy guy' and 'a loose cannon'. But he also apologized to the city of Juneau and said that he was already working to turn his life around.
"You get close to death like that and you realize that it's your fault, regardless," Depasquale said.
"Regardless of the situation, I was older than many of those guys and I shouldn't have been in it, plain and simple," Depasquale said. "I just thank God everyday that nobody else was hurt."
"The thing that was a wake-up call for Mr. Depasquale was the bullet that almost ended his life that he has now come to grips with," said Depasquale's attorney Paul Maslakowski. "It's going to be up to him to prove whether or not that is he knows that he's at age of his life that he needs to get it together."
Williams said Depasquale already has a lengthy criminal history that includes six felonies in at least three states.
Superior Court Judge Philip Pallenberg said it still wasn't clear who brought the gun to the scene at the Coho Park, but Depasquale shouldn't have been handling a gun under any circumstances.
Pallenberg did not order probation for Depasquale, but said that he could be out of prison before six years with credit for good time.
In comments made before handing down the sentence, Pallenberg said he was optimistic and hopeful. He has seen other older defendants with records like Depasquale eventually move on from a life of crime.
"Mr. Depasquale, good luck," said Judge Pallenberg during routine fingerprinting of Depasquale at the end of the hearing.
"Thank you," replied Depasquale.