Juneau city staff told the assembly Monday night they're back to the drawing board on a new Capital Transit plan after hearing from bus drivers that they don't support the changes.
The new Transit Development Plan was supposed to add bus service to Riverside Drive, start service earlier and end later, and generally improve on-time reliability. All of this called for an additional $200,000. But due to a multi-million dollar budget shortfall, instead of adding money to Capital Transit, the city took some away.
City staff had worked with Nelson\Nygaard Consulting Associates for more than a year developing the plan. And then spent more time tweaking it after budget cuts to implement as much of the plan as possible. The bus drivers didn't receive a draft of the new schedules until the end of July.
"How can we do more with less?" asked Kirt Stage-Harvey, a Capital Transit bus driver. He was one of about ten drivers who attended the assembly's work session Monday night.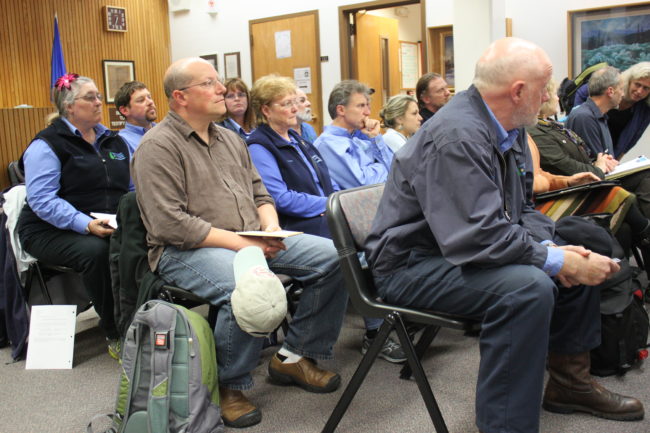 On Sunday night, an even bigger group of drivers held their own meeting and invited city staff and consultants.
"We feel very strongly that our voice wasn't heard effectively through the whole process and it became incumbent upon the drivers and staff at Transit to take initiative to reach out to the city administration to offer our services in helping to develop the best plan for this city to move forward," Stage-Harvey said.
The drivers have basic concerns about time. Over the years, as traffic lights, congestion and road construction increased, the time allotted for drivers to get from one stop to the next didn't. Stage-Harvey said the new schedule doesn't address that.
"We do not have the current time needed to accomplish the routes already. We are operating behind schedule quite a bit and we are doing amazing things out on the road to make transfers on time and to service the public," he said.
In a letter to the Assembly, the drivers wrote that they don't like the reduced service to the Express route or on Back Loop Road. And while they agree adding service to Riverside Drive is important, Stage-Harvey said it must be done safely and efficiently.
"We're very concerned with trying to add more service and cutting lots of other needed service to accomplish such short goals of adding Riverside service," Stage-Harvey said.
Deputy city manager Rob Steedle said city staff had hoped to implement a new bus plan this fall, but it's still a work in progress. He said the Sunday night meeting with the drivers was productive.
"We heard their concerns loud and clear and we're going to continue to evolve our plan," Steedle said.
Assembly member Karen Crane equated the process of developing a new capital transit plan with hitting her head against a concrete wall.
"We're not making any progress here and it's just really frustrating," Crane said.
Assemblyman Jerry Nankervis agreed with Crane.
"It seems like a dog and pony show. We listened to all the plans, we come up with a budget and make a decision, and now we get input from the drivers. Thank you, drivers. I thought while the transit study was going on, it would've been incorporated," Nankervis said.
City manager Kim Kiefer said the drivers couldn't evaluate the new plan until the schedules were in place. Now that they have, she said the plan is a moving target.
"We know we have to live within the existing budget. We know the main goal is to provide bus service to Riverside Drive and that's what we're trying to do and meet all the other needs – meet the transfers, making sure the drivers have time in between routes so they can have their breaks that they need. We're trying to address all those pieces," she said.
Kiefer said the city will hopefully have a new bus plan in place by the end of the year.