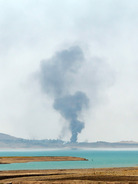 Kurdish forces say they have retaken the strategic Mosul Dam from militants of the Islamic State, apparently dealing the Sunni jihadist group its first major reversal since its forces swept into Iraq in June.
NPR's Peter Kenyon, who is in northern Iraq, tells our Newscast unit that the Kurds were backed by expanded U.S. airstrikes on the militants. He says:
"The American Central Command says it continued airstrikes in iraq against islamist targets, and Kurdish Peshmerga forces moved to retake the dam. Local Peshmerga commanders say they gained control of the dam, but senior officials say some fighting is still going on, as well as efforts to neutralize booby-traps left by the Islamist fighters calling themselves the Islamic State."

But Peter told NPR's Morning Edition that the Islamic State, also known as ISIS, said on its Twitter account that it still controls the dam, and that its fighters haven't retreated. The group took the dam earlier this month.
"The great fear, of course, is that a breach of the dam could send a wall of water down the Tigris, threatening Mosul and cities further downstream," Peter told Morning Edition.
The developments in Iraq came as President Obama, in a letter to Congress about the expanded airstrikes, said the failure of the dam "could threaten the lives of large numbers of civilians, endanger U.S. personnel and facilities, including the U.S. Embassy in Baghdad, and prevent the Iraqi government from providing critical services to the Iraqi populace."
In London, Prime minister David Cameron said limited action was needed in Iraq to prevent violence from returning to the U.K. But, he told the BBC: "We are not going to be putting boots on the ground."
Copyright 2014 NPR. To see more, visit http://www.npr.org/.
Read original article – Published
August 18, 2014
9:54 AM ET

Kurds Say They Have Retaken Strategic Mosul Dam From Militants