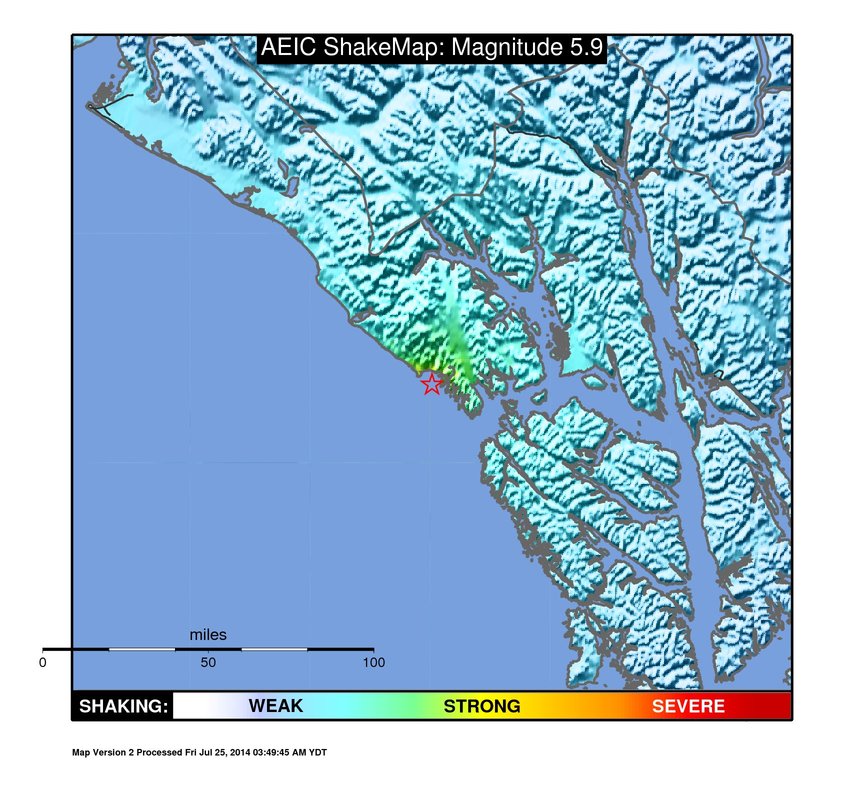 There's a whole lotta shakin' going on in Southeast Alaska. But State Seismologist Michael West with the Alaska Earthquake Information Center says it's unclear whether the activity is related.
"We have no sort of direct lines of evidence that show that those earthquakes are related in anyway," West says. "But as anybody feeling earthquakes day-to-day and keeping track of these things would note, there has truly been a clustering, there's been a little rash of earthquakes in Southeast in recent months."
Friday's 5.9 magnitude earthquake about 97 miles west of Juneau was the latest to hit the region. Earlier this month, a 6.0 magnitude quake hit northwest of Yakutat. And in early June, a 5.7 magnitude quake struck near Glacier Bay National Park and Preserve.
The largest earthquake in Southeast in the last two years was  a 7.5 magnitude temblor along the Queen Charlotte-Fairweather fault in January 2013. West says it's plausible to think the recent activity is related, but proving it is not easy.
We can't actually put any of those pieces together," West says. "That said, when you move a big piece of the earth, like we did a year and a half ago, it's not unreasonable at all to think that things need to readjust. And we do know that there are ways that earthquakes are connected in this world that we don't fully appreciate."
West says seismologists are facing a challenge similar to doctors trying to determine why a certain type of cancer is more prevalent in a particular community.
"People suspect that maybe it's the water supply or something like this. Well, it turns out to be a very, very hard thing to tell natural coincidence and clustering from something with a clear cause and effect."
He says Friday's temblor was a normal strike-slip quake, where the earth moves horizontally along a vertical fault line. West says the only thing that made it somewhat unique was a 5.3 magnitude foreshock about 45 seconds before the larger quake. But he says even that is fairly common.