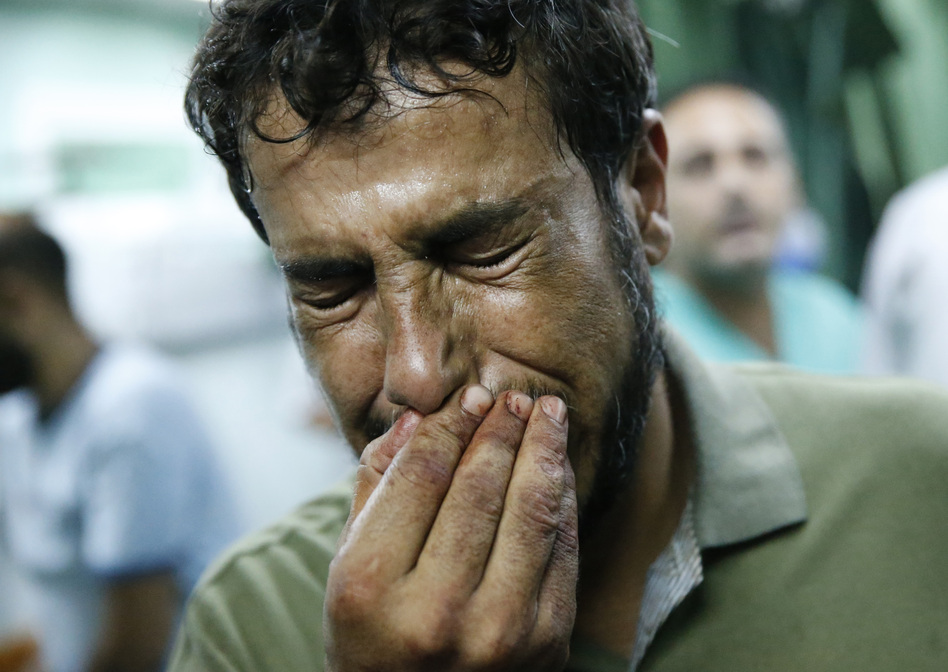 Secretary of State John Kerry has handed over a seven-day truce proposal to Israel and Hamas, NPR's Soraya Sarhaddi Nelson reports.
Kerry is hoping for fighting to stop as the holy month of Ramadan comes to an end this weekend. He's now waiting for a response.
Soraya tells Morning Edition that the outline of the temporary truce is still murky, but Israeli media are reporting that the deal would stop the fighting, while still allowing Israeli troops to hold their ground and continue destroying tunnels into Israel.
Quoting an unnamed "official involved in the negotiations," The New York Times reports that condition is still "unresolved."
The paper adds:
"It was not clear if the final plan would be endorsed by Hamas, the militant group that controls Gaza, or by the Israeli cabinet.

"Hamas's political leader, Khaled Meshal, has stated that he would not accept an enduring cease-fire until his demands were met, including the lifting of an economic blockade on Gaza. But Mr. Meshal called Wednesday for a humanitarian truce to allow relief aid to reach Gaza, and the proposed start of the seven-day truce is intended to coincide with the Muslim feast of Eid al-Fitr, which signals the end of Ramadan. The Israeli cabinet was expected to discuss the plan on Friday afternoon, Israel's Haaretz newspaper reported."
The Washington Post reports the deal is "backed by United Nations and is the product of U.N., U.S., and Egyptian negotiators, with Turkey and Qatar acting as go-betweens with Hamas."
Quoting "people familiar" with the proposal, the paper reports the cease-fire may include "unspecified incentives to Hamas, including release of a small number of Palestinian prisoners held by Israel and partial payment of suspended government salaries in Gaza, perhaps by Qatar."
Meanwhile, the new peace proposal has not dampened the fighting. NPR's Emily Harris tells us the death toll in Gaza has now gone up to 815. Thirty-five Israelis have been killed.
Copyright 2014 NPR. To see more, visit http://www.npr.org/.
Read original article – Published
July 25, 2014
8:11 AM ET

Kerry Presents Proposal For Seven-Day Truce In Gaza