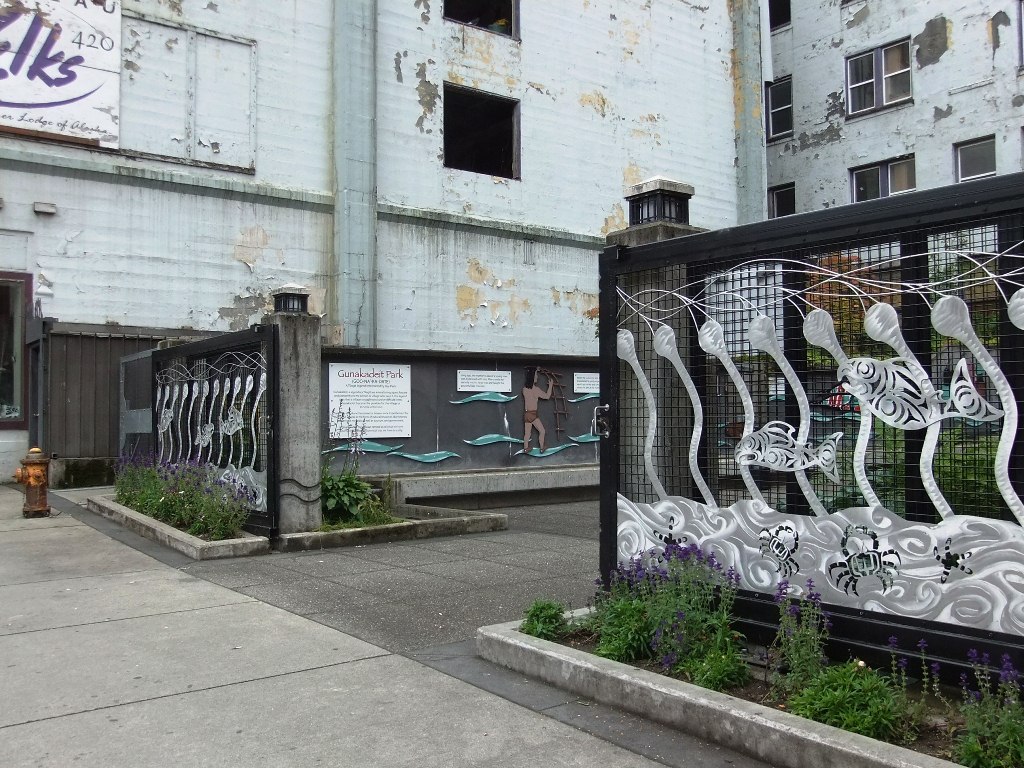 A downtown cleanup begins at 8 o'clock Friday morning at Pocket Park on the corner of Front and Franklin streets.
It's the first organized effort of an informal downtown improvement group to spruce up Juneau's core as well as tackle some of the bigger social issues that sometimes make the area an uncomfortable place to be.
 "We're going to kind of clean the town up."
Brent Fischer, director of CBJ Parks and Recreation, says volunteers are welcome.
"We're going to pick up trash, we're going to pull some weeds, we're going to clean light posts, trash cans, and it's a great opportunity to help out in the community," he says.
Fischer helped downtown business owner Bruce Denton organize the cleanup. Denton's efforts to mobilize a group of business and property owners have gotten the attention of key city and borough staff, the Juneau Police Department and Juneau legislators.
The work begins with a broom and a brush.
"We've done a walk around with staff from public works, streets department, parks and rec, docks and harbors, and tried to identify things they can help with," Denton says. "Our intent was to try and do some of the stuff that they normally do so that they can do stuff that they don't ever have time to do."
CBJ Community Development Director Hal Hart has already identified tasks for the CDD team.
"We'll do some bench cleaning, we're going to do some moss cleaning underneath benches, and remove graffiti, those kinds of things," he says.
While city officials welcome such volunteer efforts in these days of tight budgets, Hart says it's the partnerships they foster that  are important.
"What it takes many times is a Bruce Denton or a catalytic person that makes connections between different groups and as they do that everybody pitches in," he says. "Perhaps by identifying those things that have been left undone for a while we can prioritize them."
Kirby Day with Princess Cruises has helped organize about 40 volunteers from the Tourism Best Management Practices group, which represents 60 Juneau businesses.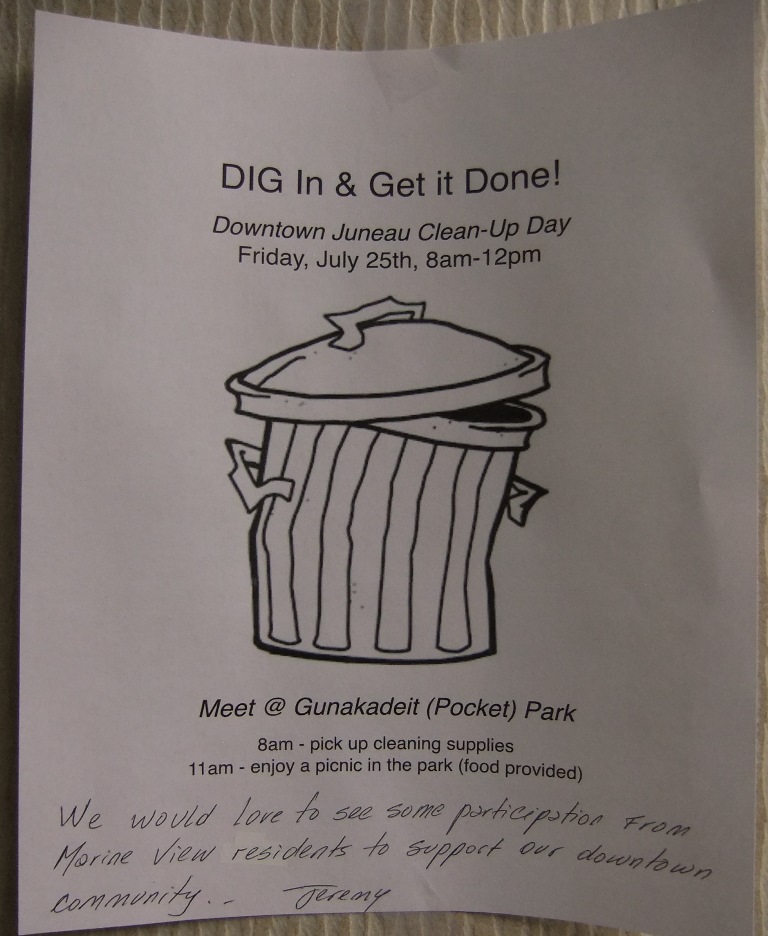 "It's not only important for the visitors that come to town, it's important for all of us who live here and have pride in our city," he says,"and I think that's what Bruce's group is trying to impart."
Parks and Recreation director Fischer says anyone who would like to help out should meet at Gunakadeit Park, also known as Pocket Park, at 8 a.m. on Friday. After a quick meeting, workers will disperse with their assignments.
"If you can bring some buckets and brushes and brooms from your house, that helps us. We have plenty of trash bags and rubber gloves," he says.
Pocket Park — next to the burned out Gastineau Apartments – is a symbolic place to start the cleanup, Denton says.
"The reason for meeting at Gunakadeit Park, it's like OK, let's take it back," he says.                                                                                                                                                                                                                                            The park has become a favorite spot for Juneau street people to congregate and drink, and the resulting behaviors keep others out.
The street people can't just be swept away and the Downtown Improvement Group is beginning to talk about those issues, too.
In the meantime, Denton says he hopes a hundred people show up ready to attack the easier stuff.
Editor's Note: KTOO continues its series on downtown issues on Friday, with a look at permanent housing for the homeless who have substance abuse issues.