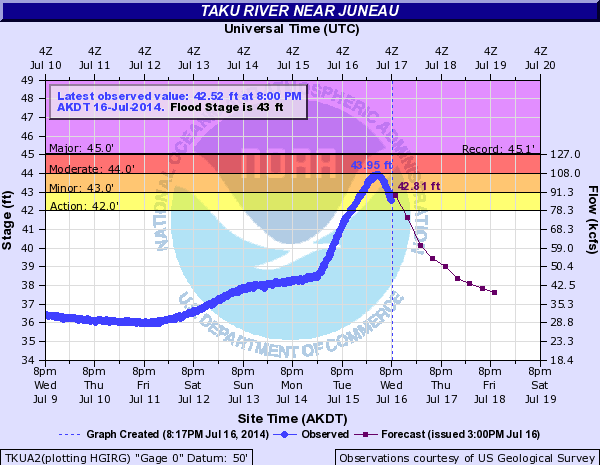 A flood advisory is in effect until 10 p.m. Wednesday for the Taku River located south of Juneau.
Water levels started rising dramatically on Tuesday. At 4:30 pm Wednesday, the Taku River measured 43.79 feet at a monitoring station near the Canadian border.
Levels appeared to have peaked at 43.95 feet at about noon Wednesday. Moderate flood stage is at 44 feet.
A jökulhlaup or glacial outburst may have started late Tuesday morning at Lake No Lake or Tulsequah Lake on the Tulsequah Glacier in British Columbia.
Kimberly Vaughan with the Juneau office of the National Weather Service said they expected water levels to peak sometime on Wednesday afternoon.
"We want to make sure that people stay alert for the debris that will be coming down the river as far as branches, complete trees and ice," Vaughan said. "The temperature of the river has come down a lot since it has come from the glacier. So, hypothermia is even more of an issue on the river right now.
Vaughan said that Taku River cabin owners are well-acquainted with the regular flooding caused by the annual glacial outbursts.
Last Wednesday, a jökulhlaup in Suicide Basin on Mendenhall Glacier flooded Mendenhall Lake and Mendenhall River. High water ran up into several homeowners' yards along the river and at least one home was damaged by the flooding. It is a relatively new phenomenon for Mendenhall Glacier with such outbursts only observed during the previous three summers.