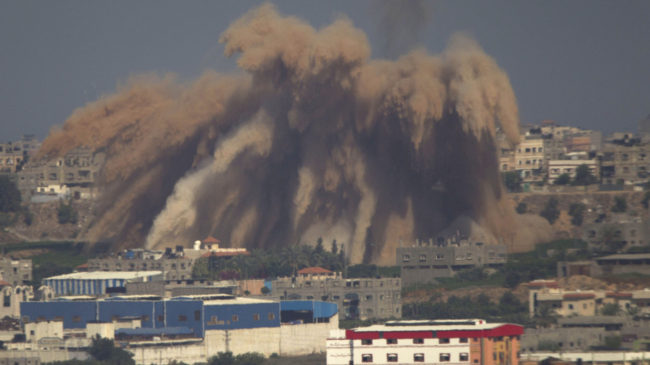 In an exchange of Hamas rockets and Israeli air strikes, the Palestinian death toll in Gaza has risen to at least 28 this week. And in a notable step, rockets fired from Gaza are being aimed at Israel's main cities.
The Israeli air attacks reportedly include one in which a Hamas member was killed while riding a motorcycle. According to the Jerusalem Post, he had been identified as being responsible for firing rockets into Israel. Another person was reportedly seriously wounded in the attack.
From Jerusalem, NPR's Linda Gradstein reports:
"According to the Gaza health ministry the latest deaths in Gaza from Israeli air strikes were a man, his son and an elderly woman. Rockets fired from Gaza continued to fall in southern Israel, although at a slower pace than Tuesday.
"Last night, for the first time in years, there were rockets aimed at Tel Aviv and Jerusalem. One rocket even made it to Hadera, about 80 miles from Gaza.
"Israel responded with air strikes on more than 150 targets in Gaza. Israel has also authorized the call up of some 40,000 troops although officials say they have not yet decided on a ground operation in Gaza."
The violence comes on the tails of anger and unrest over murdered teenagers — three Israelis and one Palestinian — who died after being abducted.
Israel launched Operation Protective Edge this week, saying its military would extract a heavy price from Hamas.
"The campaign against Hamas will expand further in the next few days, and the organization will pay a very steep price," Defense Minister Moshe Ya'alon said today, according to Jerusalem Post.
The new escalation has prompted the Arab League to request a meeting by the U.N. Security Council to discuss the Israeli operation, reports Agence France-Presse. Israeli officials have said their plans include a possible ground operation, in addition to the airstrikes.
"Military officials say a ground invasion is not imminent—that would be a serious escalation of the conflict," NPR's Ari Shapiro reports from Jerusalem. "Already, this violence is worse than anything Israel and Gaza have seen since a week-long conflict in 2012."
Copyright 2014 NPR. To see more, visit http://www.npr.org/.
Read original article – Published
July 09, 2014
7:18 AM ET

Israel Strikes Gaza, As Hamas Rockets Show Increased Range