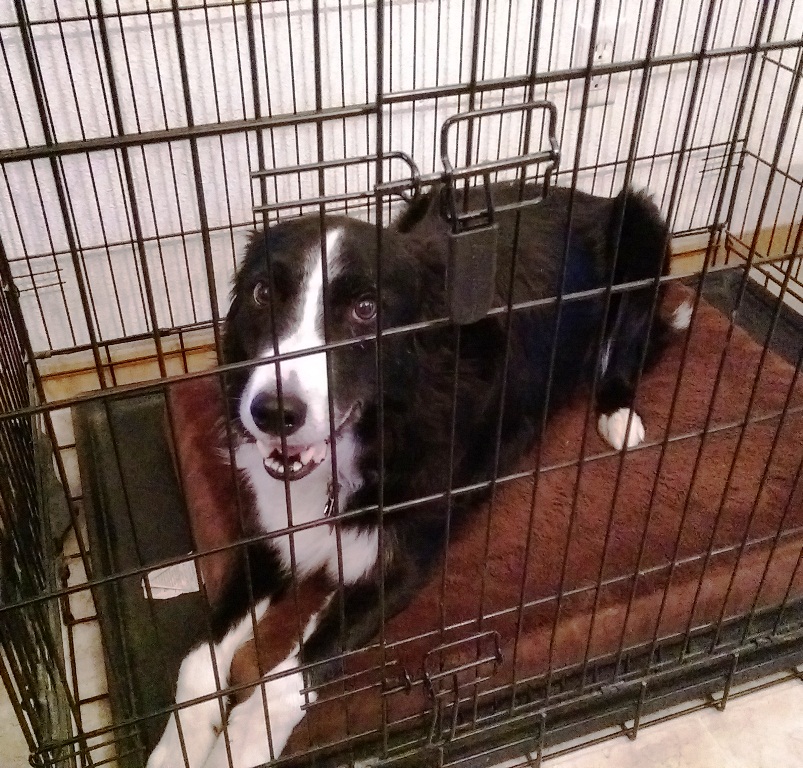 Juneau's July Fourth fireworks display over Gastineau Channel starts at 11:59 p.m. Thursday. The sounds can be heard for miles.
Throughout the country, animal shelters and humane societies are warning pet owners to keep their dogs and cats away from the sounds that scare them, and if that's not possible, be sure they're in a safe place they cannot escape.
More pets are lost over the Fourth of July holiday than any other day of the year. But in my Mendenhall Valley neighborhood, firecrackers, bottle rockets, Pop-Its and cap guns can be heard just about any time of the year.
While consumer fireworks can't be bought or sold in Juneau, they are legal to use.
The sound terrifies a number of dogs in the area.
My 55-pound border collie, Captain, becomes a whimpering baby. He shakes his way into my lap, or tries to crawl under furniture. After he broke through two louvered closet doors, we set up a large kennel in the house. Now he knows it's his special spot and goes in on his own to wait out the noise.
If your dog has noise anxiety, start thinking about it before the fireworks blast.
"I had a Labrador that was really sensitive to fireworks and would start barking and barking and barking when the fireworks went off," says Matt Musselwhite, executive director of the Gastineau Humane Society.
Before taking the job, Musselwhite was head of Animal Control. He says a lot of calls come in over the holiday about dogs that take off, hoping to escape the blasts.  (Be sure your pet has identification tags.)
Find another place for them to stay over the Fourth of July weekend. If you have friends somewhere out of the noise area that you can take them to, that's a great option," Musselwhite says.
That may not be an option, so be prepared to protect your pet at home. Do not leave a dog outside during fireworks or thunderstorms. Have a safe retreat inside. Close the windows and doors, put on white noise or background music. Comfort your dog.
Some folks advocate a Thundershirt or anxiety wrap for your dog, even a tight t-shirt; like giving Fido a constant hug.
Dr. Steve Torrence at Southeast Alaska Animal Medical Center says it might work for a mild case of anxiety.
"It puts pressure around the front part of the chest and stimulates the parasympathetic  nervous system and that's the opposite of the sympathetic nervous system, which is the fight-flight mechanism," Torrence says.
Some pets even require medication for their noise anxiety. If it's that bad, visit the vet so your pet gets the proper dose.
"Most drugs are dosed on the basis of milligrams per kilogram body weight and most of them are going to have a dosing range," Torrence says.
All medications have potential side effects or risks, and some breeds don't handle certain drugs as well as others.
That's why we're going to want to have examined the dog, especially to listen to its heart. Make sure it's got good heart, good respiration, no mental problems," he says. "And if the dog's got a heart problem or something like that, you're going to be less likely to want to sedate the dog."
Some local canine organizations like Grateful Dogs of Juneau and the Capital Kennel Club have proposed a ban on consumer fireworks. George Utermohle with Grateful Dogs thinks Juneau's July Fourth or the winter celebration at Eaglecrest Ski Area are enough fireworks.
"Go back to system where the only fireworks are those authorized by a permit issued by the city and by the fire marshal," he says. "It would give people opportunity to plan, to anticipate."
Take the time to prepare for the noises your canine or feline companions may hate.