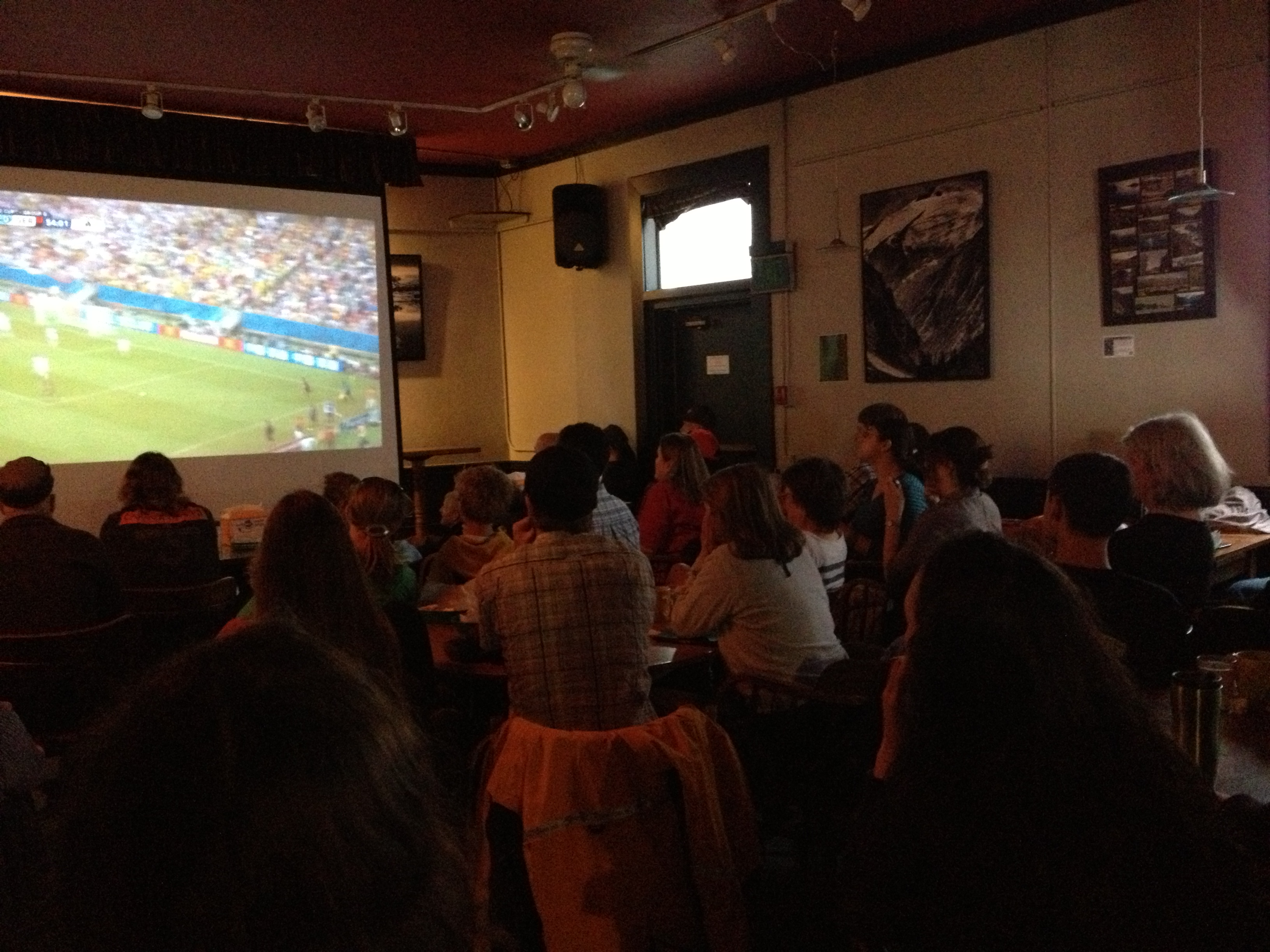 During this time of year, they both can be found at Juneau's Silverbow Bakery at 8 o'clock in the morning. For the FIFA World Cup, the bagel eatery turns into a community gathering space. Sometimes, only a handful of people are watching. Other times, like Thursday morning, more than a hundred people can be found glued to the game.
It's half-time during the USA-Germany World Cup match. In Brazil, it's about two in the afternoon. In Juneau, it's 9 a.m. Most of the more than 100 spectators in the backroom of the Silverbow should be at work.
"You know, I should be, but I've forgiven myself these two hours and I'll just stay late tonight," says Juneau's deputy city manager Rob Steedle.
He's watching the soccer game with his daughter and son.
"My kids grew up playing soccer since they were five or so and I played, myself, in high school very, very badly," Steedle says.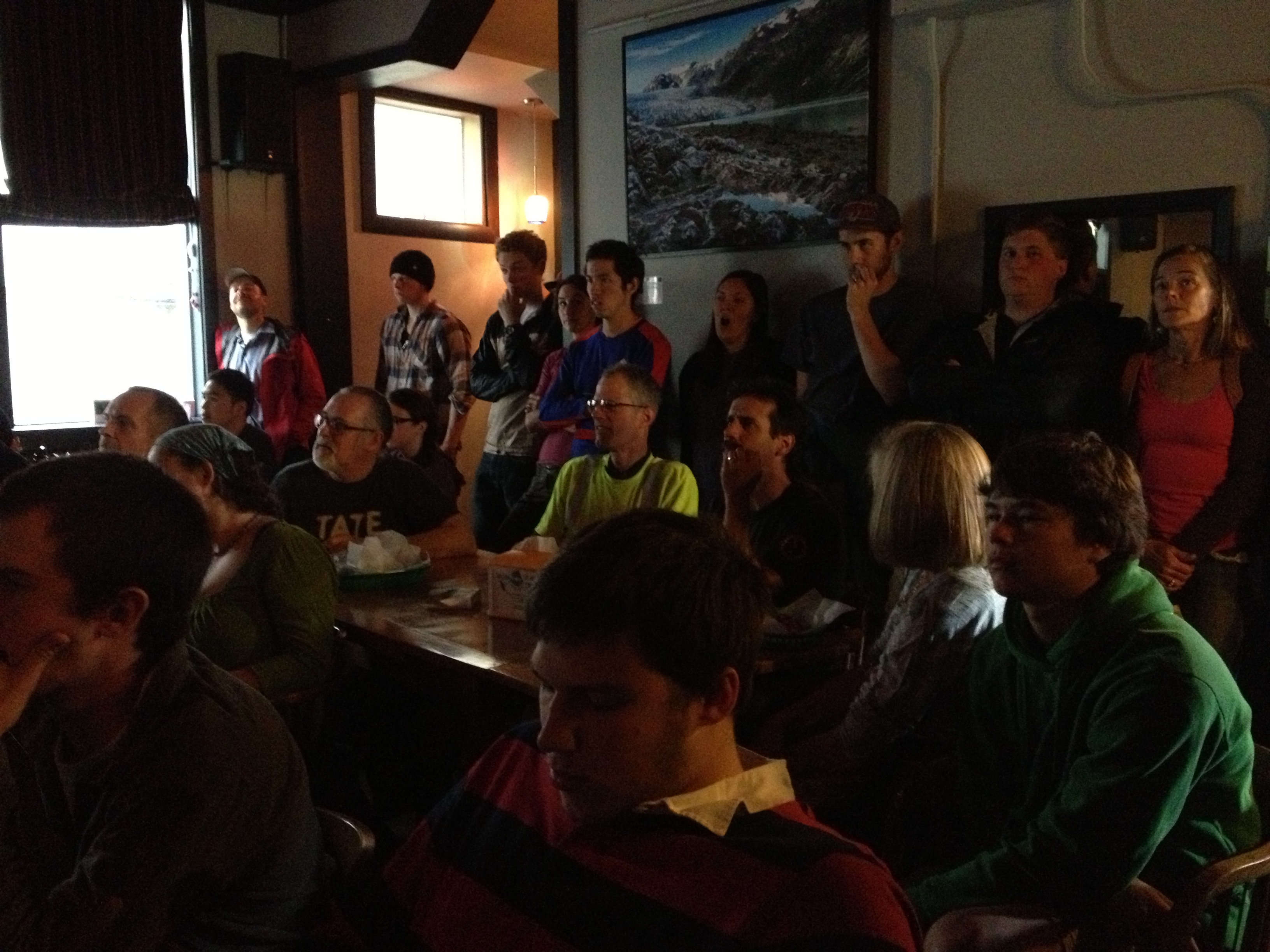 Silverbow is packed. Every seat is taken and many people are standing up, lining the walls. That doesn't stop more people from filing in and finding a few inches of free space to watch the big screen.
Steedle says World Cup exemplifies Juneau's close knit community.
"A lot of these people, I believe, could be watching at home, but they come here to be together," he says.
Adults aren't the only ones playing hooky.
"We got to skip swim practice and watch the game because it's so important," says 15-year-old Aidan Seid.
Aidan is part of Glacier Swim Club and practices three hours a day, six days a week. Even if he hadn't skipped practice, Aidan made sure he wouldn't miss the big match.
"I had the game recorded at home and I was planning on watching after, but this is much better, watching it live. It's good to see a lot of people from Juneau in the same room all rooting for the same team," Aidan says.
Marla Berg got to Silverbow around 7:30 for the 8 a.m. start time. She scored a table but says most had already filled up by then. She's fiddling with her phone.
"I have a good friend who's down in Brazil. I just texted her and she said she wasn't at the game today. She was out in the Amazon eating fried piranha, watching the game on TV," Berg says.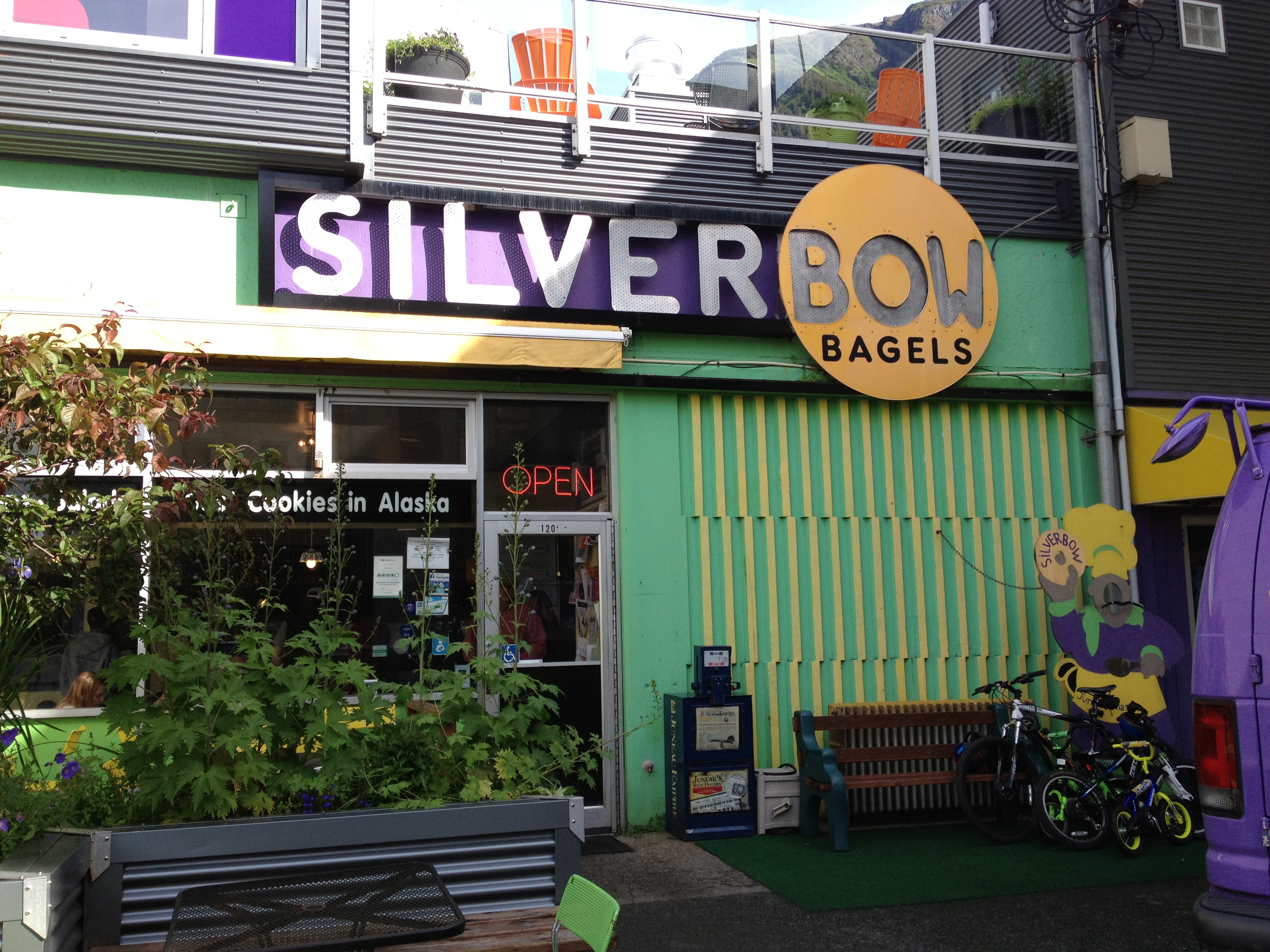 Watching World Cup at the Silverbow Bakery started eight years ago when some Juneau residents approached owner Jill Ramiel about showing the matches on a big screen ordinarily used for artsy movies. In 2006, World Cup was in Germany and games started at 6 a.m.
"And none of the bars were open, and they knew that we had this big screen and they asked us and I honestly thought maybe four people would show up and then there was like a hundred people there," Ramiel says.
Back then, Ramiel and her husband lived in the space right above the backroom where the games were showing.
"And my husband and I would wake up to 'Gooooaaaaaaal!'"
Since 2006, Ramiel has capitalized on Silverbow being a local hot spot to watch the games. For the USA-Germany match, she doubled the staff from four servers to eight. And they're all needed to serve bagels, muesli, coffee, among other items.
"Our beer sales at 8 a.m. have never been higher," Ramiel says.
Germany won by one goal and dominated the match. In the final minutes of the game, USA got in a couple solid shots. When neither materialized into goals, the crowd let out screams and exclamations of disappointment. But at least everyone was disappointed together.