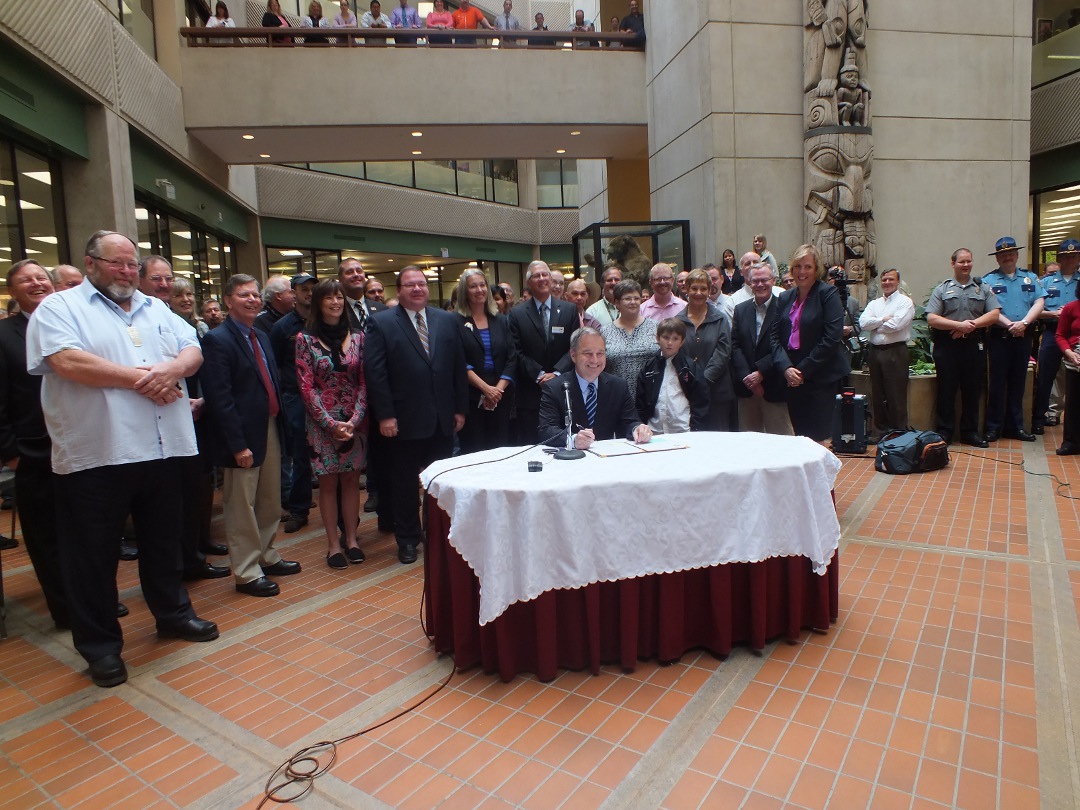 Surrounded by dozens of public employees in the atrium of Juneau's State Office Building, Gov. Sean Parnell on Monday signed legislation transferring $3 billion from state savings into Alaska's public employee pension systems.
Like many state and local governments across the country, Alaska's pension shortfall is the result of years of neglect and bad financial advice. Even as the estimated amount of future payments to retired public employees has grown, state and municipal officials opted to put minimal amounts into retirement systems.
The cash infusion cuts the long-term projected deficit for the Alaska Public Employee Retirement System and Teachers' Retirement System to an estimated $9 billion. It also reduces the amount of future annual payments into the systems, which Parnell said is the single biggest cost driver of the state's operating budget.
But beyond both of those worthy goals of this legislation," he said. "It takes the burden off of our kids and grandkids to pay this debt that is owed. It's a debt that we will make good on, but it takes that obligation off of future generations of Alaskans."
Parnell says credit rating agencies recommended the state address the shortfall, or risk losing its AAA bond rating.
"They identified our unfunded pension liability as the single biggest risk to our state," said Parnell, who met last year with officials from ratings agencies Moody's, Fitch and Standard & Poor's.
"And they said, 'Yeah, there are 49 other states who would love to have your financial challenges. But there is one real financial challenge for you, and risk, and that is this unfunded pension liability,'" Parnell said.
The $3 billion will come out of the state's Constitutional Budget Reserve, part of more than $17.5 billion in state savings outside Alaska Permanent Fund. Two-thirds will go toward the teachers' retirement system. The rest will go into PERS.
Parnell's plan overcame early skepticism from members of his own Republican Party to pass the Alaska Legislature by a near unanimous vote.
The idea of putting a large lump sum of cash into state pension systems is not new. In 2012, Sen. Johnny Ellis, D-Anchorage, proposed creating a $2 billion special fund to address the state's retirement shortfall.
Juneau Sen. Dennis Egan, a Democrat who caucuses with the Alaska Senate's Republican-led Majority, says it took a while for some of his colleagues to come around to the idea.
People finally realized that there is a serious problem, and this is the only way to fix it," Egan said.
Alaska communities backed the pension infusion plan. Juneau Assemblywoman Karen Crane is president of the Alaska Municipal League, a group that lobbies the state and federal governments on behalf of cities and boroughs.
"Thirty-some percent of the debt belongs to municipalities," Crane said. "So the quicker we get it paid off, it lowers the cost to all of us."
Right now local governments contribute 22 percent of their payroll to PERS every year. Some also put 12.5 percent into the Teachers' Retirement System. Crane is hopeful the local contribution will stay at that level until the state pays down its pension shortfall.