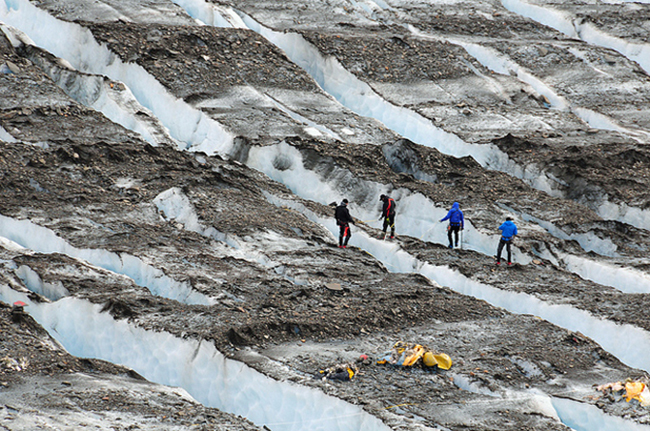 The remains of 17 service members who died in a 1952 plane crash near Mount Gannett have been identified by the Department of Defense. An Alaska National Guard Blackhawk helicopter crew discovered the crash site two summers ago on Colony Glacier during a training exercise. A team went back to the site to recover what they could later that month.
The identified remains will be returned to families all over the country and given burials with full military honors.  Some of the family members reflected on the experience.
Mary May and her younger brother Bill Turner were the middle siblings in a pack of six kids growing up in rural Pennsylvania in the 1930s.
"We lived on a tiny little valley. We knew nothing about the outside world. So your family was all you had," she recalled.
May said her brother loved airplanes and joined the Air Force when he finished school. He was 22 and headed to Korea when the C-124 Globemaster he was navigating crashed with 52 people on board.
"It was a kid trying to realize his dream, you know? And it was cut short, I guess."
Bad weather made it impossible for search parties to recover the remains of the plane in the last months of 1952. May said she never had closure from his death. "You never give up totally. You always think that he would be found or he would come home somehow."
When some of the wreckage was spotted in 2012, May said she began to hope. Like other relatives of the victims, she gave a sample of her DNA to the Department of Defense forensic labs. The scientists there managed to match it with the bones of her brother's leg.
May said she was shocked when she learned they found her brother. She recalled she shouting the news to her daughter over the phone, but then she didn't know what to say.
"It's very hard—you didn't want to accept it before and now you still don't want to accept it. I don't know," she paused. "It's just a hard thing to live through."
May said she thinks burying the remains alongside her mother will help. All of her other siblings have already passed.
For Michael Williams, the death of his brother-in-law Howard Martin in the 60 year-old crash was something his wife's family would never discuss.
"When it was brought up, it immediately brought tears. So I basically did all my research in secret, so to not upset anybody. I just wanted to find out a little more detail than what the family revealed.
Williams said his research connected him with other families around the country who were also seeking closure on the issue. They formed relationships through email and Facebook and remembered even when others forgot.
"It's kind of disappeared in the fog of time," he said.  "And fortunately the Alaska National Guard noticed something and decided to take a look down on Colony Glacier.  They could have easily flown over and said 'ah that's nothing' and not went down there and investigated. But they got curious. And really, the families do appreciate it."
But other families will continue to wait. The remains of 35 of the 52 victims are still lost on the mountain, though the Department of Defense said they will keep looking. In memory of those who died, the mountain where they perished was recently named Globemaster Peak.
Related Stories:
Specialists Survey Old Plane Crash Near Knik Glacier
Recovery Efforts Continue For Old Plane Crash Near Knik Glacier