The National Congress of American Indians is holding their mid-year conference in Anchorage this week. Titled—Claiming our Rights and Strengthening our Governance, the conference started yesterday and runs through Wednesday.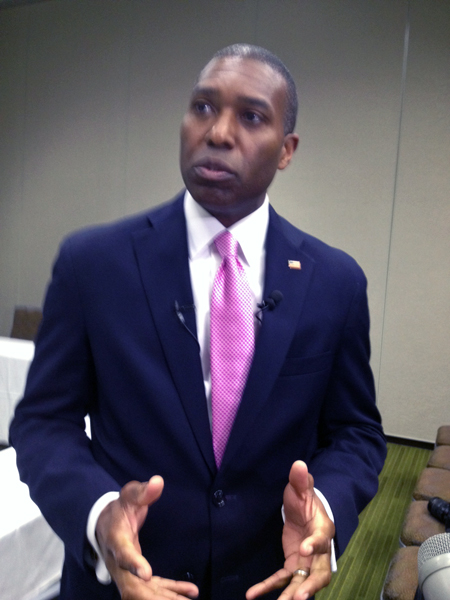 U.S Department of Justice Assistant Attorney General Tony West adhered to the theme as he said DOJ would work with tribes to enhance access to voting.
"And so the Attorney General announced today that we would engage in consultation with tribal leaders to come up with legislative proposals that would hopefully at the end of the day would result in polling places in local Native communities, on reservations, in Native villages as well as ensuring that election materials, ballot materials are being presented and offered in those Native languages," West said.
State Division of Elections Director Gail Fenumiai says remote precincts have a polling place in the most populated part of the precinct and other areas are designated 'permanent absentee voting areas'. Voters in these areas can apply to have an absentee ballot mailed to them.
West said there are no legislative efforts being crafted yet, because tribal governments need to weigh in on what an equitable plan would look like.
West made it clear that Justice Department officials strongly support tribal government sovereignty and will work to help clarify jurisdiction issues in Alaska, particularly as it relates to domestic violence and sexual assault.
"In US Attorneys' office, we're making sure there are funds and resources available to try to deal with sex trafficking, to try to deal with violence against women," West said. "We strongly support the repeal of section 910 of Violence Against Women Act which took Alaska Native villages outside of this ability of tribes to exercise special criminal jurisdiction and pursue, in certain instances, domestic violence perpetrators."
Speaking earlier to a large group at the Dena'ina Convention center, West said DOJ filed a "statement of interest" last week in case called Toyukuk vs. Treadwell. Plaintiff Mike Toyukuk of the village of Manokotak, is suing the state over a failure to provide oral language assistance for citizens who speak Yu'pik as their first language.
"Because, if remote geography, or the inability to speak English, do not free any of us from the obligations and responsibilities of citizenship, then they should not impede the exercise of rights to which we are all entitled," West said.