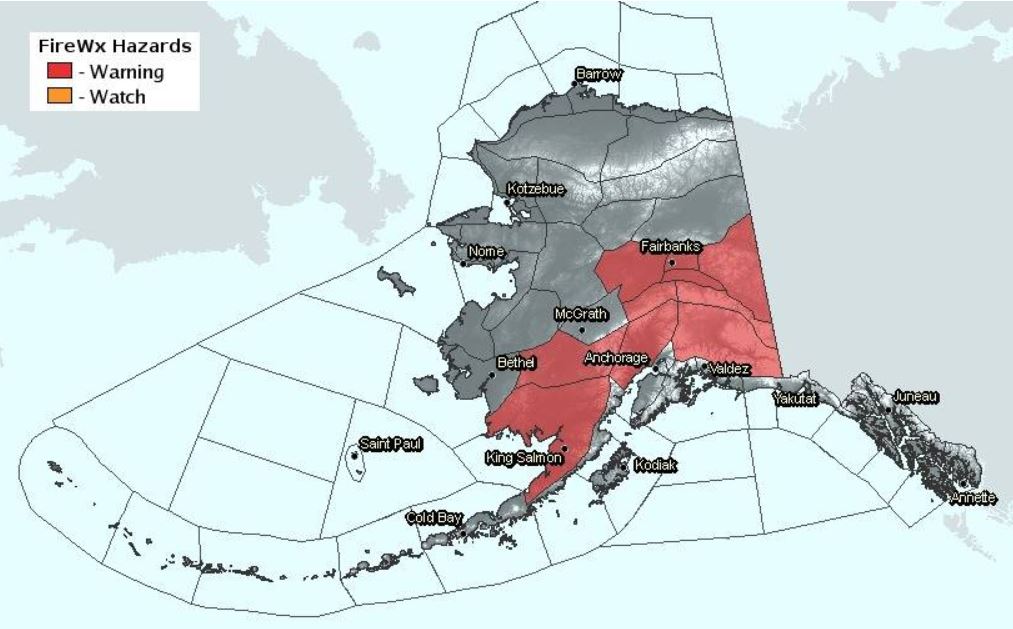 A prescribed burn on the Oklahoma Range in the Donnelly Training Area near Delta Junction has grown to more than 50,000 acres.
The burn was ignited in dry grass last Saturday. Alaska Fire Service spokesman Mel Slater says officials are considering whether to change its characterization from a prescribed burn to a wildfire.
"The reason for doing that is it allows for additional resources to be put in place," Slater said.
The fire has made for hazy, brown skies from Delta Junction north to Fairbanks, but Slater says the blaze is still under control.
"Well right now, it's not problematic," Slater said. "It's a fire that is burning in grass and so it's putting out some smoke, but right now, the resources that we have on it aren't treating it like it's a fire that's out of control, so at this point there's no cause for people to be overly concerned."
Slater says there are no other prescribed burns scheduled for the remainder of the summer.
"Actually the prescribed fire season is coming to a close," Slater said. "So, once we get a hold of this Oklahoma Range Fire, that will be end of the prescribed fire season."
As of Tuesday, 95 wildfires have burned more than 150 acres statewide.  The Alaska Fire Service says 94 of those fires are human caused, but Mel Slater says it's not only due to negligence.
"Some of those human caused fires are related to like a tree might fall on the power line," Slater said. "But with that being said it's always a good thing to be mindful of your surroundings."
No red flag warnings had been issued for the Deltana and Tanana Flats region where the Oklahoma Range Fire was ignited on Saturday, but the National Weather Service has since issued Red Flag Warnings for a large swath of the state. Regions including Fairbanks south to Anchorage and from King Salmon near Bristol Bay, east to the Canadian border are red on the weather map.
Forecaster Bob Fisher says things are likely to stay dry, but strong winds will die down over the next few days.
"That means conditions won't be quite severe enough to issue a red flag warning, but people probably shouldn't go out and light camp fires, because humidities are still going to be low in the afternoons and evenings," Fisher said.
Fisher says the air quality in the Fairbanks area is likely to remain smoky until the weekend.
"We're expecting another upper disturbance to come in Saturday night or Sunday," he said. "That could give us cooler temperatures and some rain and that might help clean out the air a bit."