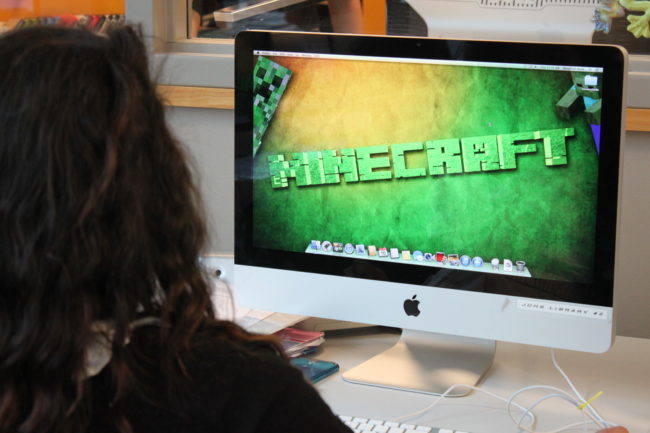 The popular video game Minecraft has found its way into Alaska classrooms.
A graduate education course at the University of Alaska Southeast is showing teachers from across the state how to implement the game in their classes. Course professors say it could help engage students in science, technology, engineering and math.

Solving a real problem inside a virtual world
Lori Sowa is assistant professor of engineering at the University of Alaska Southeast. She heard about Minecraft from her kids.
"My son, his first day of first grade, he came home and the first thing he asked me was, 'Mom, what's Minecraft?'" says Sowa.
Minecraft is a popular video game that allows you to build elaborate structures, gather resources and fly, among many other things. Some people call Minecraft virtual Legos.
For Sowa and her teaching team at the University of Alaska Southeast, Minecraft is also a way to get kids to think critically, collaborate and solve problems, which is why they've made Minecraft part of a graduate education course. Development of the course was supported by a pre-college grant from the Alaska Space Grant Program and a Mathematics and Science Partnership Grant from the Department of Education and Early Development.
The goal is to help teachers brush up on science, technology, engineering and math content but teaching Minecraft has also been part of it.
"Most of the students – you know, the teacher students – coming into this had probably heard of Minecraft but hadn't actually played it, so we have spent some time working with the teachers to help get them up to speed on their gaming skills," Sowa says.
The professors are teaching Minecraft through the context of a real life problem that's taking place in Northwest Alaska about 40 miles north of Coldfoot. Sowa and her colleagues call it the "Monster Lobe."
"It's this mass of partially frozen soil and rock and woody debris and ice that's moving down the hillside, but it's moving very slowly. With warming temperatures it's starting to move at a faster rate towards the Dalton Highway and the pipeline is right in that area," Sowa says.
The challenge is for the teachers and their students to figure out how to protect the Haul Road and the pipeline from the Monster Lobe. And to do it inside Minecraft.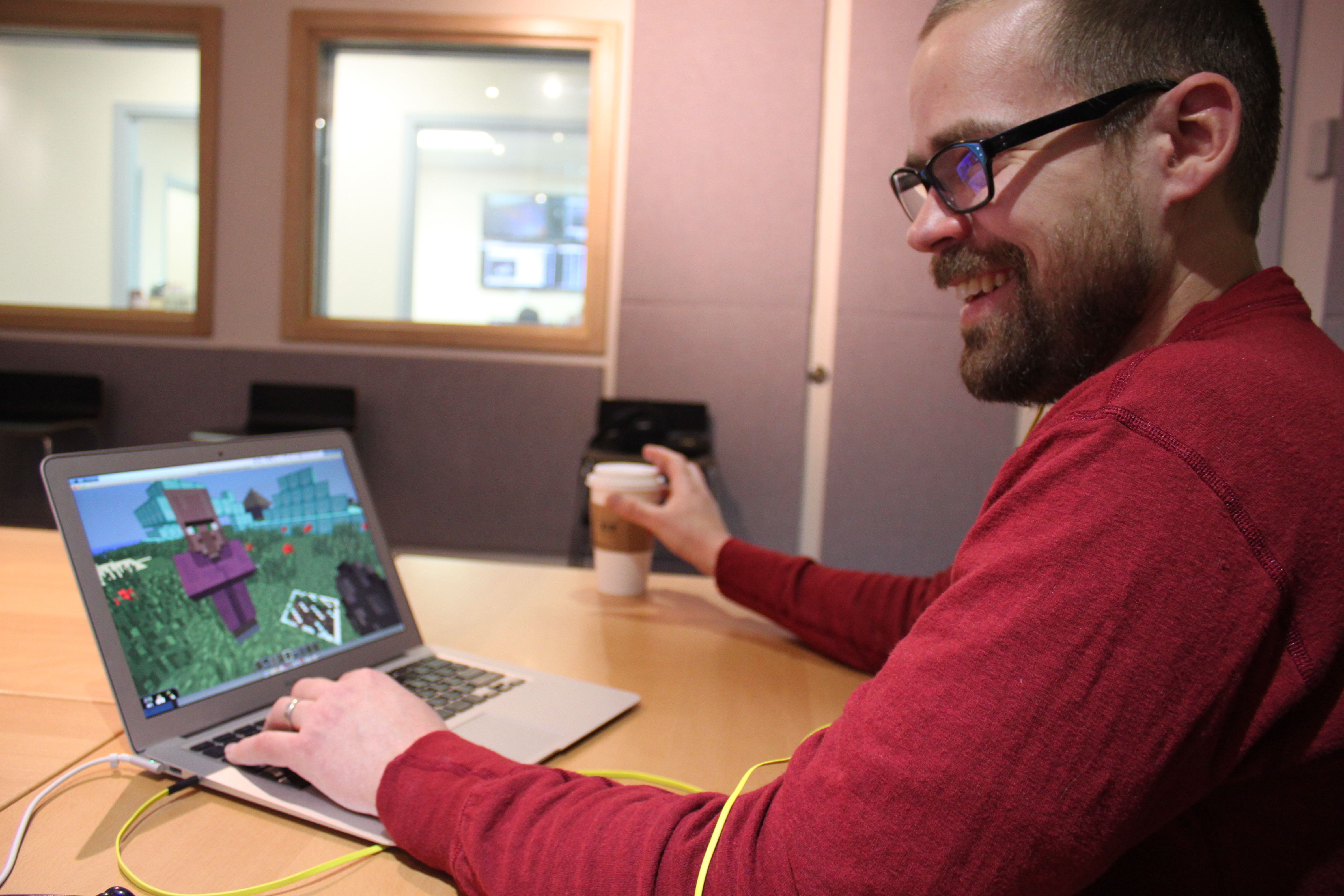 UAS graduate student Colin Osterhout is helping to teach the class. He created the Monster Lobe in Minecraft.
"On the screen right now is the topography of an area north of Fairbanks along the Haul Road. I added in all this texture along the landscape, so all this stuff is sliding down the mountain. So, like, one idea students might come up with is, 'Well maybe we should put dams here, there, and there,'" Osterhout says.
Since everything in Minecraft is a one-by-one meter block, "you can really easily measure your distance from here to there, measure what your solution is going to cost in terms of amount of yardage, cubic yardage of material," he says.
Without even realizing it, by brainstorming solutions the students start to think like engineers.
"Alaska in particular is suffering a shortage of engineers. A third of Alaska's engineers don't live in Alaska," says UAS assistant professor of education Chip McMillan, who's also teaching the graduate class.
The goal of trying to solve a complex problem like the Monster Lobe inside Minecraft isn't necessarily about churning out engineers. McMillan says it's about building qualities such as "grit, perseverance, this ability to stick with a problem and that's something that I think we're steadily losing."
It's also about meeting students where they are. McMillan's research indicates that 85 percent of students in second to eighth grade are playing Minecraft.
"They're preoccupied with this medium, so, you know, if your kids love baseball then you try to frame some physics problems in terms of baseball. You're always trying to leverage what their natural interest is," McMillan says.
Some teachers in McMillan's class were leery about learning Minecraft. They now use it in the classroom. Parents have taken an interest in the class.
"The line is always the same: My kids are obsessed with this game and I hear you're doing something," he says.
In practice
During fourth period at Juneau-Douglas High School, Lexie Razor's ninth grade Algebra 1 class is using the library computers. Minecraft is on the screens.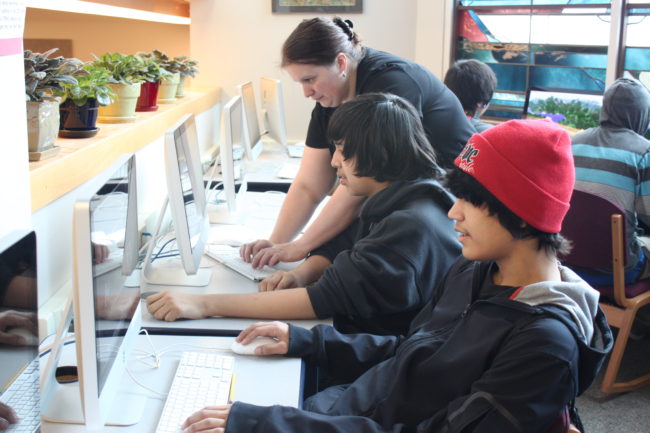 "Everybody should be in the building and you need to go to the different structures and start calculating the volume and the surface area," Razor announces over the buzz of students settling down.
The class is part of CHOICE, an alternative learning program for students needing extra support in order to graduate.
15-year-old Mackenzie Biddinger and a classmate are working on finding surface area and volume of different shapes, but Mackenzie is more excited to talk about a different Minecraft project they recently did – building a 3D model of a plant cell.
She says the model included all the different parts of a cell.
"There's the chloroplast and the mitochondria and what was the other one? Chlorophyll? The cell wall, the cell membrane, and the cell itself," Mackenzie says.
Mackenzie enjoyed collaborating with other students for the project.
"You learn from each other and you learn other people's strategies and stuff like that and it's better to be social and I think it's a lot more fun. It helps me a lot," she says.
Mackenzie has Minecraft at home, but doesn't find it appealing "to build random things out of pixilated blocks."
But in class, she's a fan.
"It's better than doing actual, like, just writing on paper. I think this is a better way of learning than the usual way. It's fun and you actually learn from it," Mackenzie says.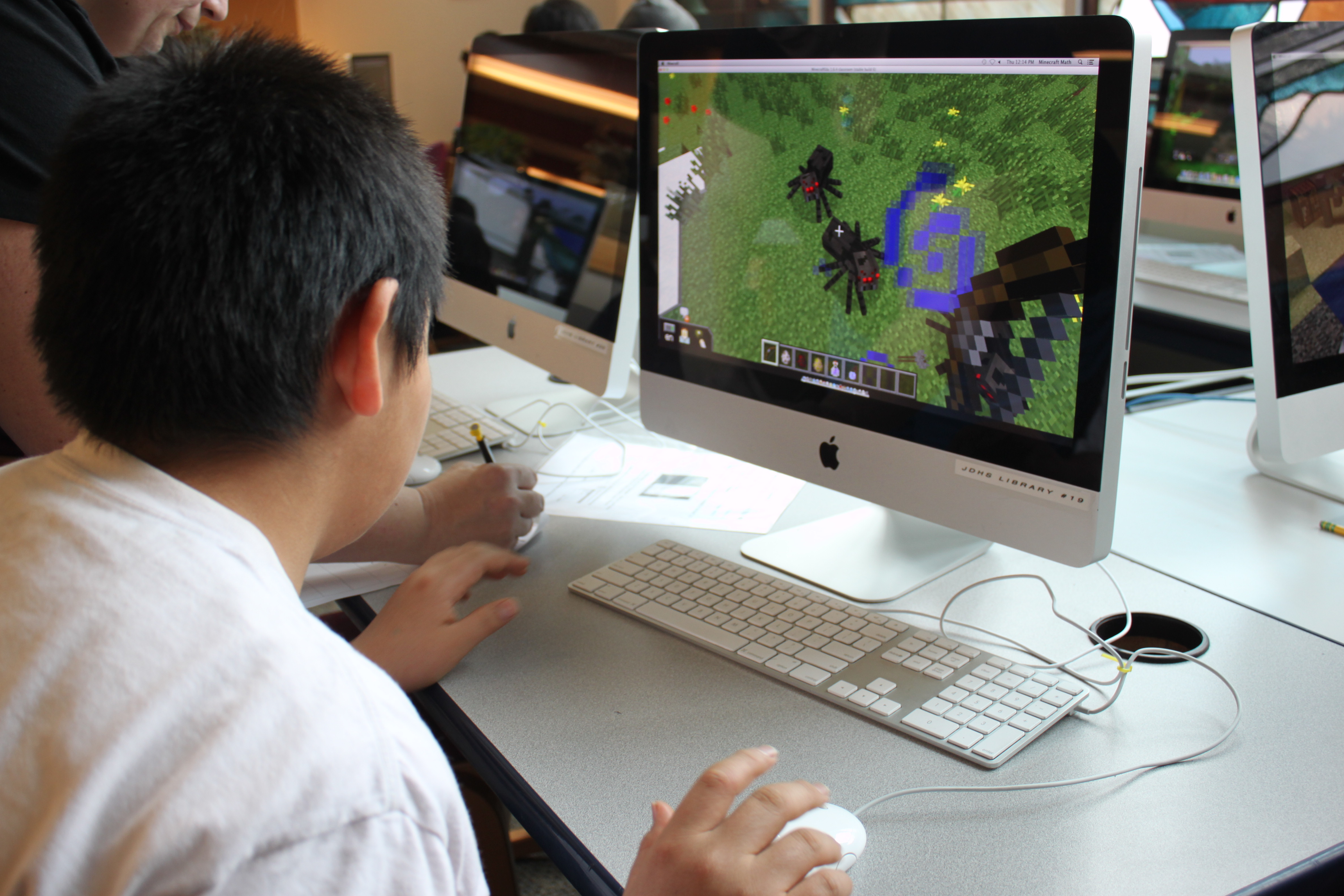 For 15-year-old Evan Okpik, Minecraft is a way to stay engaged in academic work he often finds boring.
When asked what he'd be doing in class if he wasn't on Minecraft, Okpik says, "Probably trying to sleep, listening to music. It's what I do when I hate a class."
Three months ago, teacher Lexie Razor didn't know how to play Minecraft, let alone teach it in class. But after taking the UAS graduate education course, she's happy to have another tool to use in the classroom.
"It just helps them to do things in ways that they're interested in and so they may put forth more effort and understand it more because it's something that they can relate to," Razor says.
The students, she says, exhibit academic traits associated with science, technology, engineering and math – subjects collectively known as STEM.
"They just think that they're playing but when we were doing the project, listening to the groups and how they talked and how they were problem-solving and how they needed to fix the things that they built — that's STEM and they don't even realize that they're doing it, but they're practicing those things," Razor says.
Razor plans to use Minecraft in her geometry class as well. She says it's important to connect the game to the curriculum.
"I'm trying to come up with some kind of project where I'm going to give them a certain amount of volume and they have to build some structures or do something so that they can use Minecraft, 'cause they've heard that I've been using it and they're pretty jealous," she says.
Toward the end of class, 12th grader Colin McClung walks over to the computer area.
"I was actually just sitting over there and I saw somebody playing Minecraft and I was like, 'Is somebody slacking off in class?' and I came over here and everybody had Minecraft open."
McClung says he's happy to see a teacher has realized that video games can be used as teaching tools and aren't just a waste of time.