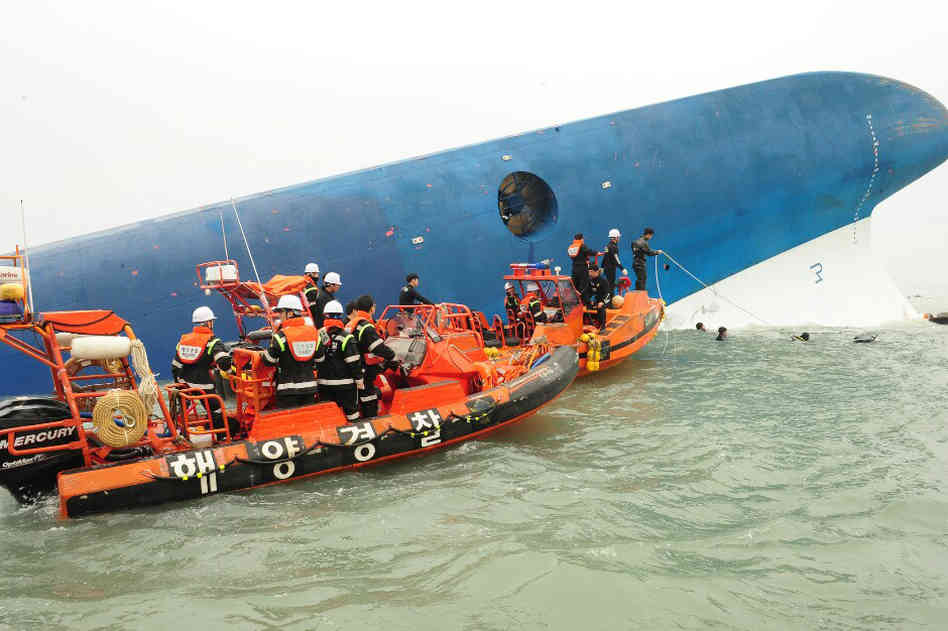 About 300 people, many of them high school students and teachers who were on a trip to a resort island, were missing Wednesday after a ferry disaster off the southern coast of South Korea.
The ship, which left the city of Incheon on South Korea's western coast Tuesday night, sent out a distress signal around 9 a.m. local time on Wednesday. That was 8 p.m. ET Tuesday. The trip south to Jeju Island was supposed to take about 14 hours. According to The Associated Press, the students and teachers are from a high school in Ansan city near Seoul.By the time rescuers arrived on the scene, the ship was on its side. After about two hours, according to NPR's Anthony Kuhn, the ship had turned over completely and most of it was under water. Anthony, who is monitoring the news from Beijing, said on Morning Edition that authorities believe more than 470 people were on board before the ferry went down. It was well below capacity: According to Anthony, the ship can carry as many as 900 passengers.
South Korea's Yonhap News Agency reports that "fears have grown that many of those unaccounted for could be trapped inside the sunken ship and died."
In the first few hours after the tragedy, authorities were reporting they had recovered at least four bodies. Of those on board, CNN says, 325 were students and 15 were teachers from Seoul's Ansan Danwon High School. Jeju, the network adds, is "considered the Hawaii of Korea." (Update from CNN added at 9:30 a.m. ET.)
NPR's Frank Langfitt, who is following the news from Shanghai, tells our Newscast Desk that the South Korean Coast Guard reports it rescued at least 164 people before the ferry sank. The water temperature in the area is just above 50 degrees Fahrenheit, Frank reports, and "South Korean authorities say people swimming in water at that temperature show signs of hypothermia after 90 minutes or two hours."
A U.S. Navy ship is heading to the site to assist South Korean rescuers.
According to Yonhap News:
"The cause of the accident was not known, though survivors said they heard a banging noise before the ship suddenly started sinking. Speculation has arisen that the ship might have hit an underwater rock or collided with another vessel. …

"The ship, which plies between Incheon and Jeju [Island] twice a week, was built in Japan in 1994, is 146 meter long and 22 meter wide, and has the maximum capacity of carrying 921 people, 180 vehicles and 152 shipping containers at the same time."
Copyright 2014 NPR. To see more, visit http://www.npr.org/.
Read original article – Published April 16, 2014 6:55 AM ET
Hundreds Missing After Ferry Sinks Off South Korea's Coast