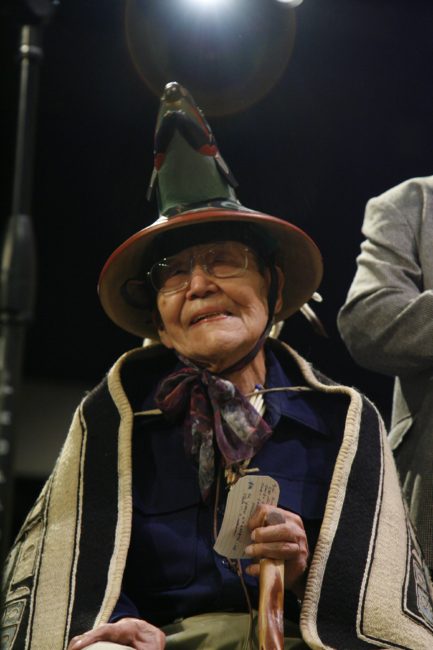 Two bills dealing with Alaska Native issues got different receptions from members of the Legislature on Thursday.
At least three House lawmakers skeptically received a bill that would make 20 Alaska Native languages official state languages. About an hour later, they joined the rest of their House colleagues in voting unanimously for a bill honoring the late Rev. Walter Soboleff.

House Bill 217 would make Nov. 14 Walter Soboleff Day in Alaska. That was the day the Tlingit cultural and spiritual leader was born in 1908 in the now abandoned village of Killisnoo near Angoon. Soboleff spent most of his life in Juneau, where he established a ministry that welcomed people of all races at a time when discrimination against Alaska Natives was common. He died in 2011 at the age of 102.
Juneau Rep. Cathy Muñoz said her family belonged to Soboleff's church.
"His words, his deeds, his presence were imbued with a strong sense of grace," Muñoz said. "He often spoke of unity and respect and tolerance."
Muñoz was one of several House members to share personal stories about Soboleff, who often served as chaplain to the legislature.
As the youngest member of the legislature, Sitka Rep. Jonathan Kreiss-Tomkins never got to meet Soboleff. He said he learned of his teachings by watching videos on the internet.
"I think it's fitting, just as this bill will continue to honor his legacy in years to come, his wisdom has been preserved courtesy of the wonders of technology," said Kreiss-Tomkins, HB 217's prime sponsor.
(Video from Kathy Dye on Vimeo)
With Soboleff's four children watching from the gallery, the House passed the bill, 35-0. It now heads to the Senate.
Kreiss-Tomkins is also the prime sponsor of House Bill 216, the Native languages bill, which supporters say would recognize the efforts of people working to preserve Alaska Native languages, many of which have lost or are losing their last fluent speakers.
But some members of the House State Affairs Committee are concerned about how the bill would be interpreted by future legislatures or the courts. At a hearing on Thursday, Rep. Doug Isaacson, R-North Pole, said he wanted to make sure the bill's intent was clear before he could support it.
"So that we don't have compounding results from a law, where a future legislature might be encumbered with having to provide everything in 20 different languages for example," Isaacson said.
Rep. Wes Keller, R-Wasilla, wondered if there was a better way to support those working to save Native tongues.
"Like we could have a day, you know, that honors the Native languages in the State of Alaska," Keller said. "I'll be a co-sponsor."
Both Isaacson and Rep. Lynn Gattis, R-Wasilla, said their ancestors had adopted English as their chosen language after coming to the U.S. from Europe.
That elicited a strong response from Rep. Benjamin Nageak, D-Barrow, a fluent Inupiaq speaker and a co-sponsor of HB 216.
"The Native people here, we're not from another country. We were here before," Nageak said.
Rep. Charisse Millett, R-Anchorage, also offered a passionate defense of the bill. Millett, who says she's a quarter Inupiaq, said she didn't remember as much push back and questioning when the legislature voted to make the Alaskan malamute the official state dog.
Committee chairman Bob Lynn, R-Anchorage, held the bill.