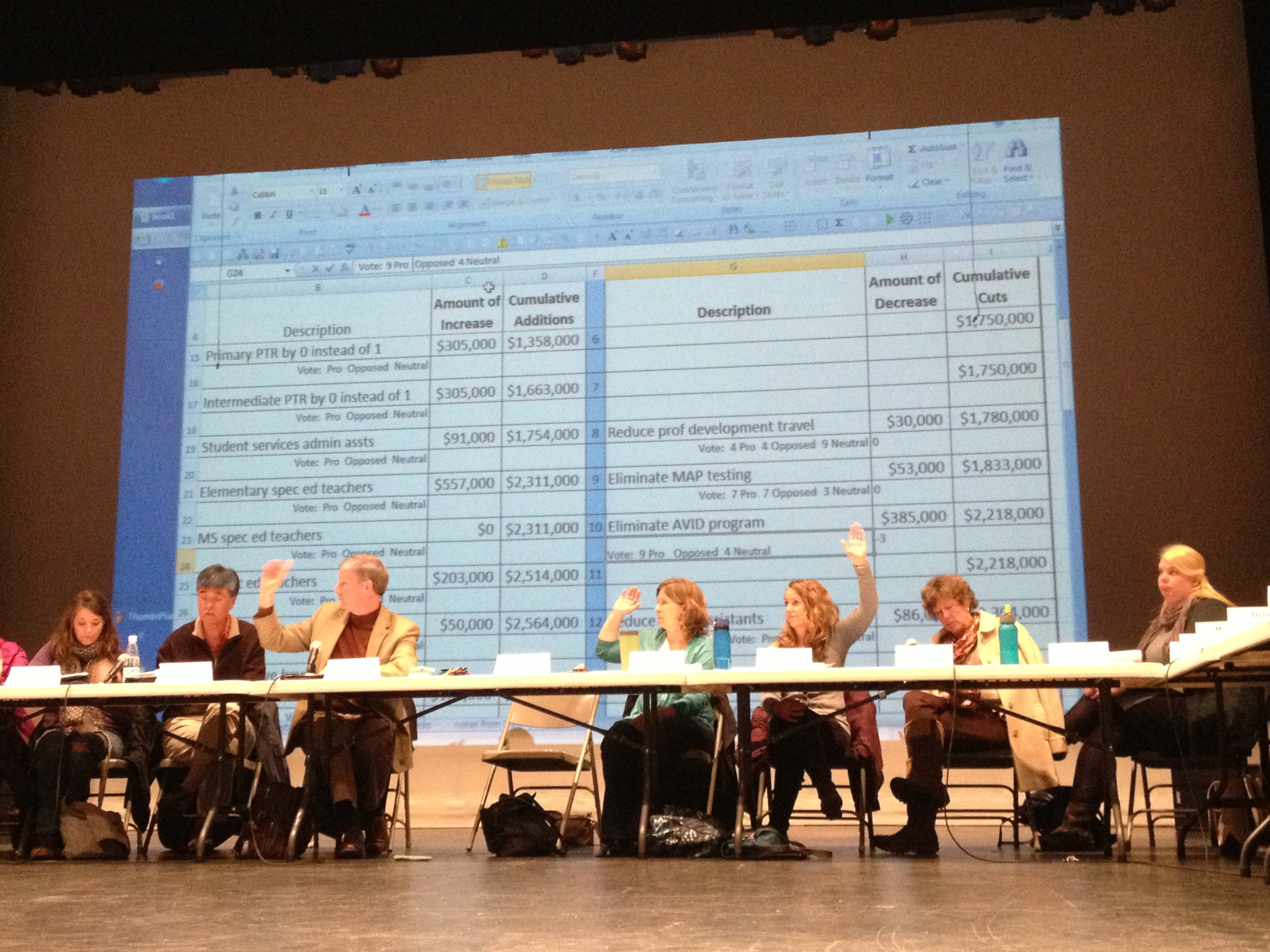 A school budget advisory committee disagreed with the superintendent on how to deal with a multi-million dollar shortfall at its final meeting Tuesday night.
The Juneau School District Budget Committee wants to maintain a lower student-teacher ratio, add nurses and postpone new language arts and math courses. The superintendent is proposing raising the student-teacher ratio, maintaining the number of nurses and adding the new curriculum. The administration's proposed budget cuts $4.3 million.
Budget committee member Sue Mason says her biggest priority is the student-teacher ratio.
"I would really like to see the classrooms stay smaller. The greater number of the students, the less time the teacher can spend with students individually."
The administration's proposed budget cuts about 20 teaching positions. Committee co-chair Brian Holst says keeping all these positions isn't possible, but prioritizing a low student-teacher ratio over new curriculum could preserve some.
"By postponing the curriculum, you're freeing up resources that could be spent on teachers, so the net is probably seven to eight teachers potentially," Holst says.
If pending legislation brings the district more funding, Superintendent Glenn Gelbrich says he'd still recommend raising the student-teacher ratio, but by less. Several bills are working through legislative committees that would raise per-pupil funding.
"We're hopeful and optimistic that that might happen, but we can't have full confidence that that's going to happen at this stage," Gelbrich says.
Without additional funding, Gelbrich is proposing raising the student-teacher ratio by three additional students. A kindergarten teacher, for example, would have 25 students instead of 22.
Due to previous budget cuts, the school district currently has five nurses and five health aides. The committee recommends raising the number of nurses to 10, putting a nurse back in each school.
School nurse Maureen Hall says she's happy the committee recognizes the importance of nurses in schools.
"However, I don't think the will of the administration would be to honor that recommendation," Hall says. "It was [the budget committee's] number two priority last year, was to reinstate the two nurse positions that had been cut out of the 10, and instead, administration came back and eliminated three more nurse positions and went to the health aide model."
The budget committee also recommends eliminating the AVID college readiness program, and reducing the number of instructional coaches.
The district's proposed budget for the 2014-2015 school year is about $90 million.
The budget committee will present a final report on its recommendations to the school board March 4.