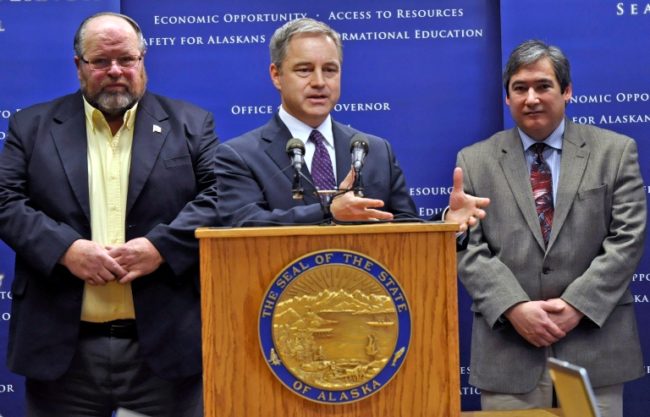 House Democrats must still vote to confirm Sam Kito III to the House District 32 seat vacated last month by Juneau Rep. Beth Kerttula.
Parnell appointed Kito on Friday, meeting the 30-day requirement for filling the seat, but the House minority doesn't have a deadline. In fact, they have yet to determine the process they'll use to confirm Kito to the seat. That's expected early this week.
The governor has asked them to take a public vote on the House floor, rather than in closed caucus.
Parnell said he'd studied legislative appointments and found the process used to be far more open than in recent years.
"From statehood through 1990 there were votes taken in almost 30 cases, where the party that had the nominee, usually by unanimous (consent),"  just confirmed the appointee in public, he said.

If House Democrats reject Kito's appointment, the governor could go back to the list of three nominees submitted by Tongass Democrats, or the process could start all over again.
Legislative aides Catherine Reardon and Jesse Kiehl were on that list.  Kiehl works for Egan and is on the Juneau Assembly.  On Friday he filed a letter of intent with the Alaska Public Offices Commission, planning to run for a second Assembly term.
He said Tongass Democrats conducted "an unprecedentedly open and transparent" nominating process.  Gov. Parnell interviewed the three candidates.
"My interview was much like Sam's. The governor never asked any questions that anybody should cast a critical eye on.  They were about getting to know us and what we stood for," Kiehl said.
What does Kito stand for?

If Kito is confirmed, he said his first priority would be to work on the State Library Archives and Museum project, which still needs about $37 million before it can be completed.  He also said he's concerned about the state's economy.
"I'm looking forward to that future where we can have a stable economy," he said. 
Kito is a civil engineer and in recent years has been a legislative lobbyist. He said about 70 percent of his income comes from lobbying and 30 percent from engineering.
He hasn't always been a Democrat.  He switched his voter registration from non-partisan to Democrat in 2004.  Over the years, he's contributed to a number of Republican campaigns, but described himself as more aligned with Democratic principles.  He said he is pro-choice, supports an increase in the minimum wage, and opposes school vouchers.
As for the proposed road from Juneau to Katzehin, he said that as an engineer he knows the project is feasible.
"I do have concerns about building a road, 60 miles worth of pavement that is going to then have to be maintained with general funds. I have a concern of building a road to a terminal that might need to be staffed," he said. "But I do think interconnecting parts of Southeast is important.
Kito has lived in Anchorage, Fairbanks and in Juneau twice. He was CBJ Transportation Development Manager from 2002 through 2004.
He's a single dad and is raising a teenage daughter, who is a student at Juneau-Douglas High School.
Saying only that he  "would like to continue to represent Juneau and the other communities in the district," he declined to commit to running for  election to the House seat.
In addition to downtown Juneau and Douglas, House District 32 includes Petersburg, Gustavus, Tenakee Springs and Skagway.  With redistricting, it will become House District 33 this fall, encompassing downtown Juneau, Douglas, Haines and Skagway.
Previous Coverage:
Sam Kito III named as new Juneau representative