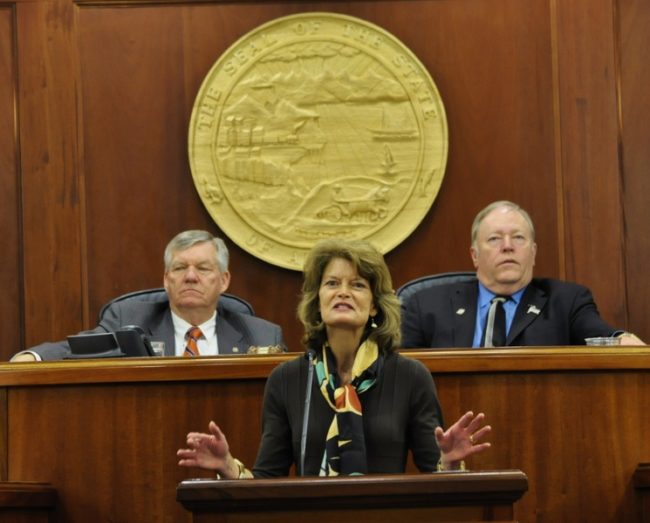 Updated story Feb. 19, 2014, 1:03 p.m.
U.S. Sen. Lisa Murkowski said the state must be aggressive in developing lands where it has some control.
Murkowski, in an address to a joint session of the Alaska Legislature on Wednesday, said she admired lawmakers'  "courage" in passing an oil tax cut that she said promotes investment.
She said the Legislature has taken serious steps to try to boost oil flow through the trans-Alaska pipeline system and it's long-past time for the federal government to do the same.
Murkowski said while the Interior Department has sold leases in Arctic waters off Alaska, it hasn't shown it wants development to occur.
Murkowski also criticized the federal government for dragging its feet on the clean-up of legacy wells and its opposition to road construction, particularly a proposed one-lane gravel road to King Cove through Izembek National Wildlife Refuge.
While most of her speech focused on federal overreach, Murkowski also talked about other issues ranging from the pending closure of the Flint Hills refinery in North Pole to the effects of the federal government shutdown in Alaska, and retention of F-16 fighters at Eielson Air Force Base.
Original story Feb. 18, 2014, 3:29 p.m.
Republican U.S. Sen. Lisa Murkowski says preparing for her 12th annual speech to the Alaska Legislature reminded her of the movie Groundhog Day.
"Kind of repeating some of the same messages. But it's a reminder that many things don't change for us," she said.
Groundhog Day was a 1993 film starring Bill Murray. His character relives the same day over and over again.
Murkowski's message will include the idea that the federal government is limiting what Alaskans can do with their lands and resources, but she says it will also be, "…a message of challenge to us as Alaskans, that we don't need to sit and wait for permission from the federal government, that we have the ability to move forward on our own."
Murkowski is scheduled to address the legislature at 11 a.m. Wednesday, and will be carried live on 360 North television, KTOO-FM radio, and online.