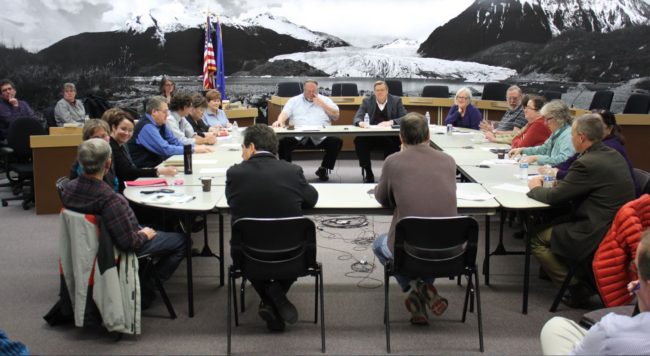 Bartlett Regional Hospital Board of Directors did not know about the severance packages of the former chief financial officer and personnel director until two weeks after the agreements were already signed. That's what the board told the Juneau Assembly Wednesday night during a special joint meeting.
"The CEO indicated that the contracts were developed with an attorney and we did not see the contracts, we did not see the separation agreements until after they were approved by our CEO," says board member Linda Thomas, who recently finished serving as president.
Former CEO Chris Harff approved the severance packages of former personnel director Norma Adams and former CFO Ken Brough on Aug. 9, one day after results of a personnel investigation into senior management had been discussed with Harff.
Resignations soon followed. Adams announced hers in mid-September. When Harff announced her resignation Sept. 24 and left in mid-October, Brough stepped in as acting CEO. He announced his resignation in mid-November and left Dec. 31.
As the Juneau Empire reported in January, close to $300,000 in severance pay went to these top hospital officials.
Thomas says the separation agreement for Harff was approved by the hospital board and went through CBJ Law and Human Resources departments. According to city attorney Amy Mead, the agreement called for Harff to stay on the job longer than she wanted to provide for a smooth transition.
Thomas says Brough also stayed on longer than he wanted to finish projects that were financially important for the hospital. One was a settlement agreement with Medicaid.
"Mr. Brough was in the final stages of negotiating that and that resulted in a considerable amount of money and much more than was paid in retention. I guess the question comes on, could somebody else have done that? Possibly so, but we made the business decision. He had been the one doing the negotiations and it was very close to being finished," Thomas explains.
Mead says it is within a CEO's responsibilities to handle personnel matters, like severance agreements. Thomas says the board is working on establishing more oversight.
"The interim CEO is working with CBJ Law and Risk Management on developing procedures regarding any contractual relationships and we're developing the tree of decision-making and helping to set those parameters in advance. That's a work in progress," she says.
During the special joint meeting, the Assembly learned that Harff had approved another severance agreement with a former Bartlett employee, the details of which were discussed in executive session.