Iceland's seafood industry has its own dating service. The man behind it gave a talk Wednesday at the Juneau Economic Development Council's Innovation Summit.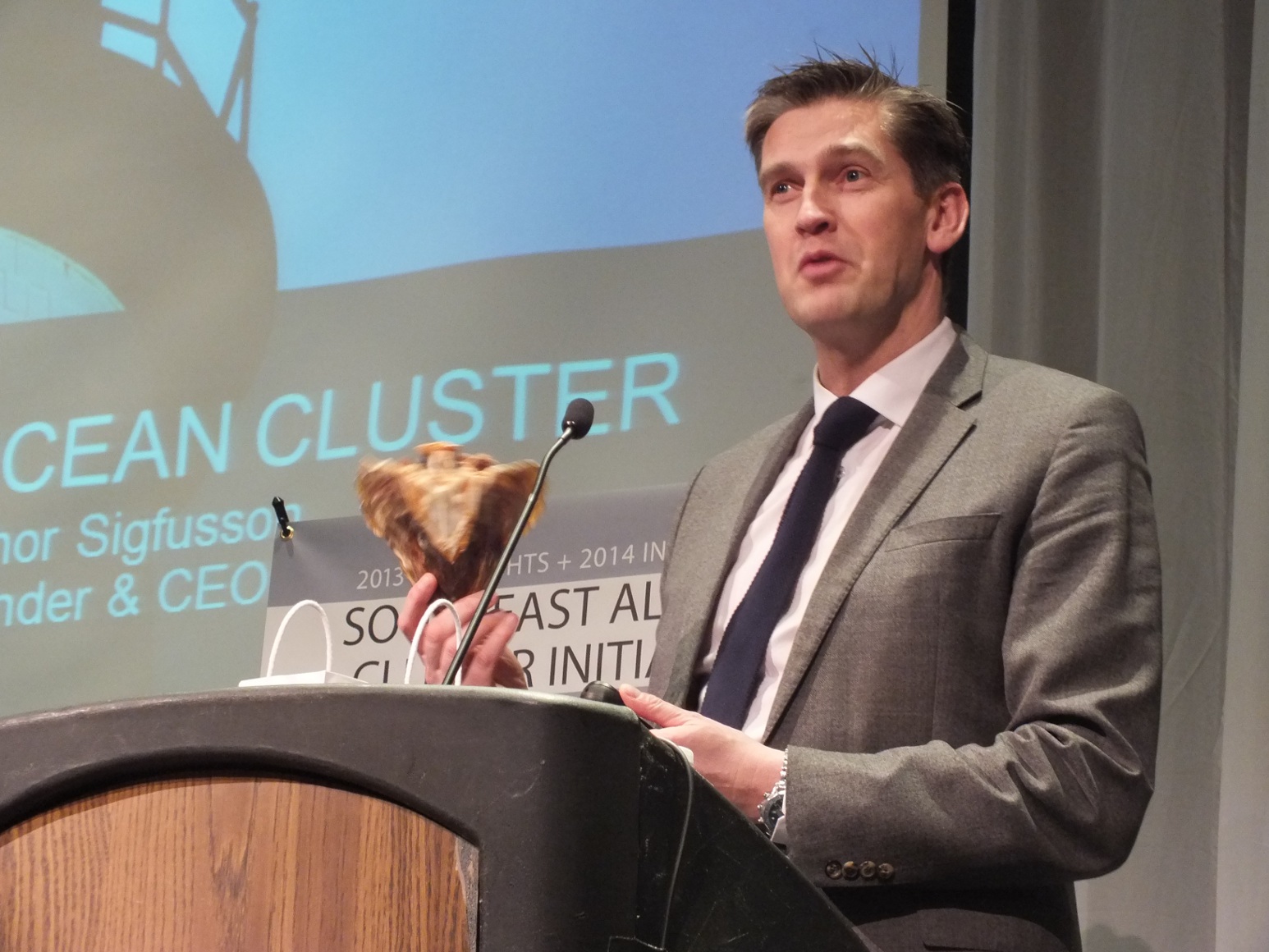 If you're a fisheries business in Iceland, Thor Sigfusson is kind of like your wingman.
"I'm probably the greatest dating service agent in Iceland, and I'm proud of it," said Sigfusson, who started the Iceland Ocean Cluster in 2011. In economic development terms, a "cluster" refers to an organization designed to foster collaboration within an industry.
The group grew out of Sigfusson's doctorate research at the University of Iceland and was initially affiliated with the school. It's now a private company with about 60 clients. While he gets some grants, Sigfusson makes most of his money by charging other companies to join the group, where he can set them up with similar businesses to work on like-minded projects.
"It is very important for businesses to talk to each other, and try to figure out a way to get more involved, try to figure out a way to create jobs, to create new ideas," Sigfusson said.
He says Iceland's cod fishery was worth $680 million in 2011, double its value 30 years earlier. That's despite a decrease in the amount of fish harvested, from 460,000 tons in 1981 to 180,000 tons in 2011.
Sigfusson says the industry is more efficient with the catch, creating byproducts from what used to be fish waste. He says Icelandic seafood businesses will soon utilize close to 80 percent of each cod harvested in Iceland.
"Now what's interesting here is that nearly a quarter of the export value of the cod now are products that we threw into the dustbin some 20 years ago," he said.
Converting fish waste into a product that has value is not a new concept. In fact, many companies in Alaska's seafood industry have been doing it for years with products like fish meal. Julie Decker is Executive Director of the nonprofit Alaska Fisheries Development Foundation.
"It's sort of a worldwide trend, and Alaska knows about it," said Decker. "But we have a lot of real unique challenges in the sense that we have sometimes short fisheries that are very strong and all spread out into little tiny communities. So dealing with those is part of what we have to do to move forward."
Decker is also a member of the Juneau Economic Development Council's Ocean Products Cluster. She says one of her biggest takeaways from Sigfusson's talk was seeing how private companies that normally compete against each other can work together. And she sees the Iceland Ocean Cluster as a potential collaborator with Alaska's seafood industry.
JEDC's Innovation Summit continues Thursday at Centennial Hall. For the agenda, click here.