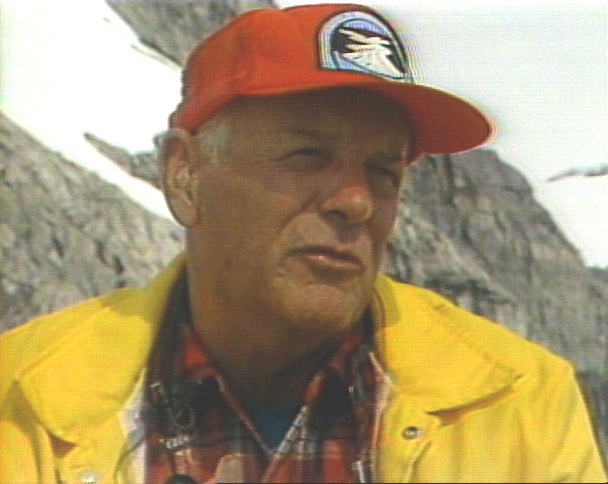 A researcher who pioneered work on Southeast Alaska's glaciers nearly 70 years ago has passed away.
Dr. Maynard Miller died January 26th at his home in Moscow, Idaho. He was 93 years old.
Miller was a founding member of the Juneau Icefield Research Project in 1946. He became the long-time director of what was later called the Juneau Icefield Research Program that has included the longest, continuous study of glaciers anywhere in the world.
Former Juneau resident Lance Miller said his father was passionate about the importance of such basic research and he even considered one last visit to the Juneau Icefield and the surrounding glaciers.
One of the things was always the mass balance which is essentially how much snow falls and much snow melts and ablates, and what that means for the life of a glacier, and how climate change has affected that. One of his initial goals and the long-term goal of the program was the health of glaciers, if you will. They're really a litmus for what's going on in the world for climate. So, still following up on those basic research questions."
[box type="shadow"]Related story:
JIRP director developed early interest in Southeast Alaska glaciers
that includes KTOO feature on JIRP that was broadcast in 2000.
[/box]
JIRP includes eleven permanent field stations and dozens of temporary camps spread out over 5,000 square miles.
In an interview with KTOO on the icefield in 1999, Dr. Miller explained that the program originally started with the Office of Naval Research to study possible military operations in the Arctic such as ballistic missile submarines running under the sea ice.
It's the only program of its kind in the world, and it's one that evolved out of absolute necessity. In those early years, we had to live out of tents, particularly in the Navy contract years. It was very difficult to do a lot of that research because there was so much housekeeping and logistics necessary. We estimate now that 80% of our time up here on the Juneau Icefield in those early summers in the '40s and '50s was spent on survival, housekeeping, and logistics. Leaving 20% for research and other activities."
Dr. Miller said the military essentially lost interest after the launch of Sputnik that heralded the dawn of the Space Age. JIRP then became an academic and research teaching program for training the next generation of new scientists.
I would say in the fifty years our program that, frankly, very likely 50% of the leaders in arctic and polar science in the United States have come from our program."
The best and brightest college students are selected to help during an eight-week immersion program. It includes helping out professional scientists from around the world in arctic ecology, glaciology, environmental science, geology, and biology who converge on the Juneau Icefield every summer to conduct their research.
Miller said that it is the perfect place to watch the push and pull of the counter-rotating Aleutian low and the Arctic high pressure systems.
Those two gigantic swirls or gyres in the atmosphere meet right along the coast of Alaska in the spring and the summer right where these icefields are. So, that the interaction between them shifts back and forth, and back and forth — we call that the Arctic Front – across the icefield, revealing on this icefield the climatic history of our atmosphere and climate change on the whole planet throughout the year. So, it's a remarkably sensitive field site for observing that kind of phenomenon."
From the time he was about six years old until high school, Lance Miller said that he and his brother Ross often accompanied their parents during their summer stays on the icefield.
It took awhile to figure out that this is pretty unique. My brother and I have talked about that since, like 'Wow, this was kind of different!' You're running around at these camps and there's snowmachines, and cravasses to crawl into, and skiing in the summer. It was a great place to be let loose, so to speak, and hopefully contribute as well."
Dr. Miller retired as the head of JIRP in 2009 and Dr. Jeffrey Kavanaugh of the University of Alberta was appointed as the new permanent director in 2011.
Lance Miller said his dad always had a positive outlook. His grandchildren even remarked during a recent holiday visit that they were impressed by his "unrelenting enthusiasm".
Dr. Miller leaves behind his sons Lance and Ross and their families that include a total of four children. Miller's wife Joan passed away about six years ago.
Arrangements for services are pending.
This segment profiling the Juneau Icefield Research Program aired as part of KTOO-TV's Rain Country program in 1988.
Link to website for Juneau Icefield Research Program