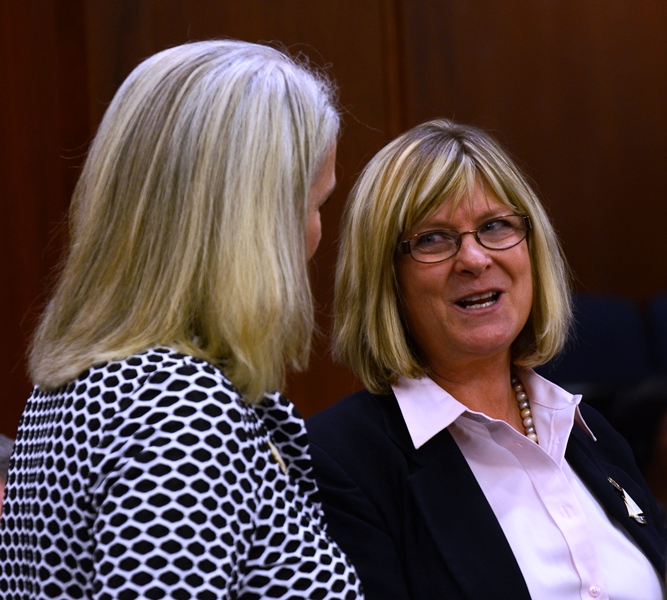 Nine Juneau Democrats have applied to fill Rep. Beth Kerttula's House District 32 seat.
Tongass Democrats' on Tuesday morning released the names.  Bruce Botelho chairs the selection committee.
We have reached to all parts of the current district to solicit names and encourage people to apply.  And indeed our selection committee has a representative from Petersburg.
Kerttula resigned last week to accept a position at Stanford University. The person selected would finish out her term.
A questionnaire has gone out to all nine candidates and they will be interviewed over the weekend. Botelho says the questions cover topics important to Alaska and the district, including economic development.
"Education, of course, is going to be a major theme of this session, but it's always been a concern to the electorate and to us," Botelho says. "We're looking at issues of labor relations, health care, discussions about our fiscal future as a state.  So topics generally that we hope will help get a better sense of the candidates and how they would approach the issues." 
Botelho says the goal is to get a list of three to Gov. Sean Parnell by Tuesday.
About the candidates:
Over the past nine years, Ken Alper has worked for House Democrats, including Kerttula.  He and his wife Jill Ramiel, own Silverbow Inn and Bakery in downtown Juneau.
Nancy Barnes worked in the Alaska House and Senate for 26 years, before she took her current job as executive assistant to the president and CEO of Huna Totem Corporation. She's on the boards of the Alaska Federation of Natives and Sealaska Heritage Institute.
James Betts owns Betts Boat Repair in Juneau. He's state leader for the Knights of Columbus, a Catholic fraternal and charitable organization. Betts has lived in Juneau for 27 years.
Sara Hannan is a lifelong Alaskan and has lived in Juneau for 25 years.  For the past 18 years, she's taught in the Juneau School District.  She currently teaches at Juneau Douglas High School, and has been a negotiator for the Juneau Education Association.
Sam Kito III is a civil engineer and also has been a legislative lobbyist.  He was born in Anchorage, lived in Fairbanks, and has worked on transportation projects throughout the state.  He's been in Juneau for 18 years.
Tim Lamkin has worked as a legislative aide for 17 years, currently for Kodiak Sen. Gary Stevens.  Lamkin is aide to the Senate Education Committee.  During the tourist season, Lamkin says he talks a lot about Alaska's mining history.
Jesse Kiehl is serving his first term on the Juneau Assembly.  He also works for Juneau Sen. Dennis Egan, and before that for former Juneau Sen. Kim Elton. Kiehl was born in Anchorage and has lived in Juneau for the last 15 years.
Kim Metcalfe is a business agent for the Alaska State Employees Association.  She's also a lifelong Juneau resident.  Metcalfe chaired Juneau Democrats for a decade, when Kerttula's district covered only Juneau. She has been a delegate twice to the National Democratic Convention.
Catherine Reardon is a legislative aide for Anchorage Rep. Andrew Josephson. Before working in the legislature, she was director of the Commerce Department's Division of Occupational Licensing, (now Corporations, Business, and Professional Licensing).  Reardon has been vice chair of the Alaska Democratic Party.