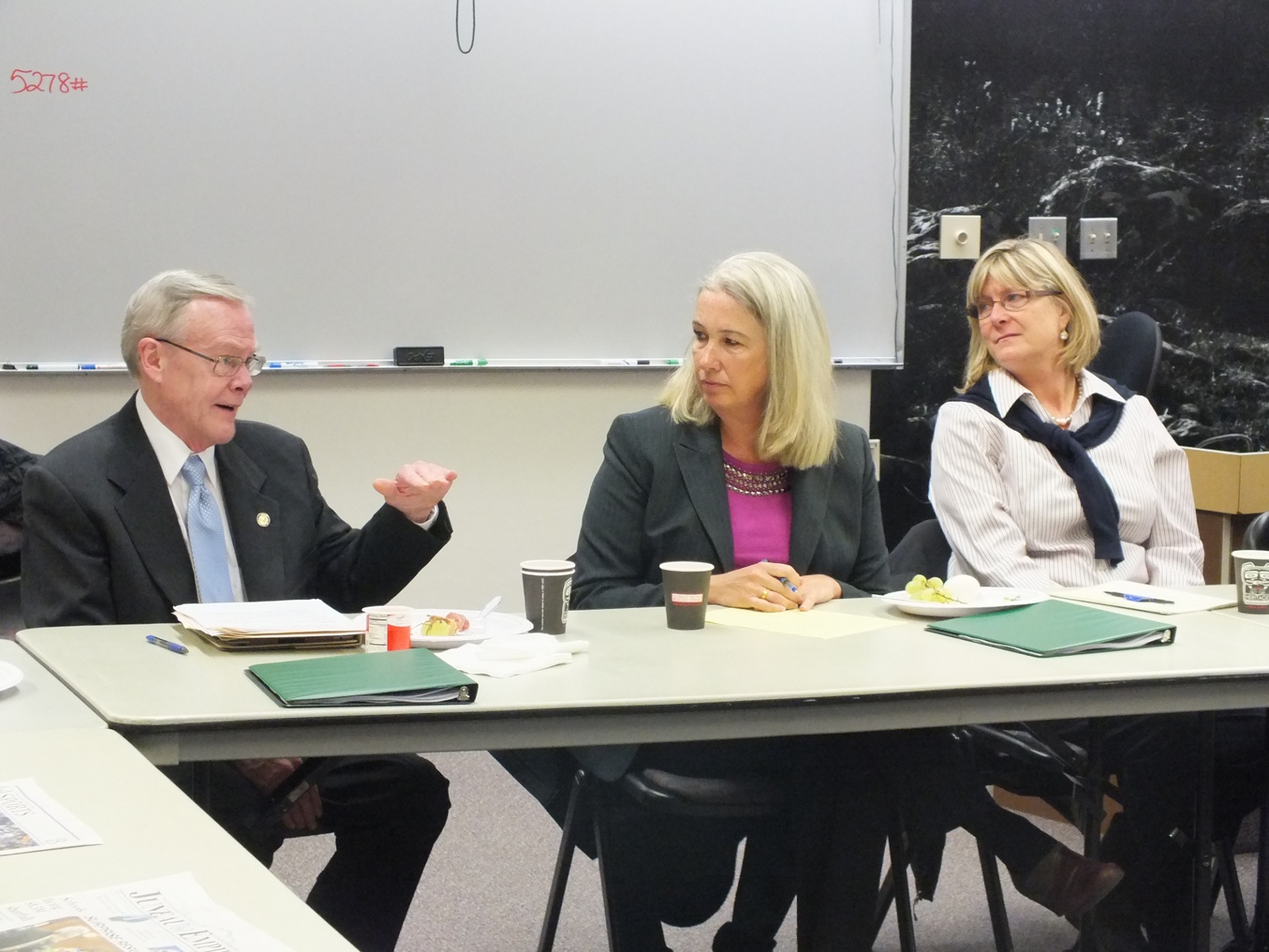 Education funding and the state's unfunded public employee retirement obligation topped the list of topics discussed by the Juneau Assembly and the Capital City's legislative delegation on Wednesday.
Assembly members also bid farewell to Representative Beth Kerttula, who announced her resignation Tuesday after accepting a position at Stanford University.
The Juneau School District's most recent budget forecast includes a $4.5 million deficit, meaning possible cuts to 35 full time positions. Mayor Merrill Sanford says the Assembly wants legislators to increase the state's foundation formula, which gives money to local districts for each student enrolled during a particular school year. The amount has not gone up since 2011.
"That's one of our big goals this year is to support increased school funding," Sanford said.
Mendenhall Valley Representative Cathy Munoz and Senator Dennis Egan will be it for Juneau's legislative delegation until a replacement can be named for Kerttula. Both support increasing the state's foundation formula. Munoz says comprehensive education funding proposals are expected to be on the table during the 2014 legislative session.
"I do think that education funding will be a key issue, and I think the details of an educational package will not become really clear until the last probably two to three weeks of the session," Munoz said.
Governor Sean Parnell wants to put $3 billion from state savings toward paying down Alaska's unfunded public employee pension liability. Munoz and Egan both support that measure as well. Munoz says an infusion of cash now could save the state millions of dollars later as it seeks to pay down its public employee retirement system debt.
This year Juneau is expected to receive about $22 million in state support for its public employee retirement obligations, according to the city Finance Department.
Congress could include PILT funding in farm bill
A major source of federal money for Alaska communities has become a political bargaining chip in Washington, D.C., says a lobbyist working for the City and Borough of Juneau.
Congress established the Payment in Lieu of Taxes program, or PILT, in 1976 to compensate local governments for lost taxes on federal land within their boundaries. The program expired last year and was not renewed in the recently passed $1.1 trillion dollar omnibus budget bill.
Juneau's federal lobbyist Katie Ketchel says some western lawmakers, including Alaska's Congressional delegation, only voted for the budget after being assured PILT would be included in the federal farm bill.
"It just shows you how important that program is," Ketchel said. "It could have started another federal government shutdown if those members didn't vote for the omnibus bill."
Ketchel says the farm bill is expected to be reauthorized soon. She's in Juneau this week meeting with city officials and spoke to the Juneau Assembly on Wednesday.
Juneau received about $1.2 million in PILT payments during the 2013 fiscal year. The money was not factored into this year's budget, because the program expired.