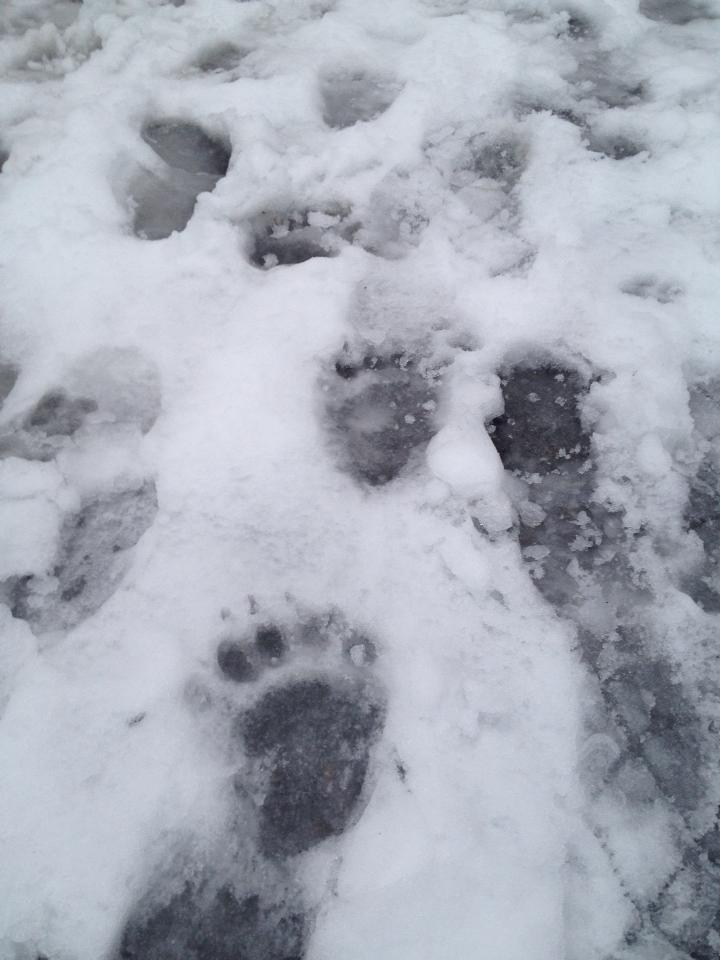 At least one black bear in the Juneau area is having a hard time falling asleep this winter.
The bear was a frequent visitor to the downtown area in December, and was even seen near the Governor's Mansion on Thursday.
Pat Race lives on Goldbelt Avenue up the hill from the mansion. He was walking home late that night when his girlfriend called to let him know a bear was in the driveway.
"So I made a lot of noise coming up the driveway, and he poked his head up, and I kind of moseyed on around the long way and got to sneak in around him," Race says with a laugh. "But yeah, it's just unexpected to see a bear this time of year."
Race says the bear broke into their garbage shed, opened their bear-resistant garbage can, and made off with a couple trash bags.
His girlfriend, Marian Call, posted about the incident on Twitter.
Just watched the most amazing standoff btw @alaskarobotics & giant black bear in my driveway. Theme from Good the Bad & the Ugly in my head.

— Marian Call (@mariancall) January 3, 2014
The bear stood all the way up on its hind legs. He was immensely tall. They look so much like people. Spectacular to see up close.

— Marian Call (@mariancall) January 3, 2014
Bear ultimately walked away looking incredible like bears do, so Pat could come in the house. Watching from the window made my heart pound.

— Marian Call (@mariancall) January 3, 2014
Race says it's not the first time they or their friends have encountered Juneau's winter bear.
"We have a friend, Christine, who just ran into probably the same bear the other day, and I think she was caught a little more off guard," he says. "A few weeks ago we were walking home and the bear kind of growled at us from up in the woods. We didn't see it that night, but it was sort of was warning us that it was there."
Alaska Department of Fish & Game Area Management Biologist Ryan Scott says he's surprised by the bear's seeming reluctance to hibernate.
"Yeah, it's January," Scott says. "It's common for us to hear about bears sporadically through the winter time. But to have a bear that appears to be just kind of active and at a normal activity level in January – even, this year has been a little bit out of whack having bears well into December like that running around the urban areas – yeah, it's surprising."
While the behavior is unusual, Scott says he's confident he knows what's causing it.
"It's all food related," he says. "And there's two ways to look at that, I think. One, this particular bear likely was not energetically prepared to go to hibernation, to den up. The flip side of that is, if there's food available to a bear, it's not going to feel the push to go. And that food, this time of year, is human produced food. Garbage or scraps or whatever it might be."
Even though it's January, Scott says downtown Juneau residents need to be vigilant about securing their garbage and not leaving anything outdoors that might attract bears.
"Try to get into that frame of mind that we all are in during bear season so to speak," Scott says.
Two summers ago, Race shot a viral video of a bear that climbed onto the roof of his old apartment building. That bear had become too used to getting food from people, and had to be euthanized. Race says he hopes that won't be the case for the bear he saw the other night.
"You know, it's unexpected this time of year, but that's what's probably going to happen with this guy if people don't keep their garbage inside and stop giving him an excuse to nose around," Race says.